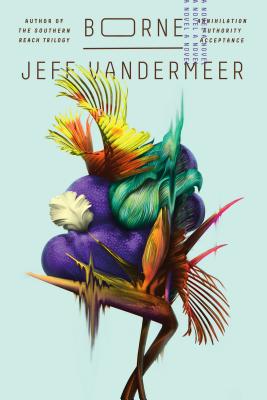 Borne
A Novel
Hardcover

* Individual store prices may vary.
Other Editions of This Title:
Digital Audiobook (11/23/2020)
Digital Audiobook (4/24/2017)
Paperback (2/27/2018)
Compact Disc (11/24/2020)
MP3 CD (4/25/2017)
MP3 CD (11/24/2020)
Description
Named one of the best books of 2017 by The Los Angeles Times, The Boston Globe, PopSugar, Financial Times, Chicago Review of Books, Huffington Post, San Francisco Chronicle, Thrillist, Book Riot, National Post (Canada), Kirkus and Publishers Weekly

From the author of the Southern Reach Trilogy comes Jeff VanderMeer's Borne, a story about two humans and two creatures.

"Am I a person?" Borne asked me.
"Yes, you are a person," I told him. "But like a person, you can be a weapon, too."

In Borne, a young woman named Rachel survives as a scavenger in a ruined city half destroyed by drought and conflict. The city is dangerous, littered with discarded experiments from the Company—a biotech firm now derelict—and punished by the unpredictable predations of a giant bear. Rachel ekes out an existence in the shelter of a run-down sanctuary she shares with her partner, Wick, who deals his own homegrown psychoactive biotech.

One day, Rachel finds Borne during a scavenging mission and takes him home. Borne as salvage is little more than a green lump—plant or animal?—but exudes a strange charisma. Borne reminds Rachel of the marine life from the island nation of her birth, now lost to rising seas. There is an attachment she resents: in this world any weakness can kill you. Yet, against her instincts—and definitely against Wick's wishes—Rachel keeps Borne. She cannot help herself. Borne, learning to speak, learning about the world, is fun to be with, and in a world so broken that innocence is a precious thing. For Borne makes Rachel see beauty in the desolation around her. She begins to feel a protectiveness she can ill afford.

"He was born, but I had borne him."

But as Borne grows, he begins to threaten the balance of power in the city and to put the security of her sanctuary with Wick at risk. For the Company, it seems, may not be truly dead, and new enemies are creeping in. What Borne will lay bare to Rachel as he changes is how precarious her existence has been, and how dependent on subterfuge and secrets. In the aftermath, nothing may ever be the same.
Praise For Borne: A Novel…
"Jeff VanderMeer's Southern Reach Trilogy was an ever-creeping map of the apocalypse; with Borne he continues his investigation into the malevolent grace of the world, and it's a thorough marvel." —Colson Whitehead

"VanderMeer is that rare novelist who turns to nonhumans not to make them approximate us as much as possible but to make such approximation impossible. All of this is magnified a hundredfold in Borne . . . Here is the story about biotech that VanderMeer wants to tell, a vision of the nonhuman not as one fixed thing, one fixed destiny, but as either peaceful or catastrophic, by our side or out on a rampage as our behavior dictates--for these are our children, born of us and now to be borne in whatever shape or mess we have created." —Wai Chee Dimock, The New York Times Book Review

"The conceptual elements in VanderMeer's fiction are so striking that the firmness with which he cinches them to his characters' lives is often overlooked . . . Borne is VanderMeer's trans-species rumination on the theme of parenting . . . [Borne] insists that to live in an age of gods and sorcerers is to know that you, a mere person, might be crushed by indifferent forces at a moment's notice, then quickly forgotten." —Laura Miller, The New Yorker

"Borne, the latest novel from New Weird author Jeff VanderMeer, is a story of loving self-sacrifice, hallucinatory beauty, and poisonous trust . . . Heady delights only add to the engrossing richness of Borne. The main attraction is a tale of mothers and monsters--and of how we make each other with our love." —Nisi Shawl, The Washington Post

"Borne, Jeff VanderMeer's lyrical and harrowing new novel, may be the most beautifully written, and believable, post-apocalyptic tale in recent memory . . . [VanderMeer] outdoes himself in this visionary novel shimmering with as much inventiveness and deliriously unlikely, post-human optimism as Borne himself." —Elizabeth Hand, Los Angeles Times

"Borne, the latest from sci-fi savant Jeff VanderMeer, begins innocently enough: Girl meets strange plantlike creature. But if you haven't read his haunting Southern Reach trilogy, prepare yourself--this is Walden gone horribly wrong." —Esquire

"VanderMeer's apocalyptic vision, with its mix of absurdity, horror, and grace, can't be mistaken for that of anyone else. Inventive, engrossing, and heartbreaking, Borne finds [VanderMeer] at a high point of creative accomplishment." —Michael Berry, San Francisco Chronicle

"Beautiful . . . VanderMeer's fiction is not preachy by any means. Rather, it probes the mysterious of different lifeforms and highlights our human ignorance at the life around us." —Lincoln Michel, Vice

"VanderMeer's follow-up to his acclaimed Southern Reach trilogy is fantastical and strange, but with a sincere heart beating at its core. " —Jaime Green, Google Play

"Borne maintains a wry self-awareness that's rare in dystopias, making it the most necessary VanderMeer book yet." —Charley Locke, Wired

"With Borne VanderMeer presents a parable about modern life, in these shaky days of roughshod industrialism, civilizational collapse, and looming planetary catastrophe . . . Think of Borne as a retelling of Steven Spielberg's E.T, or the character arc of Data on Star Trek: The Next Generation. It's the story of humanity making contact with something strange, alien, artificial, but yet possessed of a personality, a sense of humor, a drive to find love and friendship and community, to be a part of something—and to be respected—respected the way immigrants, refugees, the oppressed the world over have always wished to be respected." —Brian Ted Jones, The Rumpus

"A triumph of science fiction . . . Borne will dazzle you with its wonders and horrors, revealing itself as another piece of the puzzle, a reflection on the terror and beauty of being alive." —Matt E. Lewis, Electric Literature

"Just as VanderMeer subverted your expectations for each sequel to Annihilation, with Borne he's written something completely different and unpredictable — not just in terms of the story, but also with regards to language, structure, and point of view." —Adam Morgan, Chicago Review of Books

"VanderMeer offers another conceptual cautionary tale of corporate greed, scientific hubris, and precarious survival . . . VanderMeer marries bildungsroman, domestic drama, love story, and survival thriller into one compelling, intelligent story centered not around the gee-whiz novelty of a flying bear but around complex, vulnerable characters struggling with what it means to be a person. VanderMeer's talent for immersive world-building and stunning imagery is on display in this weird, challenging, but always heartfelt novel." —Krista Hutley, Booklist (starred review)

"Supremely literary, distinctly unusual . . . VanderMeer's deep talent for worldbuilding takes him into realms more reminiscent of Cormac McCarthy's The Road than of the Shire. Superb." —Kirkus Reviews (starred review)

"VanderMeer, author of the acclaimed Southern Reach trilogy, has made a career out of eluding genre classifications, and with Borne he essentially invents a new one . . . Reading like a dispatch from a world lodged somewhere between science fiction, myth, and a video game, the textures of Borne shift as freely as those of the titular whatsit. What's even more remarkable is the reservoirs of feeling that VanderMeer is able to tap into . . . resulting in something more than just weird fiction: weird literature." —Publishers Weekly (starred review)
MCD, 9780374115241, 336pp.
Publication Date: April 25, 2017
About the Author
Jeff VanderMeer is the author of Dead Astronauts, Borne, and The Southern Reach Trilogy, the first volume of which, Annihilation, won the Nebula Award and the Shirley Jackson Award and was adapted into a movie by Alex Garland starring Natalie Portman. VanderMeer speaks and writes frequently about issues relating to climate change. He grew up in the Fiji Islands and now lives in Tallahassee, Florida, with his wife, Ann VanderMeer, and their cats, plants, and bird feeders.
or
Not Currently Available for Direct Purchase