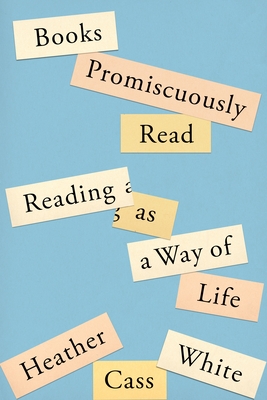 Books Promiscuously Read
Reading as a Way of Life
Hardcover

* Individual store prices may vary.
Description
The critic and scholar Heather Cass White offers an exploration of the nature of reading

Heather Cass White's Books Promiscuously Read is about the pleasures of reading and its power in shaping our internal lives. It advocates for a life of constant, disorderly, time-consuming reading, and encourages readers to trust in the value of the exhilaration and fascination such reading entails. Rather than arguing for the moral value of reading or the preeminence of literature as an aesthetic form, Books Promiscuously Read illustrates the irreplaceable experience of the self that reading provides for those inclined to do it.

Through three sections—Play, Transgression, and Insight—which focus on three ways of thinking about reading, Books Promiscuously Read moves among and considers many poems, novels, stories, and works of nonfiction. The prose is shot through with quotations reflecting the way readers think through the words of others.

Books Promiscuously Read is a tribute to the whole lives readers live in their books, and aims to recommit people to those lives. As White writes, "What matters is staying attuned to an ordinary, unflashy, mutely persistent miracle; that all the books to be read, and all the selves to be because we have read them, are still there, still waiting, still undiminished in their power. It is an astonishing joy."
Praise For Books Promiscuously Read: Reading as a Way of Life…
"[Books Promiscuously Read] was so engrossing that I couldn't put it down, and I think that was actually the point. This is somebody who really just wants to encourage you to enjoy the time that you spend reading . . . This is a book that tells you that your guilty pleasure is actually not guilty." —Tess Taylor, NPR

"To metacognitively read about the reading process, to double back onto one's own track, to sniff the air for one's own scent, can be a heady experience. Cass White grounds us expertly. Books Promiscuously Read: Reading as a Way of Life is a delight to read primarily because it eschews the easy commonplaces of the why you should read' genre in order to get at the core of the experience itself." —Ryan Asmussen, Chicago Review of Books

"An elegantly constructed meditation on the vital relation between reading and the everyday self, Books Promiscuously Read animates the experience with wit, brilliance, and affection. A pleasure to read and pass on." —Vivian Gornick, author of Unfinished Business

"One of the pleasures of reading is the branching-and-branching-and-branching of texts, the way the books you've read form an underground network of intentional and unintentional references to each other . . . Heather Cass White's Books Promiscuously Read describes this joy—and all the joys of reading—as efficiently as I've ever seen anyone do. It is a book that I would give someone who has just got bitten by the reading bug and doesn't quite understand yet what's happened." —Phil Christman, Ploughshares

"'People who like to read should do more of it,' writes Heather Cass White. People who like to read should read more of Heather Cass White. Buoyant, precise, speculative, astute, intermittently wild, this book is proved on the pulse. Somewhere between commonplace book and brilliant guide for the perplexed, between apologia and essai, White's work shimmers: aphoristic, inviting, provocative. Proposing reading "as a mode of living" and "a species of dreaming," White salutes the perfectly useless jouissance of readerly absorption; en route she offers fleet, searching, illuminating readings (of Cervantes, George Eliot, Thylias Moss, inter alia). This is seriously deep play." —Maureen N. McLane, author of More Anon

"Discerning . . . Literary-minded readers will appreciate this fresh approach." —Publishers Weekly
Farrar, Straus and Giroux, 9780374115265, 176pp.
Publication Date: July 6, 2021
About the Author
Heather Cass White received her PhD and MA from Cornell University. She teaches English at the University of Alabama in Tuscaloosa. She has edited several collections of poet Marianne Moore's work, including A-Quiver with Significance and New Collected Poems of Marianne Moore.