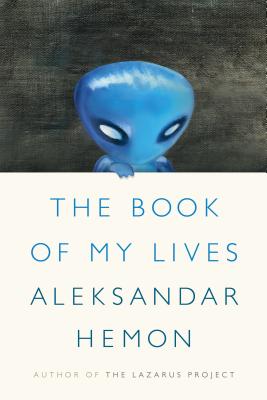 The Book of My Lives
Hardcover

* Individual store prices may vary.
Other Editions of This Title:
Paperback (1/28/2014)
Description
A Finalist for the National Book Critics Circle Award

For fans of Aleksandar Hemon's fiction, The Book of My Lives is simply indispensable; for the uninitiated, it is the perfect introduction to one of the great writers of our time.

Aleksandar Hemon's lives begin in Sarajevo, a small, blissful city where a young boy's life is consumed with street soccer with the neighborhood kids, resentment of his younger sister, and trips abroad with his engineer-cum-beekeeper father. Here, a young man's life is about poking at the pretensions of the city's elders with American music, bad poetry, and slightly better journalism. And then, his life in Chicago: watching from afar as war breaks out in Sarajevo and the city comes under siege, no way to return home; his parents and sister fleeing Sarajevo with the family dog, leaving behind all else they had ever known; and Hemon himself starting a new life, his own family, in this new city.

And yet this is not really a memoir. The Book of My Lives, Hemon's first book of nonfiction, defies convention and expectation. It is a love song to two different cities; it is a heartbreaking paean to the bonds of family; it is a stirring exhortation to go out and play soccer—and not for the exercise. It is a book driven by passions but built on fierce intelligence, devastating experience, and sharp insight. And like the best narratives, it is a book that will leave you a different reader—a different person, with a new way of looking at the world—when you've finished.

A Kirkus Reviews Best Nonfiction Book of 2013
Praise For The Book of My Lives…
"Aleksandar Hemon is, quite frankly, the greatest writer of our generation. His literature is deep, agile, funny, graceful, searing, angry, raw, questioning. The Book of My Lives is worth it simply for the dedication: 'For Isabel, forever breathing on my chest.' He writes it, and so she breathes on ours too. Such is the function of storytelling: to get to the essence of that which might eventually break our hearts. This is a book--like all of Aleksandar Hemon's books--that is an aria for our times. I will cherish it." —Colum McCann

"Incandescent. When your eyes close, the power of Aleksandar Hemon's colossal talent remains." —Junot Díaz

"Aleksandar Hemon's work crackles with so much humor and irony, so much compassion and humanity, that The Book of My Lives's true calling almost goes by unnoticed: it is, without doubt, the most necessary, intimate, and heartbreaking portrait of a world lost to one of history's darkest conflicts." —Téa Obreht

"I'm not quite sure Aleksandar Hemon counts as an American writer, but he is one of my favorite American writers. Before The Book of My Lives, I never really thought of him as a nonfiction person, but this new book--a memoir in essays--has some of his best writing. When Hemon's work is funny, it can make you laugh in spite of everything, and when it is sad, it's hard to stand up afterward." —John Jeremiah Sullivan

"The Book of My Lives is written with the full force of humanity. It will make you think, laugh, cry, and remember yourself. If you've never read Aleksandar Hemon, prepare to have your worldview deepened." —Jonathan Safran Foer

"You should read Aleksandar Hemon's memoir for the same reason you should read his fiction: He is not only a remarkably talented writer but also one of the great social observers, a cultural anthropologist who seems at home everywhere and nowhere and who balances despair with hope, anger with humor." —Benjamin Percy, National Public Radio

"One of the best prose stylists--in any language--at work today . . . and this collection is a compelling argument for his emergence as a vitally important writer." —Edward Hart, Kansas City Star

"A tour de force." —Megan O'Grady, Vogue

"The writing is gorgeous, the ending unexpected . . . I was left wanting more." —Ken Armstrong, The Seattle Times

"Elegant and funny . . . Acutely observed, deeply felt." —Ann Levin, Newsday

"Hemon has a dazzling gift for observation." —Chris Wallace, The Daily Beast

"Unforgettable." —Jesse Dorris, Time

"Powerful . . . Engaging . . . Hemon invites readers to savor both his émigré triumphs and his émigré pain--an invitation worth seizing." —Julia M. Klein, Chicago Tribune

"Acute meditations on exile and otherness, and the redeeming power of language." —The Economist

"Wise and entrancing." —Lucas Wittmann, Newsweek

"Hemon is engaging and interesting company, and the story of his life--or lives--is one worth telling." —Lisa Weidenfeld, The Christian Science Monitor
Farrar, Straus and Giroux, 9780374115739, 224pp.
Publication Date: March 19, 2013
About the Author
Aleksandar Hemon is the author of The Lazarus Project, which was a finalist for the 2008 National Book Award and the National Book Critics Circle Award, and three books of short stories: The Question of Bruno; Nowhere Man, which was also a finalist for the National Book Critics Circle Award; and Love and Obstacles. He was the recipient of a 2003 Guggenheim Fellowship and a "genius grant" from the MacArthur Foundation, and the 2020 Dos Passos Prize. He lives in Chicago.
Coverage from NPR
or
Not Currently Available for Direct Purchase