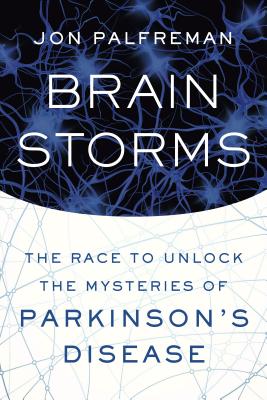 Brain Storms (Hardcover)
The Race to Unlock the Mysteries of Parkinson's Disease
Scientific American / Farrar, Straus and Giro, 9780374116170, 288pp.
Publication Date: September 15, 2015
Other Editions of This Title:
Paperback (9/6/2016)
MP3 CD (12/29/2015)
* Individual store prices may vary.
Description
A Top 10 Science Book of Fall 2015 - Publishers Weekly
A star science journalist with Parkinson's reveals the inner workings of this perplexing disease

Seven million people worldwide suffer from Parkinson's, and doctors, researchers, and patients continue to hunt for a cure. In Brain Storms, the award-winning journalist Jon Palfreman tells their story, a story that became his own when he was diagnosed with the debilitating illness.
Palfreman chronicles how scientists have worked to crack the mystery of what was once called the shaking palsy, from the earliest clinical descriptions of tremors, gait freezing, and micrographia to the cutting edge of neuroscience, and charts the victories and setbacks of a massive international effort to best the disease. He takes us back to the late 1950s and the discovery of L-dopa. He delves into a number of other therapeutic approaches to this perplexing condition, from partial lobotomies and deep brain stimulation to neural grafting. And he shares inspiring stories of brave individuals living with Parkinson's, from a former professional ballet dancer who tricks her body to move freely again to a patient who cannot walk but astounds doctors when he is able to ride a bicycle with no trouble at all.
With the baby boom generation beginning to retire and the population steadily aging, the race is on to discover a means to stop or reverse neurodegenerative conditions like Parkinson's and Alzheimer's. Brain Storms is the long-overdue, riveting, and deeply personal story of that race, and a passionate, insightful, and urgent look into the lives of those affected.
About the Author
Jon Palfreman, PhD, is a professor emeritus of journalism at the University of Oregon. He is an Emmy, duPont, and Peabody Award-winning journalist, a Nieman Fellow, and the recipient of the Victor Cohn Prize for Excellence in Medical Science Reporting. In addition to producing more than forty primetime documentaries for the BBC and PBS, Palfreman is a coauthor of The Case of the Frozen Addicts and The Dream Machine. He lives in Lexington, Massachusetts.
Praise For Brain Storms: The Race to Unlock the Mysteries of Parkinson's Disease…
2016 PROSE Award for Outstanding Scholarly Work by a Trade Publisher (Honorable Mention)
"[A] lucid overview . . . . Extraordinary case studies abound." —Nature
"Well written and poignant . . . Mr. Palfreman has written a clear, compelling account of this important disease . . . The reader will appreciate his courage in looking death in the face and candidly assessing the situation of himself and others caught in the grasp of this complex malady." —Nicholas Wade, The Wall Street Journal
"Well-written and informative." —Orla M. Smith, Science
"Brain Storms is well worth checking out, whether you are a new or old patient, a significant other of someone with Parkinson's disease, or simply a curious reader, as the book is as much about the science of the disease as it is about the brave people living with it . . . Jon also writes about his own journey as a patient, and does so with captivating candor, curiosity, and inspiring hope." —Anna Tan, Parkinson's News Today
"[Palfreman] has an excellent grasp on the science behind the disease . . . but it is as a human story that the book is most compelling." —John Hardy, The Times Literary Supplement
"A deftly crafted and authoritative literary journey . . . As a PD sufferer myself, I found Brain Storms both uplifting and deeply informative. But if at bottom, what you want out of a science book is clean prose, clear thought and fascinating stories, Palfreman delivers." —Doug Clifton, Miami Herald
"Palfreman follows Parkinson's history from the careful observations of 19th century physicians to today's cutting-edge research. [He] relates complex research studies as gripping medical mysteries . . . Ultimately, Brain Storms is about more than Parkinson's disease; it's about the people living with the disorder." —Sarah Schwartz, Science News
"In his latest book, Brain Storms, [Palfreman] invites readers along as he seeks to understand the neurodegenerative disorder through the eyes of the researchers working every day to uncover vulnerabilities in the disease's rapacious progression . . . And the journey is not a dispassionate one; it is imbued with [Palfreman's] sense of urgency." —Bob Grant, The Scientist
"Award-winning journalist Palfreman's fast-paced, captivating, and crisp narrative of patients, doctors, and researchers is part scientific investigation, part medical detective story, and part memoir, and it opens wide a window into the world of Parkinson's." —Publishers Weekly (starred review)
"[A] well-researched history and overview of the current state of research. Palfreman brings his skill as a science writer and a deep personal commitment to . . . this illuminating book." —Kirkus Reviews
"Perhaps there is no one better suited to putting a story of medical and scientific research into context than award-winning journalist Palfreman . . . The information is clear, careful, dotted with the personal experiences of Palfreman . . . and hopeful." —Booklist
"[A] story that unfolds like a confounding mystery, replete with missteps, promising leads, red herrings and amazing discoveries . . . [Palfreman] has a gift of explaining complex molecular processes in clear, understandable terms. What is ultimately appealing is the 'just-around the-corner' prospect of solving this mystery—making you marvel at what is possible." —David Takami, The Seattle Times
"The best and clearest book I've encountered on the current state of knowledge about Parkinson's Disease . . . [Palfreman is] a master storyteller and fluent writer with a great eye for revealing stories and details." —The Tampa Tribune
"[Brain Storms] is both a deeply personal memoir as well as an incredible example of superb scientific journalism . . . Palfreman does an exceptional job of describing the history of the illness . . . and the status of ongoing efforts to develop more effective treatment options for those afflicted." —Bowling Green Daily News
"Brain Storms is a sweeping survey-and a fascinating discovery narrative-of one of the great neurological scourges of our time. In this era of brain science, Jon Palfreman's book points to remarkable vistas of research that promise hope to millions." —Sandeep Jauhar, New York Times-bestselling author of Doctored and Intern
"Through keen and captivating storytelling, Jon Palfreman expertly shares the many challenges and opportunities that surround Parkinson's research and gives credit to the people who have made drug discovery and development possible-most of all, the individuals living with the disease." —Todd Sherer, PhD, CEO of the Michael J. Fox Foundation for Parkinson's Research
"Rarely if ever does a book on Parkinson's disease come along that so seamlessly explores the personal side of the illness as well as the latest in scientific research from around the world. Jon Palfreman presents the disease with insight, sensitivity, and accuracy-truly an awesome achievement. Whether you are a patient, family member, physician, scientist, or simply someone interested in how science and emotions merge when someone develops a disease such as Parkinson's, you will benefit enormously from this eminently readable, wonderful book. I have never seen a book that explores the whole story of Parkinson's disease in such depth, and with such skill." —J. William Langston, MD, Chief Scientific Officer and Founder of Parkinson's Institute
"In Brain Storms, Jon Palfreman highlights the intriguing personal stories behind the expanding clinical picture of Parkinson's disease and the recent advances in Parkinson's research. The book is brilliant-and riveting." —John Nutt, MD, Director Emeritus of the OHSU Parkinson Center
"Jon Palfreman combines the skills of an incredibly talented science journalist with the passion of someone who is also affected by Parkinson's disease. His book is an amazing inspiration for all of us involved in Parkinson's disease research. We hope that he will have cause to write another chapter soon, one that highlights a cure." —Patrik Brundin, MD, PhD, Van Andel Research Institute
"Brain Storms is a fascinating journey from the discovery of Parkinson's to new treatments on the horizon-informative, inspiring, and, since Jon Palfreman's quest to understand the disease is personal, poignant. This book is essential reading for all who will, in one way or another, confront disability and disease in their own lives." —R. Douglas Fields, author of The Other Brain