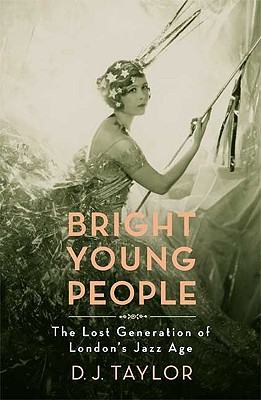 Bright Young People: The Lost Generation of London's Jazz Age (Hardcover)
The Lost Generation of London's Jazz Age
Farrar, Straus and Giroux, 9780374116835, 384pp.
Publication Date: January 6, 2009
* Individual store prices may vary.
or
Not Currently Available for Direct Purchase
Description
Before the media circus of Britney, Paris, and our modern obsession with celebrity, there were the Bright Young People, a voraciously pleasure-seeking band of bohemian party-givers and blue-blooded socialites who romped through the gossip columns of 1920s London. Evelyn Waugh immortalized their slang, their pranks, and their tragedies in his novels, and over the next half century, many—from Cecil Beaton to Nancy Mitford and John Betjeman—would become household names. But beneath the veneer of hedonism and practical jokes was a tormented generation, brought up in the shadow of war. Sparkling talent was too often brought low by alcoholism and addiction. Drawing on the virtuosic and often wrenching writings of the Bright Young People themselves, the biographer and novelist D. J. Taylor has produced an enthralling account of an age of fleeting brilliance.
Praise For Bright Young People: The Lost Generation of London's Jazz Age…
"[Taylor] tells this story with a good deal of essayistic flair, precision and flyaway wit. Just as important, he relates this ultimately elegiac narrative with a surprising amount of intellectual and emotional sympathy." —Dwight Garner, The New York Times

"Engaging . . . D. J. Taylor has created that rarest of books—one you can safely recommend both to scholars of Evelyn Waugh and the entourage of Paris Hilton . . . Taylor's skillful reconstruction of the whole hazy time feels like a lasting party favor." —Troy Patterson, NPR

"[An] incisive social history . . . [A] richly detailed work." —Caryn James, The New York Times Book Review

"A poignant study of the elusive relationship between art and the social world from whence it springs . . . D. J. Taylor, author of a first-rate life of George Orwell, shows the sharp instincts of an expert biographer in his approach to a 1920s English youth culture." —Damian Da Costa, The New York Observer

"In Bright Young People Taylor is writing splendid social history, not fiction, and he brings a more tempered and rueful approach, showing the sadness beneath an entire generation's compulsion to waste its promise and dance in the spotlight. Scott Fitzgerald, a writer admired by Waugh (who was no soft touch), called his own 'lost' contemporaries 'the beautiful and damned'; here, Taylor makes us feel the full force of the reckoning implied in that sad conjunction . . . Taylor has a nice way with a one-liner—'The books Brian Howard never wrote would fill a decent-sized shelf'—and is excellent on the evolution of BYP argot . . . By placing generational tensions and tenderness center-stage, Taylor gives his book a beating emotional heart." —Richard Rayner, Los Angeles Times Book Review

"[An] entertaining and incisive group portrait." —Barbara Fisher, The Boston Globe

"Jampacked and delicious, crammed with a cast of selfish, feckless, darling, talented, almost terminally eccentric, good-looking men and women, Bright Young People chronicles the doings of London's gilded youth in the Roaring Twenties. Even if you think you know a lot (or enough) about them; even if you've read the acerbic novels of the early Evelyn Waugh or plowed your way through Anthony Powell's A Dance to the Music of Time, there's bound to be material here you haven't seen or heard of." —Carolyn See, The Washington Post

"Thanks are due . . . to English critic D. J. Taylor, who brings [the Bright Young People] back to life in Bright Young People. Some were distinguished, others once famous only for being famous and now pretty much forgotten—but they were almost invariably fascinating." —Martin Rubin, The Wall Street Journal

"Absorbing . . . The book really takes hold when Taylor seizes on the actual trajectory of the lives of individual members, most . . . poignantly that of Elizabeth Ponsonby . . . The pages devoted to her, enriched by Taylor's access to the Ponsonby family papers, are all the biography her lack of accomplishments and frittered-away youth warrant; yet they greatly deepen this study of a social phenomenon." —Katherine A. Powers, The Boston Globe

"One yearns to have been a fly on the wall at the 'fancy dress ball . . . featuring a gang of fashionable debutantes dressed as the Eton rowing eight,' or the notorious Bruno Hat exhibition of faked modernist paintings. Taylor expertly connects this shrill game-playing to memorable depictions of it in Waugh's Vile Bodies, Powell's Afternoon Men and Henry Green's Party Going, while never neglecting the actual achievements of their lesser peers (e.g., Beverley Nichols's forgotten novel Singing Out of Tune). A note of genuine pathos is struck in his description of how the increasingly straitened economic and political circumstances of the '30s began rendering this gaudy subculture obsolete. Immensely readable, and of real value as a sharply pointed cautionary tale." —Kirkus Reviews

"There are . . . plenty of juicy anecdotes to go around . . . The text is enlivened by several Punch cartoons from the period, vividly depicting the hold these rich young partygoers once held on the public's imagination." —Publishers Weekly

"[Conveys] precisely the aspect of the Bright Young People that is most difficult to give expression to on paper: not books or parties, but 'an atmosphere . . . An outlook, a gesture, an essence.' " —Mark Bostridge, The Independent on Sunday

"Compelling and ultimately touching . . . A witty and sensitive account of the pathos and the glamour of the generation fated to 'sorrow in sunlight.' " —Rosemary Hill, The Guardian
"Excellent . . . the brightest of the Bright Young People [make] their fictional counterparts in Waugh pale into insignificance . . . [Taylor] lays bare their cavortings with an archeological eye." —Philip Hoare, The Independent

"Taylor, for years a journalist, is fascinated by—and authoritative on—the lucrative relationship forged between the shrewdest of the Bright Young People and the glamour-hunting press . . . Shrewd and absorbing in his analysis of the way Waugh and Nancy Mitford . . . promoted the world they would soon skewer in fiction." —Miranda Seymour, The Sunday Times (London)

"Moving and always entertaining." —Jane Stevenson, The Daily Telegraph

"Fascinating . . . A complex study of family, fear and breakdown . . . Taylor's achievement is to remind us that there are few periods of recent history more culturally interesting than the years between the wars." —Frances Wilson, New Statesman

"A goldmine . . . If I had to choose one book as a summing up of the BYP, it would be Taylor's." —Bevis Hillier, The Spectator
Advertisement