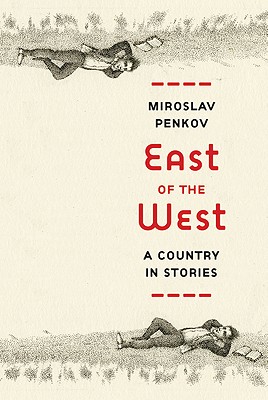 East of the West (Hardcover)
A Country in Stories
Farrar, Straus and Giroux, 9780374117337, 240pp.
Publication Date: June 21, 2011
Other Editions of This Title:
Paperback (6/5/2012)
Paperback (3/1/2012)
Hardcover (8/1/2011)
* Individual store prices may vary.
Description
A grandson tries to buy the corpse of Lenin on eBay for his Communist grandfather. A failed wunderkind steals a golden cross from an Orthodox church. A boy meets his cousin (the love of his life) once every five years in the river that divides their village into east and west. These are Miroslav Penkov's strange, unexpectedly moving visions of his home country, Bulgaria, and they are the stories that make up his beguiling and deeply felt debut.

In East of the West, Penkov writes with great empathy of centuries of tumult; his characters mourn the way things were and long for things that will never be. But even as they wrestle with the weight of history, with the debt to family, with the pangs of exile, the stories in East of the West are always light on their feet, animated by Penkov's unmatched eye for the absurd.
About the Author
Miroslav Penkov was born in 1982 in Bulgaria. He arrived in America in 2001 and completed a bachelor's degree in psychology and an M.F.A. in creative writing at the University of Arkansas. He has won the Eudora Welty Prize in Fiction, and his story "Buying Lenin" was published in "The Best American Short Stories 2008," edited by Salman Rushdie. He teaches creative writing at the University of North Texas, where he is a fiction editor for the "American Literary Review."
Praise For East of the West: A Country in Stories…
"Miroslav Penkov unpacks his stories with great skill, drawing the reader so deeply into the world he has created that when the magic comes—a father wrapping his son's eyelash in a handkerchief—it knocks the wind right out of you. East of the West captures the moments that prove we are truly living." —Hannah Tinti, author of The Good Thief

"Miroslav Penkov has successfully trapped two elusive creatures: the absurd beauty of Eastern Europe and the emotional paradox of self-exile from that absurdity. His sense of history, his sense of humor, and his ability to create lasting characters make this book a dark yet hilarious pleasure." —Elizabeth Kostova, author of The Historian

"I suspect that Miroslav Penkov would be a wonderful writer in any language, but lucky for us, it happens to be English, and what funny, tender, tragic, and soulful stories he spins in his adopted tongue. East of the West is, simply put, one of the best collections I have read in years, ambitious and accomplished enough in scope to encompass East, West, and all stations in between." —Ben Fountain, author of Brief Encounters with Che Guevara

"Miroslav Penkov spins magical tales. There is wonderful humor here, and characters you will never forget. You will love this book. I cannot recommend it highly enough." —Ellen Gilchrist, author of A Dangerous Age

"There is a kind of magic at work in East of the West, a beautiful alchemy that combines wisdom and imagery, soul and story, to render, finally, the pure gold of these tales. Miroslav Penkov is an extraordinary writer. May many more books follow this one." —Bret Lott, author of Jewel
or
Not Currently Available for Direct Purchase