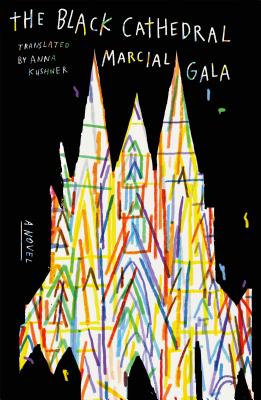 The Black Cathedral (Hardcover)
A Novel
Farrar, Straus and Giroux, 9780374118013, 224pp.
Publication Date: January 7, 2020
Other Editions of This Title:
Paperback (1/12/2021)
* Individual store prices may vary.
Description
Haunting and transcendently twisted, this English-language debut from a Cuban literary star is a tale of race, magic, belief, and fate

The Stuart family moves to a marginal neighborhood of Cienfuegos, a city on the southern coast of Cuba. Arturo Stuart, a charismatic, visionary preacher, discovers soon after arriving that God has given him a mission: to build a temple that surpasses any before seen in Cuba, and to make of Cienfuegos a new Jerusalem.

In a neighborhood that roils with passions and conflicts, at the foot of a cathedral that rises higher day by day, there grows a generation marked by violence, cruelty, and extreme selfishness. This generation will carry these traits beyond the borders of the neighborhood, the city, and the country, unable to escape the shadow of the unfinished cathedral.

Told by a chorus of narrators—including gossips, gangsters, a ghost, and a serial killer—who flirt, lie, argue, and finish one another's stories, Marcial Gala's The Black Cathedral is a darkly comic indictment of modern Cuba, gritty and realistic but laced with magic. It is a portrait of what remains when dreams of utopia have withered away.
About the Author
Marcial Gala was born in Havana in 1963. He is a novelist, a poet, and an architect, and is a member of the Union of Writers and Artists of Cuba. He won the Pinos Nuevos Prize for short stories in 1999. The Black Cathedral received the Alejo Carpentier Award for novels in 2012 and the Critics Award in 2012. He lives in Buenos Aires and Cienfuegos.

Anna Kushner was born in Philadelphia and first traveled to Cuba in 1999. She has translated the novels of Guillermo Rosales, Norberto Fuentes, Gonçalo M. Tavares, and Leonardo Padura.
Praise For The Black Cathedral: A Novel…
"Accidental cannibals, tenderhearted killers, angst-ridden ghosts and well-behaved artists soon populate [The Black Cathedral's] topsy-turvy universe . . . Even as the novel charts the voyages of its vagabonds, it represents an attempt to draw the periphery into the center, steering us toward the provinces as it renovates the Cuban novel . . . Its narrators, more than a dozen in number, are usually granted a page at a time before other characters butt in, pick up the thread or offer their own spin on the same series of events." —Shaj Mathew, The New York Times

"By telling the story from the perspectives of various people in the community, Gala achieves an oral-history-like effect, producing a profound, and often humorous, meditation on how desires—religious, sexual, financial—clash in a small-town environment." —The New Yorker

"Trained as an architect, the author seems less interested in chronology and its secrets than in creating the illusion that we're experiencing his story from every angle, as we would were we walking through a building. The strategy of embedding the future in the present has the effect of deepening the pathos, heightening our awareness of the vulnerability of characters who, in keeping with the principles of tragedy, appear to be moving inexorably toward their fates . . . The Black Cathedral is a book about survival—every character is in danger of imminent harm—but there's a melancholy playfulness that enlivens the tragedy." —Maxine Swann, Los Angeles Review of Books

"Strange and beautiful . . . Told by a chorus of mutually contradictory narrators—think George Saunders's Lincoln In the Bardo, except with fewer ghosts (just one ghost narrator, in fact) . . . [it is] a difficult book to explain, and yet an impossible one to put down." —Thrillist

"In Gala's many-voiced tale, Cienfuegos is a provincial capital harboring mundane material aspirations, ingrained racial divisions, and serious artistic longings in competition with religious urges . . . The Black Cathedral is finally not about larger ideas of redemption and the future at all, but about predictable paths of minor failure and major self-justification. It's no accident that key events . . . happen during the early years of the Obama administration: there's a pervasive sense of dashed hopes, business as usual, faith ignored or betrayed." —Brian Dillon, 4Columns

"A transcendent tale of what it is to be human in a place not made to nurture. Exploring this idea of humanity in all its twisted, generous, deviant, beautiful forms, Gala's novel is a twisted ode to a town teeming with magic and limitless potential, and replete with people in chase of unlikely dreams. Written with an astute colloquialism that captures a true and impressive diversity of voice, The Black Cathedral transports the reader to the marginal town of Cienfuegos, making no efforts to shield us from the dangers—and subtle joys—at the heart of its stories." —Leah Scott, Asymptote

"A story of family, an account of a transforming Cuba, an exploration of religious devotion, and a harrowing tale of a sinister man engaged in horrific acts. The Black Cathedral might not be what you first expect, but its unpredictability serves as one of its many strengths." —Tobias Carroll, Literary Hub

"Marcial Garcia's The Black Cathedral is told via a panoply of voices — all the better to narrate this expansive yet taut novel of faith, family, and violence. What begins as the story of a religious family moving to a small Cuban town gradually becomes broader in scope, encompassing obsession and murder along the way." —Vol. 1 Brooklyn

"The insatiable desire of some of these characters to rise above their circumstances is what encompasses the spirit of the book . . . A thought-provoking book with more questions than obvious answers." —Janet Mary Livesey, World Literature Today

"An ingenious construction . . . Gala's novel isn't based around a single event, but rather the continual horror and occasional beauty of people reacting to one another and their own feelings, setting the courses of their lives according to rhythms that exist outside of them—those of money, love and power . . . The Black Cathedral is an effervescent read filled with energy, possibility and chaotic delights." —Elisabeth Cook, BookBrowse (Editors' Choice)

"Strange, exuberant, and altogether brilliant . . . An enthralling work of imagination and grit, Gala's novel captures the complexity of one neighborhood as much as it exemplifies the many pleasures of great fiction." —Publishers Weekly (starred review)

"Award-winning Cuban writer and architect Gala links the fate of a community with the doomed construction of a cathedral in this dark, violent, often comic novel . . . A raucous, anguished, fast-paced story, tautly written and deeply rooted." —Kirkus (starred review)

"For anyone who has nurtured the fantasy of Cuba as a tropical socialist paradise, that illusion is heartbreakingly shattered in this award-winning novel . . . Kushner's nimble translation flows with flavor and intensity . . . Gala's raw, compelling, and highly readable novel lays bare a Cuba that, just like everywhere else, has not found an answer to human desperation, envy, or evil." —Sara Martinez, Booklist

"Marcial Gala's magnificent The Black Cathedral is a chorus of unforgettable characters that linger in the ashes of Revolution and personal passions. This novel is the broken mirror in which modern Cuba is portrayed with unsettling humanity." —Eduardo Lalo, author of Uselessness