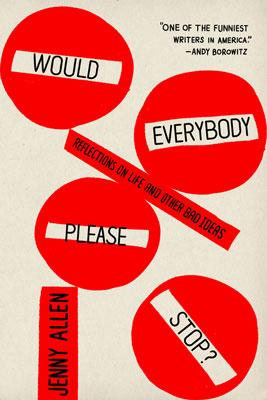 Would Everybody Please Stop? (Hardcover)
Reflections on Life and Other Bad Ideas
Sarah Crichton Books, 9780374118327, 240pp.
Publication Date: June 6, 2017
Other Editions of This Title:
Paperback (6/5/2018)
CD-Audio (6/6/2017)
* Individual store prices may vary.
Description
Finalist for the Thurber Prize for American Humor
"One of the funniest writers in America."
That's what The New Yorker's Andy Borowitz calls Jenny Allen—and with good reason. In her debut essay collection, the longtime humorist and performer declares no subject too sacred, no boundary impassable.
With her eagle eye for the absurd and hilarious, Allen reports from the potholes midway through life's journey. One moment she's flirting shamelessly—and unsuccessfully—with a younger man at a wedding; the next she's stumbling upon X-rated images on her daughter's computer. She ponders the connection between her ex-husband's questions about the location of their silverware, and the divorce that came a year later. While undergoing chemotherapy, she experiments with being a "wig person." And she considers those perplexing questions that we never pause to ask: Why do people say "It is what it is"? What's the point of fat-free half-and-half ? And haven't we heard enough about memes?
Jenny Allen's musings range fluidly from the personal to the philosophical. She writes with the familiarity of someone telling a dinner party anecdote, forgoing decorum for candor and comedy. To read Would Everybody Please Stop? is to experience life with imaginative and incisive humor.
About the Author
Jenny Allen is a performer, and the author of Would Everybody Please Stop?: Reflections on Life and Other Bad Ideas. Her articles and essays have appeared in The New Yorker and The New York Times, among other publications. Her award-winning solo show, I Got Sick Then I Got Better, has been seen in venues across the country and in Canada. She lives on Martha's Vineyard, Massachusetts.
Praise For Would Everybody Please Stop?: Reflections on Life and Other Bad Ideas…
"A tartly funny and often piercingly emotional ramble through life at a certain age." —Penelope Green, The New York Times
"Observant . . . charming and companionable . . . To read the entire collection is to feel that one has gained an eccentric, generous new friend" —Brook Allen, The Wall Street Journal
"Most of the 35 very short essays in Would Everybody Please Stop? are either hilarious, heartfelt, or both . . . Wonderful . . . Allen can be playful, sarcastic, and astute . . . There's sharp wit and social commentary aplenty . . . As delightful as her humor is, her serious essays hit deeper . . . It's all good." —Heller McAlpin, NPR

"A laugh-out-loud funny debut . . . A comedic celebration of womanhood and growing up, these 35 short essays will have you second guessing why you ever avoided essays to begin with." —Bustle
"The secret to a good monologue—and to being a good monologist, of course—lies in being able to speak alone in a way that a group of other people wants to hear. The author-performer Jenny Allen has made her name over the years both on the page and on the stage as just such a storyteller . . . Fans of Nora Ephron, Erma Bombeck and even the peevish Andy Rooney will find a lot to enjoy in these essays, which are lively and not afraid to be quarrelsome." —Kathleen Rooney, Chicago Tribune

"The essays make you laugh aloud and draw you in with a difficult-to-pull-off blend of wit and pathos. She comes across in print as she does in person: candid, ironic, and earthy yet worldly." —Martha's Vineyard Magazine

"If you can get your hands on Jenny Allen's new book, Would Everybody Please Stop? you may be tempted to gobble it all up at one sitting, telling yourself, "Just one more, and then I'll save the rest for later." But don't do it. Portion out these deliciously funny essays so that you can have some serious laughs a few days running. . . Some humor writers work very hard to be funny; others, like Ms. Allen, just can't help themselves." —Martha's Vineyard Times
"A fantastic compilation of her greatest hits . . . Both heartfelt and hilarious" —Tory Daily
"A hysterical essay collection filled with so-called 'reflections on life' and 'other bad ideas' that will keep the tears (of laughter) coming." —Elite Daily
"Like humorist Erma Bombeck, yet for the 21st century, Allen has a conversational but dramatic performer's voice that comes through in her essays and is a joy to spend time with as she deals with some of the harsher aspects of life . . . These pieces balance out into well-rounded set of writings that should please most humor fans; the lives of middle-aged women deserve more focus, and so Allen's rich vein of pathos is a welcome addition. Verdict: Lovers of darkly humorous domestic comedy will enjoy this one . . . everyone should be able to find something to appreciate." —Margaret Heller, Library Journal
"This level of humor is one of the hardest to pull off. Most writers on the Humor shelf don't even try. In Would Everybody Please Stop? Reflections on Life and Other Bad Ideas, Jenny Allen rarely misses." —Jesse Kornbluth, Head Butler
"Am I permitted to say 'I laughed my ass off?' I was already a Jenny Allen fan, always hoping that every 'Shouts & Murmurs' piece would be hers, so imagine my delight in a collection of these gems. Would Everybody Please Stop? is deeply, wisely funny, with delicious, lovable neuroses on display. I adored it." —Elinor Lipman, author of On Turpentine Lane and The Inn at Lake Devine
"Jenny Allen gets to the heart of things in the most inventive, unexpected ways. And she's funny. Really, really funny. Wildly funny. And sometimes she breaks my heart." —Delia Ephron, author of Siracusa
"I love this book more than Romeo loved Juliet. Also, it is so much funnier and more fun than that pill Juliet." —Patricia Marx, author of Him Her Him Again The End of Him
"Really it's too bad that Jenny Allen refuses to drink in any bar with a giant fish tank, never called that raw food restaurant to ask for their insanely good German chocolate cake recipe, and caused the annoying family upstairs to vanish into thin air. Because otherwise Jenny Allen is just plain perfect." —Stacy Schiff, Pulitzer Prize-winning author of The Witches