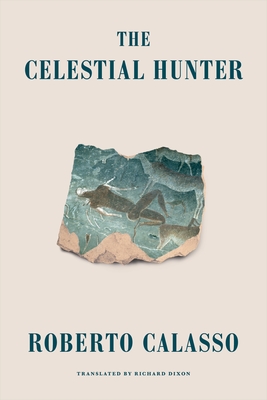 The Celestial Hunter
Hardcover

* Individual store prices may vary.
Other Editions of This Title:
Paperback (4/27/2021)
Description
A New York Times Book Review Editors' Choice

"[Calasso's] flow of associations leaves you feeling not out of your depth, but smarter and better read." --The New York Times Book Review

The eighth part of Roberto Calasso's monumental series on the primal forces of civilization

The eighth part of Roberto Calasso's singular work in progress that began in 1983 with The Ruin of Kasch, The Celestial Hunter is an inspired and provocative exploration of mankind's relationship with myth, the divine, and the idea of transformation.

There was a time, even before prehistory, when man was simply a defenseless animal. The gods he worshiped took the form of other beasts or were the patterns of the stars he saw above him each night in the sky, which he transformed into figures and around which he created stories. Soon, however, man learned to imitate the animals that attacked him and he became a hunter. This transformation, Calasso posits, from defenseless victim to hunter was a key moment, the first step on man's ascendance to power. Suddenly the notion of the hunter became fundamental. It would be developed over thousands of years through the figures that became central to Greek mythology, including the constellations. Among them was Orion, the celestial hunter, and his dog, Sirius.

Vivid and strikingly original, and expertly translated from the Italian by Richard Dixon, The Celestial Hunter traces how man created the divine myths that would become the cornerstones of Western civilization. As Calasso demonstrates, the repercussions of these ideas would echo through history, from Paleolithic to modern times. And they would be the product of one thing: the human mind.
Praise For The Celestial Hunter…
"You can dip in at any point, and be carried along as in a lively cafe conversation — that is, if your friend happens to be a polymath with seemingly all of European literature (in the original languages), as well as Vedic writings, in his head, but whose flow of associations leaves you feeling not out of your depth, but smarter and better read . . . Calasso is especially good at describing the characters of myth and legend with a novelist's omniscient authority." --A.E. Stallings, The New York Times Book Review

"There are two kinds of knowledge, he insists, scientific and mythological – and while he doffs the fedora occasionally to the former, it's the latter that has made his life worth living and his books worth reading, especially when, as in this latest book, he narrates some captivating passages about divine slap and tickle . . . all infused with the enviable learning of Calasso, whose favoured mode is incontrovertible assertion, sweetened with some lovely poetic passages . . . Calasso is vital." --Stuart Jeffries, The Guardian

"[Calasso] is a spellbinding modern magus who might almost have been invented by his fellow-Milanese, Umberto Eco . . . At best, he writes like a poet, not a professor, in glinting, enigmatic nuggets of narrative finely voiced by his translator Richard Dixon. At a moment when atavistic kinds of peril, awe and terror seem close at hand, it feels no great stretch to share Calasso's core belief that 'The gods always return.'"--Boyd Tonkin, Financial Times

"Calasso is elliptical, allusive and dazzlingly eclectic . . . The Celestial Hunter is 'an initiation through the book', speculative but capable of changing how you see things." --Dominic Green, The Spectator

"Thought-provoking . . . [The Celestial Hunter] is laced with aphorisms and bold declarations, but its real strength lies in Calasso's great facility with languages . . . [It] will provide historians with much entertaining speculation on the story of humankind." —Publishers Weekly
Farrar, Straus and Giroux, 9780374120061, 464pp.
Publication Date: April 28, 2020
About the Author
Roberto Calasso, publisher of Adelphi in Milan, is the author of many books, among them The Ruin of Kasch, The Marriage of Cadmus and Harmony, Ka, K., and Tiepolo Pink.