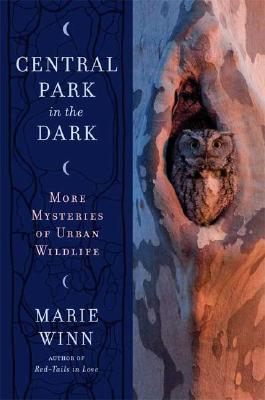 Central Park in the Dark (Hardcover)
More Mysteries of Urban Wildlife
Farrar, Straus and Giroux, 9780374120115, 320pp.
Publication Date: June 24, 2008
Other Editions of This Title:
Paperback (6/23/2009)
* Individual store prices may vary.
Description
Love and loss, life and death, among the nighttime creatures of the city that never sleeps Like her bestseller Red-Tails in Love, Marie Winn's Central Park in the Dark explores a once-hidden world in a series of interlocking narratives about the extraordinary denizens, human and animal, of an iconic American park. Her beguiling account of a city's lakes and woodlands at night takes the reader through the cycle of seasons as experienced by nocturnal active beasts (raccoons, bats, black skimmers, and sleeping robins among them), insects (moths, wasps, fireflies, crickets), and slugs (in all their unexpected poetical randiness). Winn does not neglect her famous protagonists Pale Male and Lola, the hawks that captivated readers years ago, but this time she adds an exciting narrative about thirty-eight screech owls in Central Park and their lives, loves, and tragedies there.
An eye-popping amount of natural history is packed into this entertaining book—on bird physiology, spiders, sunsets, dragonflies, meteor showers, and the nature of darkness. But the human drama is never forgotten, for Central Park at night boasts a floating population not only of lovers, dog walkers, and policemen but of regulars young and old who, like Winn, hope to unlock the secrets of urban nature. These "night people" are drawn into a peculiar kind of intimacy. While exploring the astonishing variety of wildlife in the city park, they end up revealing more of their inner lives than they expected.
Praise For Central Park in the Dark: More Mysteries of Urban Wildlife…
"New York City never sleeps, as Marie Winn proves in this delightful blend of natural history and human obsession. With her usual grace and humor, Winn weaves stories of tiny owls, exotic moths - even slug sex - into a captivating tapestry depicting the nocturnal wonders of America's most famous park." —Scott Weidensaul, author of "Of a Feather" and "Living on the Wind"
"How great is New York? Right in the middle of all that finance and culture and diplomacy, there's a great reservoir of wildness—and people crazy-wonderful enough to explore it day and night. Marie Winn's account will make you want to grab your headlamp and head for the park, wherever you live." —Bill McKibben, author of The Bill McKibben Reader: Pieces from an Active Life
"Marie Winn's new book is another gem. You pick it up and immediately have fun, learning a lot as you read about what goes on at night in the city." —Bernd Heinrich, author of Winter World: The Ingenuity of Animal Survival
"Marie Winn lights up Central Park at night with wit, intelligence and a warm humanity that makes this book a love song to the natural world, an elegy for a lost friend, and an invitation to the unknown reader to follow her into the inviting dark." —Jonathan Rosen, author of The Life of the Skies: Birding at the End of Nature
Praise for
Red-Tails in Love
: "Between the lines, this melodrama about nesting hawks is really about how wildness persists, even amid concrete and glass and jackhammering. It is about a tough town's politesse, giving the winged newcomers space, not getting in their face. And so it is a hopeful book. We learn that even urban sophisticates will trudge into the park in midwinter to put out seeds and suet. As one Regular said of the hawks, 'Aren't we lucky to see this?"—
New York Magazine
"Winn brings a wonderfully clear eye to all her observations, avian and otherwise. Birders will be enchanted, as will thoughtful students of human nature." —
Publisher's Weekly
or
Not Currently Available for Direct Purchase