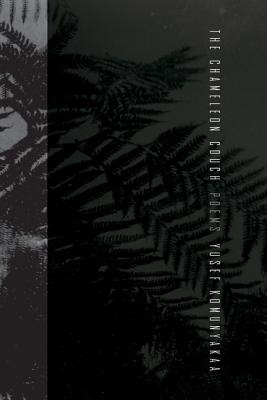 The Chameleon Couch
Poems
Hardcover

* Individual store prices may vary.
Other Editions of This Title:
Paperback (3/27/2012)
Description
A Boston Globe Best Poetry Book of 2011 | Finalist for the National Book Award for Poetry

An intimate collection from one of America's most important poets
The latest collection from one of our preeminent poets, The Chameleon Couch is also one of Yusef Komunyakaa's most personal to date. As in his breakthrough work, Copacetic, Komunyakaa writes again of music as muse—from a blues club in the East Village to the shakuhachi of Basho. Beginning with "Canticle," this varied new collection often returns to the idea of poem as hymn, ethereal and haunting, as Komunyakaa reveals glimpses of memory, myth, and violence. With contemplations that spring up along walks or memories conjured by the rhythms of New York, Komunyakaa pays tribute more than ever before to those who came before him.
The book moves seamlessly across cultural and historical boundaries, evoking Komunyakaa's capacity for cultural excavation, through artifact and place. The Chameleon Couch begins in and never fully leaves the present—an urban modernity framed, brilliantly, in pastoral-minded verse. The poems seek the cracks beneath the landscape, whether New York or Ghana or Poland, finding in each elements of wisdom or unexpected beauty. The collection is sensually, beautifully relaxed in rhetoric; in poems like "Cape Coast Castle," Komunyakaa reminds us of his gift for combining the personal with the universal, one moment addressing a lover, the next moving the focus outward, until both poet and reader are implicated in the book's startling world.
Praise For The Chameleon Couch: Poems…
"The Chameleon Couch proves itself an expertly crafted book from a poet peaking in his awareness and execution of all the tangled dialectics that manifest in his art, but also refuses to define, or divine like a prophet burned too many times by past certainty, what awaits us or any of our chosen chameleons or ghosts other than the ones we already know, which in Komunyakaa's hands, resonate perfectly across the wide swath of history." —Paul Corman-Roberts, The Rumpus
"This 14th collection from Komunyakaa does not wear its ostensible subject-how to continually reinvent life when the past constantly wells up within the present-on its sleeve. But over the course of these poems, Komunyakaa revisits his shared love of jazz with the poet William Matthews, an earlier ease with multiple lovers ("back when it was easy to be/ at least two places at once"), an impossible-to-forget era where "a black boy or girl sent to the grocery store... / could disappear between a laugh &/ a cry," and, in a poem of the same title, "A Voice on an Answering Machine" that belongs to someone dead (who "lives between the Vale of Kashmir & nirvana, beneath a bipolar sky"). The ease and lack of defensive ornament allow a new kind of autobiographical poem to emerge, a daybook-like chronicle of what it is to have the freedom in later life to remake oneself moment by moment, while accommodating all that one has done, and those one has loved, before. The last poem, "Ontology and Guinness" is at once a joyous celebration of Obama's election and an effortlessly self-elegizing cenotaph. That the poem, which also sings the praises of a certain stout, holds together at all is a testament to its maker's will and invisible skill." —Publishers Weekly
"Komunyakaa, who won the Pulitzer Prize for his 1993 Neon Vernacular, writes poetry that confronts the dark places of both national and personal history … The mix of violence and intimacy is sure to haunt the reader … yet a persistent hope in the possibility of healing exists throughout the book … Here hedonism is reimagined; music and love are valuable not because they offer escape, but because they contain the possibility of healing." —Elizabeth Hoover, The Dallas Morning News
"In The Chameleon Couch, Yusef Komunyakaa toys with character and voice with the shape-shifting skill of a best-selling novelist working under several pseudonyms. Through first-person narration, he tells enough stories to fill a hopping dance floor: a fine lady, an aging man, a territorial ghost, a street urchin, an occasional drag queen … Like most forms of fiction, the characters of The Chameleon Couch provide distractions from a painful past, from memories that threaten to pierce the pageantry with intense sorrow … The reverence and gravity of so many of the poems in this collection can be overwhelming for a light-hearted reader, but the author uses love to buoy the spirits. Love runs defiantly through nearly every poem … The closing lines of the collection achieve artful dignity, and a hard-earned smile: 'The older I get / the quicker Christmas comes, / but if I had to give up the heavenly/taste of Guinness dark, I couldn't / live another goddamn day. Darling, / you can chisel that into my headstone.'" —Julie Dill, St. Louis Magazine
"In Yusef Komunyakaa's latest, The Chameleon Couch, the Pulitzer Prize-winner seamlessly blends the ancient and the modern . . . and the mythic and the personal . . . His winding lines and abundant use of ampersands recall Allen Ginsberg's jazzy riffs, and his bold proclamations ('Tell your inheritors to think of me / when they smile up at the sky') are impressively Whitman-esque." —Carmela Ciuraru, Newsday
"Anyone may come to Yusef Komunyakaa's poetry, but only the most hard-skinned remain unmoved. His verse smolders with checked energy ... He is a poet of great magnitude and The Chameleon Couch sees the scope of his poetic interests and intersections widening." —Levi Rubeck, Bomblog
"Known for musical references and remarkable imagery, the Pulitzer Prize winner mixes worlds freely. Memory is stirred up and ghosts engaged, from Minerva to Monk. Indictments are handed out in a measured way and balanced with adulation. Rope and catgut are bookends. The scales demand a 'pinch of salt for a pinch of sugar.' More than a witness, Komunyakaa navigates between poles: between crime and faith, cages and paradise, love and reason. He confronts despots and turns thunder into nourishing rain. A romantic muse slips by on winged feet . . . 'Flesh' is a hundred-line poem of ten stanzas that tackles the 'ultimate question.' Komunyakaa rips his discourse out of the void as he steals the voices of gulls from the 'creator's … mouth.' Challenging the hurt while following desire, the poet initiates a sacrificial act as he becomes his 'own communion.' If the idea is to make the word flesh, then Komunyakaa comes damned close. The lion masters the lyre." —Jeffrey Cyphers White, The Brooklyn Rail
"Komunyakaa puts his thoughts and images together with the utmost restraint; this is intricately conversation poetry devoid of exclamation marks or shouting . . . These are poems that emerge from a mythical core and yet sound magically contemporary." —Alex M. Frankel, The Antioch Review
Farrar, Straus and Giroux, 9780374120382, 128pp.
Publication Date: March 15, 2011
About the Author
Yusef Komunyakaa's books of poems include Warhorses (FSG, 2008), Taboo (FSG, 2004), and Neon Vernacular: New and Selected Poems, for which he received the Pulitzer Prize. He teaches at New York University.
or
Not Currently Available for Direct Purchase