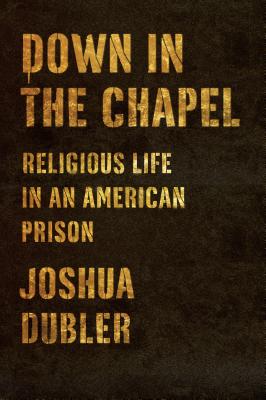 Down in the Chapel
Religious Life in an American Prison
Hardcover

* Individual store prices may vary.
Other Editions of This Title:
Digital Audiobook (8/12/2013)
Paperback (8/12/2014)
MP3 CD (8/13/2013)
Compact Disc (8/13/2013)
Compact Disc (8/13/2013)
Description

A bold and provocative interpretation of one of the most religiously vibrant places in America—a state penitentiary

Baraka, Al, Teddy, and Sayyid—four black men from South Philadelphia, two Christian and two Muslim—are serving life sentences at Pennsylvania's maximum-security Graterford Prison. All of them work in Graterford's chapel, a place that is at once a sanctuary for religious contemplation and an arena for disputing the workings of God and man. Day in, day out, everything is, in its twisted way, rather ordinary. And then one of them disappears.
Down in the Chapel tells the story of one week at Graterford Prison. We learn how the men at Graterford pass their time, care for themselves, and commune with their makers. We observe a variety of Muslims, Protestants, Catholics, and others, at prayer and in study and song. And we listen in as an interloping scholar of religion tries to make sense of it all.
When prisoners turn to God, they are often scorned as con artists who fake their piety, or pitied as wretches who cling to faith because faith is all they have left. Joshua Dubler goes beyond these stereotypes to show the religious life of a prison in all its complexity. One part prison procedural, one part philosophical investigation, Down in the Chapel explores the many uses prisoners make of their religions and weighs the circumstances that make these uses possible. Gritty and visceral, meditative and searching, it is an essential study of American religion in the age of mass incarceration.
Praise For Down in the Chapel: Religious Life in an American Prison…
"Mr. Dubler chronicles something remarkable . . . : committed worshipers who, at times, debate what religious belief is or should be . . . Most of the winding conversations that Mr. Dubler records are more down-to-earth about religious matters . . . Dubler's ability to capture these conversations--the differences among inmates, their changing moods and shifting positions--is nothing short of amazing." —The Wall Street Journal
"In this important book, Dubler reveals an essential American conversation that is complex, nuanced, highly intellectual, woefully uninformed, often humorous, and deeply theological among men held in violent, repressive circumstances. This book aptly proves Dostoyevsky's claim that one can judge a society's civilization 'by entering its prisons.'" —Publishers Weekly (starred review)
"Scholars will appreciate Dubler's intellectual sophistication, evident in his insightful references to the theology of Kierkegaard and Tillich, the philosophy of Hegel and Nietzsche. But a broader circle of readers will respond to the compelling immediacy of Dubler's narrative, rich with humanizing detail. An eye-opening inquiry into a surprising religious world." —Booklist
"This book is a masterful and magisterial probing into our new Jim Crow, told with subtle intelligence and genuine compassion. I salute Brother Joshua Dubler!" —Cornel West
"Brilliantly written with insight, wit, and empathy, Joshua Dubler's firsthand account explodes stereotypes about religious life in prison." —Elaine Pagels, author of The Gnostic Gospels and Beyond Belief
"Down in the Chapel is a beautifully written, thought-provoking, and thoroughly unsettling analysis of American religion and American freedom. Taking readers through a week in the life of a prison chapel, Joshua Dubler's rich rendering gives us much more than the sum of its days. It compels readers to consider deeply how we make choices about what stories to tell, and asks us to ponder how we are all 'doing time." —Courtney Bender, author of The New Metaphysicals and Heaven's Kitchen
"The United States' unenviable incarceration rate--one of the highest in the world--has created a separate population inside prisons that most of the rest of us know nothing about. Joshua Dubler's brilliant, engagingly written ethnography takes us inside. Among the lifers who frequent the prison's chapel, there is an amazingly rich grappling with the profound theological questions that all of us confront at one time or another in our lives. I highly recommend this book." —Robert Wuthnow, author of Remaking the Heartland and The God Problem
"In this rare account of the complex world of a prison chapel, Joshua Dubler lets us in on the spiritual and everyday lives of prisoners and staff while never forgetting the larger contexts that frame their struggles. A wonderfully fine-grained, compellingly readable ethnography!" —Lorna A. Rhodes, author of Total Confinement
"In the chapels where many of America's countless prisoners congregate, religious cooperation and conflict take on a special intimacy. Down in the Chapel describes a single week during which the author spent twelve hours a day in one such place. It is a world of horrors and wonders, and once the story has been told, a reader must decide whom to believe and what to do. This is a book for all of us to grapple with, as citizens and as human beings. The world it describes is our world, our responsibility." —Jeffrey Stout, author of Blessed Are the Organized
Farrar, Straus and Giroux, 9780374120702, 400pp.
Publication Date: August 13, 2013
About the Author
Joshua Dubler is an assistant professor of religion at the University of Rochester, the coauthor of Bang! Thud: World Spirit from a Texas School Book Depository, and the author of Down in the Chapel: Religious Life in an American Prison (FSG). He has also taught at Haverford College, Columbia University, and Villanova's University's Program at Graterford Prison.
or
Not Currently Available for Direct Purchase