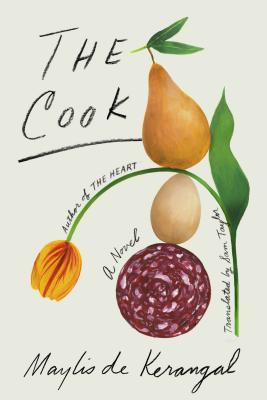 The Cook (Hardcover)
A Novel
Farrar, Straus and Giroux, 9780374120900, 112pp.
Publication Date: March 26, 2019
Other Editions of This Title:
Paperback (3/17/2020)
Compact Disc (4/21/2019)
MP3 CD (4/21/2019)
* Individual store prices may vary.
Description
"A slim, bountiful, beautifully written (and gorgeously translated) 'Portrait of the Chef as a Young Man.'" --Nancy Klinke, The New York Times Book Review

One of BBC Culture's Ten Books to Read this March and The Rumpus Book Club Pick for March

Maylis de Kerangal follows up her acclaimed novel The Heart with a dissection of the world of a young Parisian chef
More like a poetic biographical essay on a fictional person than a novel, The Cook is a coming-of-age journey centered on Mauro, a young self-taught cook. The story is told by an unnamed female narrator, Mauro's friend and disciple who we also suspect might be in love with him. Set not only in Paris but in Berlin, Thailand, Burma, and other far-flung places over the course of fifteen years, the book is hyperrealistic—to the point of feeling, at times, like a documentary. It transcends this simplistic form, however, through the lyricism and intensely vivid evocative nature of Maylis de Kerangal's prose, which conjures moods, sensations, and flavors, as well as the exhausting rigor and sometimes violent abuses of kitchen work.
In The Cook, we follow Mauro as he finds his path in life: baking cakes as a child; cooking for his friends as a teenager; a series of studies, jobs, and travels; a failed love affair; a successful business; a virtual nervous breakdown; and—at the end—a rediscovery of his hunger for cooking, his appetite for life.
About the Author
Maylis de Kerangal is the author of several novels in French, including Je marche sous un ciel de traîne(2000), La vie voyageuse (2003), Corniche Kennedy (2008), and Naissance d'un pont (published in English asBirth of a Bridge, winner of the Prix Franz Hessel and Prix Médicis in 2010). She has also published a collection of short stories, Ni fleurs ni couronnes (2006), and a novella, Tangente vers l'est (winner of the 2012 Prix Landerneau). In addition, she has published a fiction tribute to Kate Bush and Blondie titled Dans les rapides(2007). In 2014, her fifth novel, Réparer les vivants (The Heart), was published to wide acclaim, and won the Grand Prix RTL-Lire and the Student Choice Novel of the Year from France culture and Télérama. She lives in Paris, France.

Sam Taylor has written for The Guardian, Financial Times, Vogue and Esquire, and has translated such works as the award-winning HHhH by Laurent Binet, and the internationally-bestselling The Truth about the Harry Quebert Affair by Joël Dicker.
Praise For The Cook: A Novel…
"A slim, bountiful, beautifully written (and gorgeously translated) 'Portrait of the Chef as a Young Man.'" --Nancy Klinke, The New York Times Book Review
"Brief but superb . . . An antidote to the bravado of kitchen confidentials and to the rise of celebrity chefs, the book is restrained, private, and careful." --The New Yorker
"This short book, beautifully translated by Sam Taylor, reads like a prose poem . . . de Kerangal's food writing is incantatory; the accumulation of minutiae hypnotic . . . I was left hungry for more." --Moira Hodgson, The Wall Street Journal
"Narrated with almost documentary-like precision . . . this portrait of self-taught chef Mauro is not just a beautifully delineated character study or inside look at a hard way to make a living but a perceptive meditation on the meaning of work itself . . . All this in just over 100 pages and done brilliantly. Highly recommended." --Library Journal (starred review)
"Inventive, delicate, unpretentious . . . As the artist emerges, The Cook intrigues, entices, and ultimately satisfies." --Jane Ciabattari, BBC Culture
"Kerangal's concise tale is as engaging for the relatable ordinariness of its characters and events as for its tracking of a chef's professional development. The sparse prose increases the impact of carefully chosen details, and the translation retains the power of the compact novel's original French. Kerangal proves that the best reads can come in small packages." --Stacey Hayman, Booklist
"[The Cook] encompasses more emotional and sensory detail [than The Heart]; it's slim but potent . . . an admirable literary lagniappe." --Kirkus
"Fitfully delectable. . .[de Kerangal] takes readers on a brilliantly realized culinary tour of the world. . .[A] rich novel, particularly for armchair travelers."--Publishers Weekly