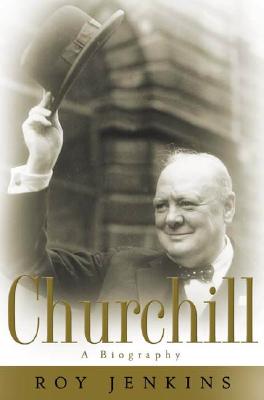 Churchill: A Biography (Hardcover)
A Biography
Hill and Wang, 9780374123543, 736pp.
Publication Date: November 1, 2001
* Individual store prices may vary.
or
Not Currently Available for Direct Purchase
Description
A brilliant new life of Britain's greatest modern prime minister

Winston Churchill is an icon of modern history, but even though he was at the forefront of the political scene for almost sixty years, he might be remembered only as a minor player in the drama of British government had it not been for World War II. In this magesterial book, Roy Jenkin's unparalleled command of the political history of Britain and his own high-level experience combine in a narrative account of Churchill's astounding career that is unmatched in its shrewd insights, its unforgettable anecdotes, the clarity of its overarching themes, and the author's nuanced appreciation of his extraordinary subject.

From a very young age, Churchill believed he was destined to play a great role in the life of his nation, and he determined to prepare himself. Jenkins shows in fascinating detail how Churchill educated himself for greatness, how he worked out his livelihood (writing) as well as his professional life (politics), how he situated himself at every major site or moment in British imperial and governmental life. His parliamentary career was like no other - with its changes of allegiance (from the Conservative to the Liberal and back to the Conservative Party), its troughs and humiliations, its triumphs and peaks - and for decades almost no one besides his wife discerned the greatness to come. Jenkins effortlessly evokes the spirit of Westminster through all these decades, especially the crisis years of the late 1930s and the terrifying 1940s, when at last it was clear how vital Churchill was to the very survival of England. He evaluates Churchill's other accomplishments, his writings, with equal authority.

Exceptional in its breadth of knowledge and distinguished in its stylish wit and penetrating intelligence, this is one of the finest political biographies of our time.
About the Author
Roy Jenkins is the author of eighteen books, most recently "Gladstone "(1997), which won the Whitbread Prize for Biography. Active in British politics for a half-century, he has been Home Secretary, Chancellor of the Exchequer, and President of the European Commission. In 1987 he took his seat in the House of Lords as Lord Jenkins of Hillhead. He lives with his wife in Oxfordshire and London.
Praise For Churchill: A Biography…
"One might wonder whether anything fresh remains to be said about Winston Churchill; but Roy Jenkins uniquely combines the skills of a master biographer with the insights of a practical politician and draws a fresh portrait of the great Englishman with authority, elegance and wit. This is far and away Churchill's best one-volume biography."—Arthur Schlesinger, Jr.

"Roy Jenkins is a premier historian in our time. Thus, his wonderful work on Gladstone and, especially for Americans, his greatly engaging account of the life of Harry Truman and his wholly unexpected achievements. And much else and now Churchill. No public figure has been so amply and (by himself) so devoutly covered as Churchill. And none more in need of the amplification, revision and correction here offered. That this should be done by a writer and international public citizen who is also a talented political leader and a university chancellor is truly a gift of our time."—John Kenneth Galbraith

"[A] beautifully written book . . . [If it] has no fresh evidence or interpretation, it has something more valuable in a biography--an instinctive feel for the subject . . . Politics and history were at the centre of [Churchill's] concerns for the best part of a century; the same is almost true of Lord Jenkins . . . Jenkins comes closer than any of the previous . . . biographers to capturing the essence of Churchill . . . Political experience at the highest levels qualifies Jenkins to write a magisterial biography peppered with useful insights, but this is not the only quality that makes it worth reading. Age provides a perspective. Jenkins is particularly good at spotting the element of urgency in Churchill's early career . . . [I]n 1940 events transmuted Churchill's defects into gold . . . In 1940, he was the essential man . . . Lord Jenkins ... is a great believer in rankings, so it would be appropriate to finish by awarding this biography an alpha-straight or minus . . . Macaulay himself could not have done a better job."—John Charmley, The Guardian (UK)

"Like his subject, Lord Jenkins of Hillhead is an outstanding biographer, autobiographer and journalist . . . Liveliness and wit are common to both men, but Jenkins has a subtle irony, often at his own expense, which is not much in Churchill's style. To have written this book at all in a little over two years must f0be judged an astonishing tour de force. Though Jenkins completed his eighth decade before completing it, it does not read as the work of an old man; it has the narrative power, sweep and sparkle of the author in his prime. Inside knowledge of politics is everywhere in evidence and the book is full of intriguing allusions to history before and after the Churchillian period . . . The tone is . . . warmly admiring and sympathetic but definitely not hagiographic."—John Grigg, The Times (London)

"What new light can Jenkins's biography of Churchill shed on a subject that might already seem overresearched, overwritten and overpublished? The answer does not lie in the evidence as such . . . What is superior about this biography is the insight it brings to the sources . . . [Jenkins'] probing ruminations . . . are erudite, subtle and revealing. He has a gift for posing fruitfully unexpected questions, often displaying a degree of empathy with his subject bred by common experience . . . The imperatives of party politics and political manoeuvre are always remembered and deftly brought out . . . The distinctive second string to Jenkins' bow is . . . his ability to span the worlds of politics and literature like no other significant British politician since Churchill himself."—Peter Clarke, The Sunday Times (London)

"[A] first-class, well-sustained work of history and a masterpiece of biography . . . almost every single one of these 912 pages boasts a sagacious judgement or a fine epithet . . . as much a work of literature as of history . . . The 12 chapters on the Second World War occupy less than a quarter of the book, but could easily be published on their own. Jenkins makes the military issues easily intelligible, with good phraseology and vivid imagery . . . To have written this splendid book at the age of 80 in only a little over two years is a simply astonishing achievement . . . the greatest political story of the 20th century is presented in a more elegant, engaging and consistently fair way than ever before. Of all the very many biographies of Winston Churchill that have been written, this one is the best."—Andrew Roberts, Sunday Telegraph (London)

"Jenkins ... is at his inimitable best on Churchill's relations with the vast variety of people he had to live and work with ... rich in agreeable stories and digressions."—Geoffrey Best, The Evening Standard (London)

"[M]agnificent ... Jenkins ... a creature of the system that nurtured Palmerston and Disraeli, Gladstone, Asquith and Lloyd George ... now nearly 81, is utterly at home in a landscape that other biographers might find intimidating, even incomprehensible ... The book's enduring strength lies in the breadth of its sympathy ... Churchill is a life brilliantly reflected in the mirror of its author's personality and experience. Having warned his readers of his conviction that 'great men have strong elements of comicality in them', he presents his subject - part self-centered celebrity, part workaholic journalist, part political chatterbox - as both a character obsessed, even maddened, by the sense of his own destiny, and also as a writer-orator who would sacrifice almost anything for an eye-catching phrase or a crowd-pleasing period ... Jenkins's effortless selection of the choicest timber from acres of historiographical forest gives his portrait great freshness and originality ... The year 1937, in other respects, is a low point for Churchill. Out of office, in trouble with his constituency, visibly ageing ...and deeply at odds with ... public opinion, he seemed to be what in fact he had become, ...a has-been. And yet, within two years, by the most extraordinary chain of events, he had emerged to lead his country through its battle with Nazism and himself to his rendezvous with destiny ... Jenkins gets the balance of the Second World War just right ... By the time Jenkins writes 'finis' to this astounding performance, he has triumphantly vindicated his closing verdict that Churchill was the 'greatest Prime Minister of the twentieth century ... This is the biography of the year."—Robert McCrum, The Observer

"This is a splendid addition to Churchillian lore, a chronicle chock-full of revealing personal anecdotes, delightful wartime vignettes and fascinating new insights into the critical 1939-45 years. . . . Jenkins skillfully pulls together the varied strands of Churchill's career, giving us a sweeping and penetrating portrait."—Paul Duke, The Baltimore Sun

"Churchill is such a protean personality that his life still yields wonders on every page . . . hugely entertaining and instructive."—John Campbell, The Independent Weekend Review

"Jenkins gives a gripping account of the Crisis Cabinet meetings of May 1940 . . . There are moments when Jenkins makes Churchill sound almost contemporary, claiming that he had 'the gift of communicable emotion' (more Clinton than Bush). But overall the book shows that even in the Forties Churchill was a throwback to an earlier age."—Mick Hume, Play

"A rich, wonderful and compulsively readable book . . . [a] marvellous study."—Ben Pimlott, Financial Times

"Not much room for doubt about which is the political biography of the year-Roy Jenkins's Churchill carried all before it."—Anthony Howard

"I'm halfway through Roy Jenkins's Churchill0 —even better than his Asquith."—Peter Hall, The Observer Review, "Books of the Year"

"My most enjoyable literary experience of 2001 was the 10 days or so I spent in the company of Roy Jenkins's Churchill—a biographical dream-ticket if there ever was one. It combines academic authority with some very good jokes, first-hand political experience with a sympathetic imagination, and grand strategy with intimate domestic detail. I also, as a general principle, warmly approve of writers who produce their best books at the age of 80, on the grounds that they provide hope for the rest of us."—Robert Harris, The Observer Review, "Books of the Year"
Advertisement