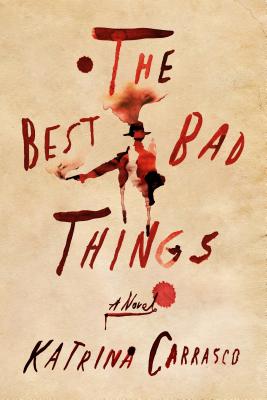 The Best Bad Things (Hardcover)
A Novel
MCD, 9780374123697, 400pp.
Publication Date: November 6, 2018
* Individual store prices may vary.
Description
"A brazen, brawny, sexy standout of a historical thrill ride, The Best Bad Things is full of unforgettable characters and insatiable appetites. I was riveted. Painstakingly researched and pulsing with adrenaline, Carrasco's debut will leave you thirsty for more." —Lyndsay Faye, author of The Gods of Gotham

A vivid, sexy barn burner of a historical crime novel, The Best Bad Things introduces readers to the fiery Alma Rosales—detective, smuggler, spy
It is 1887, and Alma Rosales is on the hunt for stolen opium. Trained in espionage by the Pinkerton Detective Agency—but dismissed for bad behavior and a penchant for going undercover as a man—Alma now works for Delphine Beaumond, the seductive mastermind of a West Coast smuggling ring.
When product goes missing at their Washington Territory outpost, Alma is tasked with tracking the thief and recovering the drugs. In disguise as the scrappy dockworker Jack Camp, this should be easy—once she muscles her way into the local organization, wins the trust of the magnetic local boss and his boys, discovers the turncoat, and keeps them all from uncovering her secrets. All this, while sending coded dispatches to the circling Pinkerton agents to keep them from closing in.
Alma's enjoying her dangerous game of shifting identities and double crosses as she fights for a promotion and an invitation back into Delphine's bed. But it's getting harder and harder to keep her cover stories straight and to know whom to trust. One wrong move and she could be unmasked: as a woman, as a traitor, or as a spy.
A propulsive, sensual tour de force, The Best Bad Things introduces Katrina Carrasco, a bold new voice in crime fiction.
About the Author
Katrina Carrasco holds an MFA in fiction from Portland State University, where she received the Tom and Phyllis Burnam Graduate Fiction Scholarship and the Tom Doulis Graduate Fiction Writing Award. Her work has appeared in Witness magazine, Post Road Magazine, Quaint Magazine, and other journals. The Best Bad Things is her first novel.
Praise For The Best Bad Things: A Novel…
"Carrasco succeeds in coupling a feminist historical that maintains period plausibility with an exploratory queer narrative rarely seen in the crime genre. Even readers uninterested in Alma's identity journey will be impressed by her intelligence and social acumen, and drawn by the constantly shifting politics and well-timed reveals of the plot. Breath-catching pacing, tantalizingly rough-and-tumble characters who are somehow both distasteful and deeply relatable, palpable erotic energy, and powerful storytelling make this a standout." —Publishers Weekly, starred and boxed review
"[A] richly detailed historical mystery . . . [a] wildly creative take on the genre." —Crime Reads, "Most Anticipated Crime Books of 2018"
"The best thing, upon opening The Best Bad Things, is to ensure you don't have any plans for the next day or so. Instead, surrender to this book's glorious race through the rain-soaked, crime-ridden streets of nineteenth-century Port Townsend. Katrina Carrasco's jaw-dropping debut is powered by Alma Rosales, a runaway steam engine of a woman: fast, ferocious, and barreling heedlessly toward her destination. Carrasco writes with stunning verve and fierce intelligence, and The Best Bad Things will keep you guessing until its explosive end." —Carrie Callaghan, author of A Light of Her Own
"A brazen, brawny, sexy standout of a historical thrill ride, The Best Bad Things is full of unforgettable characters and insatiable appetites. I was riveted. Painstakingly researched and pulsing with adrenaline, Carrasco's debut will leave you thirsty for more." —Lyndsay Faye, author of The Gods of Gotham
"Gritty street fiction set in the lawless past when Port Townsend was the Deadwood of the Pacific Northwest, Katrina Carrasco's The Best Bad Things is a bloody brawl of a book. Carrasco uses a whippy structure and flexible prose to play an unsettling shell game as Alma, dressed as Jack, sheds her impulse control along with her corsets, and the plot accelerates into a visceral, unexpected underworld of bare-knuckle fighting, opium smuggling, and genderqueer lust." —Nicola Griffith, author of So Lucky
"HOLY SHIT! I nearly chipped a tooth on the opening paragraph of this book and choked to death. Katrina Carrasco is a powerful writer, her prose as sharp as a Hattori Hanzo sword from Kill Bill, with one badass female protagonist, Alma, a detective who is kicking ass and taking names in a world of power-hungry men and women smuggling opium, trying to stay one step ahead of them while balancing her physical attraction to the ringleader. But be warned, you may need a trip to the dentist after reading this amazing debut!" —Frank Bill, author of Crimes in Southern Indiana, Donnybrook, and The Savage

"A vibrant and compulsive read; in Alma Rosales, Katrina Carrasco has created a gender-bending heroine who is impossible to forget. The Best Bad Things packs a massive punch and succeeds in queering the crime genre." —Saleem Haddad, author of Guapa