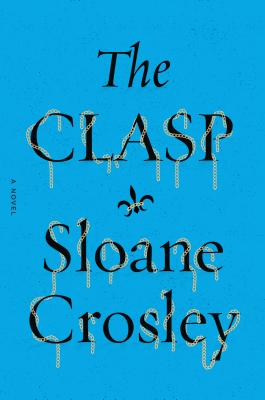 The Clasp
A Novel
Hardcover

* Individual store prices may vary.
Other Editions of This Title:
Digital Audiobook (10/5/2015)
Paperback (6/7/2016)
Library Binding, Large Print (12/1/2015)
CD-Audio (10/6/2015)
Description
Part comedy of manners, part treasure hunt, the first novel from the writer whom David Sedaris calls "perfectly, relentlessly funny"

Kezia, Nathaniel, and Victor are reunited for the extravagant wedding of a college friend. Now at the tail end of their twenties, they arrive completely absorbed in their own lives-Kezia the second-in-command to a madwoman jewelry designer in Manhattan; Nathaniel the former literary cool kid, selling his wares in Hollywood; and the Eeyore-esque Victor, just fired from a middling search engine. They soon slip back into old roles: Victor loves Kezia. Kezia loves Nathaniel. Nathaniel loves Nathaniel.
In the midst of all this semi-merriment, Victor passes out in the mother of the groom's bedroom. He wakes to her jovially slapping him across the face. Instead of a scolding, she offers Victor a story she's never even told her son, about a valuable necklace that disappeared during the Nazi occupation of France.
And so a madcap adventure is set into motion, one that leads Victor, Kezia, and Nathaniel from Miami to New York and L.A. to Paris and across France, until they converge at the estate of Guy de Maupassant, author of the classic short story "The Necklace."
Heartfelt, suspenseful, and told with Sloane Crosley's inimitable spark and wit, The Clasp is a story of friends struggling to fit together now that their lives haven't gone as planned, of how to separate the real from the fake. Such a task might be possible when it comes to precious stones, but is far more difficult to pull off with humans.
Praise For The Clasp: A Novel…
"I took so much pleasure in every sentence of The Clasp, fell so completely under the spell of its narrative tone-equal parts bite and tenderness, a dash of rue-and became so caught up in the charmingly dented protagonists and their off-kilter caper that the book's emotional power, building steadily and quietly, caught me off guard, and left me with a lump in my throat." —Michael Chabon, author of The Yiddish Policemen's Union
"Sloane Crosley's debut novel is hilarious, insightful, and full of characters and situations that only Sloane Crosley could devise. The laugh-out-loud observations and dialogue that make her essays such a delight to read shine through in her fiction too. The Clasp is a gem." —J. Courtney Sullivan, author of The Engagements
"The Clasp reads like The Goonies written by Lorrie Moore. A touching but never sentimental portrait of a trio of quasi-adults turning into adult adults, this is one of those rare deeply literary books that also features-a plot! From the shores of Florida to the coast of Normandy, wonderful, unforgettable things happen in this enormously hilarious novel. And they are written in a language so beautiful, I gnashed my teeth at Sloane Crosley's talent." —Gary Shteyngart, author of Super Sad True Love Story
"I opened The Clasp and immediately realized that I'd been waiting far too long for Sloane Crosley to write a novel. Crosley is a literary addiction. There is no substitute. She is curious. She is smart. She is hilarious and edgy and generous and impossible to stop reading. Moreover, she misses nothing. Her attention to the seemingly smallest details-material, social, psychological-reveals, as the pages turn, an intricately tooled world that is as familiar as it is dazzling and new." —Heidi Julavits, author of The Folded Clock
"Crosley is already an established humorist…and her signature wit is sharp as ever here. She is startlingly good at portraying comically awful characters who would seem cartoonish if they weren't also so recognizable. Crosley is an incisive observer of human nature in general and of a generation in particular…. For all its humor, Crosley's prose is equally sharp in delineating her characters' despair. When, late in the novel, Nathaniel finally says the words Kezia has always wanted to hear from him, she wishes she could "give the gift of him saying it to her younger self, the one who needed to hear it." All at once there is nothing funny, but something all too sad and true, in this highly comic, highly affecting novel." —The New York Times Book Review
"In her debut novel, The Clasp, Crosley's talent for extracting hilarity from disappointment crosses over into fiction and thrives there… Amid all the travel and high jinks, the true journey of this book is a philosophical one. The book's delicious humor and whirlwind plot help the book's harshest medicine — important-but-sad epiphanies of life's truths, both beautiful and cold — taste far more enjoyable than it would if delivered by a less-funny writer. The amusing adage "If I have to learn something, I'd rather have fun doing it" fits The Clasp well: Its humor is wildly entertaining, but relevance always shows up at the party." —The San Francisco Chronicle
"Sloane Crosley graduates from delightful essayist to accomplished novelist in one giant step that she takes easily in The Clasp . . . The novel deepens even as the mood lightens. The madcap adventure is responsible for the latter, but it's the profound connection that the lapsed friends rekindle that makes The Clasp a rich read." —The New York Daily News
"The newest—and arguably the funniest [tribute to "The Necklace"]—is Sloane Crosley's The Clasp, a light-hearted but sincere novel about three college friends who reunite a decade after graduation and end up in a kind of soul-searching caper that takes them through New York, Los Angeles, Florida, and France…. Crosley's comedy is nearly always upbeat…but it still manages to slyly investigate the downside of "personal authenticity," that weird American obsession that distorts everything from our shopping habits to our national politics. In The Clasp, characters struggle on the brink of 30 to transform the fake—meaning the privately miserable and "successful" lives they've been pretending to lead—into something real…. Crosley has achieved a rare feat: a complex and clever work of homage that deepens the original by connecting it to contemporary life. The Clasp is a gentle, astute, funny, smart, and very entertaining book." —The New Republic
"The breezy New York essayist with a post-millennial undertow hasn't radically altered her voice in transit to fiction. That's good, because Crosley's skittery wit and polished warmth make her first novel worthy of its meta-fictional basis, "The Necklace," Guy de Maupassant's short story about the fraudulence of our fetish for authenticity…. [a] luminous, ridiculous adventure, a caper in the French countryside that evokes both Amélie and The Pink Panther." —New York Magazine
"Wonderful and wacky. Crosley's a pundit of the absurd… Those who love [her] essays for the way they straddle the line between slapstick humor and essential truths will love her fiction too. Each sentence builds upon the last, toward one big wink: Isn't life weird? And isn't it great?" —Elle Magazine
"The Clasp, her debut novel, fairly bursts with [Crosley's] trademark snappy patter…. At the literary heart of the mystery is the famous story by French writer Guy de Maupassant, about a lost necklace that ruins a poor woman's life. As students, Victor and Nathaniel were present when their French professor embarrassed everyone by breaking down as she explained the story's meaning; Victor alone envied her passion. The glory of this novel lies in showing how passion—not passivity—can reawaken even the most jaded 30-year-olds." —The Toronto Star
"Crosley, with her quirky cleverness, seems more in league with the doohickeys of the world than with the emeralds. She's interested not so much in transcendent beauty as in the small gears that hold people together and sometimes force them apart; when the objects you cherish could easily turn out to be fake, what matters is not what you cling to but the fact that you cling to it . . . Crosley's stylishness as a writer never tips over into shtickiness or stifles her warmth—it only makes the flowering of genuine emotion more powerful . . . Crosley deftly rewrites The Great Gatsby, another exploration of authenticity and falsehood in which youngish friends and lovers seek to recapture the past. But in her version, the green light—the dream—never appears: These characters don't even know what they want. Or perhaps it is more accurate to say that their desires are too diffuse to collapse into a single brilliant point on the horizon." —Slate
"A novel with more verve and imagination than much of the plot-light fare that typically gets the high-literary treatment, a story that shares at least some DNA with ambitious capers like Donna Tartt's The Goldfinch and Marisha Pessl's Special Topics in Calamity Physics. Fans of [Crosley's] essays will be pleased to find that she's just as funny and tenderly deprecating with her fictional characters as she is with herself." —Vogue.com
"A knockout." —O Magazine
"Her debut novel, The Clasp (FSG), is shot through with numerous inimitable Crosley-isms—wisecracking young sophisticates, trenchant yet occasionally perverse social observations, the errant (and unapologetic) pun. At its heart, though, it's a treasure hunt. Playing off the melodrama and social critique of Guy de Maupassant's classic 1884 short story "The Necklace," The Clasp pulls three college friends, now pushing 30 and each struggling with their own versions of existential disenchantment, along a journey of literal and figurative discovery." —Interview Magazine
"Sloane Crosley is one of the sharpest and funniest writers around." —Ryan Vlastelica, The A.V. Club
Praise for I Was Told There'd Be Cake:
"Crosley's book [is] a welcome departure from the increasingly tired genre of first-person prose as stand-up comedy. Unlike David Sedaris (I went to Anne Frank's house and all I got was real-estate lust!) and other hugely successful practitioners, Crosley forces herself up against not her exquisite selfishness but some ideal she's grasping for—female camaraderie, neighborliness, sanity. She's also got a sharp fizzily old-fashioned sense of the madcap that, in the best pieces, has you thinking that she's figured out how to cross Mary Tyler Moore with Kingsley Amis—as well as wondering, now that she's updates the role of ingénue by concocting a bracing cocktail of credulity and crankiness, what she might be able to do with a novel." —Elle Magazine
"Sloane Crosley asserts herself as a new master of non-fiction situational comedy in I Was Told There'd Be Cake." —Entertainment Weekly
"[Crosley] is ironic, droll and self-pillorying and, like Sedaris, she manages to balance passages that are laugh-out-loud funny with others that are both touching and resonant. Above all Crosley manages, Midas-like, to take the minutiae of her life — and all of our lives — and turn it into gold." —The Seattle Times
"Sloane's is a generous, sparkling hilarity…By the end of the book, the flirtation has worked, and you're left desperate for more." —Newsday
"You'll feel as though you're sitting with her at a café, breathlessly waiting to hear what she's going to tell you next." —People
"Although the stories are set in New York, Crosley's plights are universally relatable and described in a voice that's supremely witty and genuine." —Daily Candy
"With piquant prose, Crosley brings bite to reminiscences of a comfortable childhood in suburban White Plains, N.Y., and her salad days in Manhattan…[she's] that smart, sardonic friend who homes in on the ridiculous aspects of any situation and amplifies them to maximum hilarity." —The Minneapolis Star Tribune
Praise for How Did You Get This Number:
"Crosley is like a tap-dancer, lighthearted and showman­like…but capable of surprising you with the reserves of emotion and keen social observation." —The New York Times Book Review
"Crosley responds to everyday absurdities with self-deprecation and an arsenal of metaphors, applying insights like a salve….As she expounds on her various mishaps and anxieties, it all manages to seem like proof that even when she's lost, she knows what she's doing all along." —The Los Angeles Times Book Review
"Crosley has been honing her craft since we've seen her last, and the hard work shows. Now, she has mastered the precision of novelistic scene-setting deployed by our greatest practitioners of the American sentimental essay, writers such as Gopnik, Sedaris and, yes, even Thurber." —The Denver Post
"In the battle for space on my family-room bookshelf, Sloane Crosley's "How Did You Get This Number" just pushed David Sedaris to the second-floor stacks….Where "Cake" played strictly for laughs, Crosley finds more balance here – she never slips into parody, and she knows how to keep the mood buoyed, even in moments with pathos." —The Cleveland Plain Dealer
"What puts Crosley over is her preternatural ability to slip into her offbeat interior world—and cajole us into going there too." —Elle Magazine
"Crosley is engaging and energetic…She is a fountain of observations, apt metaphors, and escalating wit." —The Boston Globe
"An intimate anthropologist…Crosley returns wiser without losing her sharpness." —The Onion
Farrar, Straus and Giroux, 9780374124410, 384pp.
Publication Date: October 6, 2015
About the Author
Sloane Crosley is the author of the New York Times bestsellers I Was Told There'd Be Cake (a Thurber Prize finalist) and How Did You Get This Number. A frequent contributor to The New York Times, she lives in Manhattan.
or
Not Currently Available for Direct Purchase