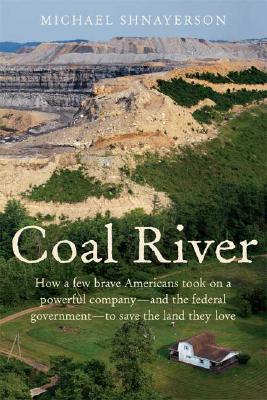 Coal River
Hardcover

* Individual store prices may vary.
Description
One of America's most dramatic environmental battles is unfolding in southern West Virginia. Coal companies are blasting the mountains, decapitating them for coal. The forested ridge tops and valley streams of Appalachia one of the country's natural treasures are being destroyed, along with towns and communities. An entire culture is disappearing, and to this day, most Americans have no idea it's happening.
Michael Shnayerson first traveled to the coal fields four years ago, on assignment for "Vanity Fair. "There he met an inspiring young lawyer named Joe Lovett, who was fighting mountaintop removal in court with a series of brilliant and daring lawsuits. He also met Judy Bonds, whose grassroots group, the Coal River Mountain Watch, was speaking out in a region where talking truth to power was both brave and dangerous. The two had joined forces to take on Massey Energy, the largest and most aggressive of the coal companies, and its swaggering, notorious chairman, Don Blankenship.
"Coal River "is Shnayerson's account of this dramatic struggle. From courtroom to boardroom, forest clearing to factory floor, Shnayerson gives us a novelistic and compelling portrait of the people who risked their reputations and livelihoods in the fight against King Coal.
Praise For Coal River…
Advance Praise for COAL RIVER: "Michael Shnayerson has ventured into one of the roughest and remotest parts of America and emerged with a brilliant and devastating work on the greed of the coal mining industry. I found myself hoping that certain people named in this book will read it and experience that sick fear of knowing their game is about to come to an end. Indeed, that is one of the very satisfying things about this book: As horrifying as the story is, there is the real and very beautiful possibility that justice will prevail in the end."   —Sebastian Junger, author of The Perfect Storm "This damning account of mountaintop beheading and rampant watershed destruction in four states of Appalachia should be obligatory reading for every Congressperson who deserves the name of lawmaker (and the lobby-led political hacks who claim it, too). Uncommonly well-written and well-researched, Coal River is an enthralling story of the few Americans courageous enough to 'tell truth to power' and oppose the crudest sort of environmental desecration and pollution for profit."   —Peter Matthiessen                                                                  "Coal River is the dismaying story of Armageddon in Appalachia. At one time the powerful forces of ignorance and greed are dooming America's landscapes, our culture, and our democracy."   —Robert F. Kennedy, Jr. "The coal that generates our electricity and lights our homes also poisons our air. Along the Appalachians of West Virginia, as Michael Shnayerson shows in this heartbreaking book, the relentless quest for ever more coal has leveled ancient mountain tops, corrupted politicians, destroyed communities, and sickened their people. Forty-five years ago, in his classic Night Comes to the Cumberlands, Harry Caudill warned of this looming disaster. Now, in his equally powerful book, Shnayerson reveals the price all of us must pay for ignoring Caudill's warning."   —Jason Epstein
Farrar Straus Giroux, 9780374125141, 321pp.
Publication Date: January 8, 2008
About the Author
Michael Shnayerson is a contributing editor to "Vanity Fair." His books include "The Car That Could: GM's Revolutionary Electric Vehicle "and "The Killers Within: The Deadly Rise of Drug-Resistant Bacteria "with co-author Mark J. Plotkin.
or
Not Currently Available for Direct Purchase