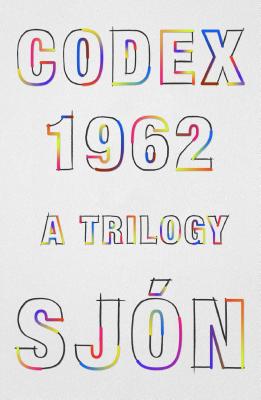 CoDex 1962
A Trilogy
Hardcover

* Individual store prices may vary.
Other Editions of This Title:
Paperback (9/10/2019)
MP3 CD (1/22/2019)
Compact Disc (1/22/2019)
Description
Spanning eras, continents, and genres, CoDex 1962—twenty years in the making—is Sjón's epic three-part masterpiece

Over the course of four dazzling novels translated into dozens of languages, Sjón has earned a global reputation as one of the world's most interesting writers. But what the world has never been able to read is his great trilogy of novels, known collectively as CoDex 1962—now finally complete.

Josef Löwe, the narrator, was born in 1962—the same year, the same moment even, as Sjón. Josef's story, however, stretches back decades in the form of Leo Löwe—a Jewish fugitive during World War II who has an affair with a maid in a German inn; together, they form a baby from a piece of clay. If the first volume is a love story, the second is a crime story: Löwe arrives in Iceland with the clay-baby inside a hatbox, only to be embroiled in a murder mystery—but by the end of the volume, his clay son has come to life. And in the final volume, set in present-day Reykjavík, Josef's story becomes science fiction as he crosses paths with the outlandish CEO of a biotech company (based closely on reality) who brings the story of genetics and genesis full circle. But the future, according to Sjón, is not so dark as it seems.

In CoDex 1962, Sjón has woven ancient and modern material and folklore and cosmic myths into a singular masterpiece—encompassing genre fiction, theology, expressionist film, comic strips, fortean studies, genetics, and, of course, the rich tradition of Icelandic storytelling.
Praise For CoDex 1962: A Trilogy…
"Sjon is a prodigal storyteller in all senses of the phrase . . . He is a master of atmosphere, a fine observer of the cross-hatchings of human motivation, and a vivid noticer of detail." —Garth Risk Hallberg, The New York Times Book Review

"The Icelandic literary maverick and Oscar-nominated songwriter Sjón writes with a poet's ear and a musician's natural sense of rhythm. [In] this extraordinary performance . . . the effect is hypnotic. The reader becomes a gleeful collaborator in an extravaganza in which Bosch meets Chagall, with touches of Tarantino." —Eileen Battersby, The Guardian

"A work of virtuoso narrative . . . An Icelandic 1001 Nights." —The Sunday Times

"[A] challenging and cacophonous epic by the talented Sjón . . . An amalgam of creation myth, surrealist absurdity, ancient saga, and contemporary satire." —Booklist

"Sjón is more than a novelist; he is a storyteller in the ancient tradition, and this work may be remembered as his masterpiece." —Publishers Weekly (starred review)

"In this beguiling, surpassingly eccentric triptych, Icelandic novelist Sjón takes on, in turn, romance (classic, not Gothic), mystery, and science fiction to examine how people parse themselves into little camps and try to make their way through this harsh world . . . Sjón's work is unlike anything else in contemporary fiction. Strange—but stunning." —Kirkus Reviews (starred review)

"Sjón can flick from angelic frolics to seedy violence as if each tale were a smooth refraction of the last. He has a knack for high comedy, too . . . Victoria Cribb deserves equal praise for bringing all this zest into English so well." —Cal Revely-Calder, The Daily Telegraph (UK)

"A work of virtuoso narrative . . . an Icelandic 1001 Nights." —Phil Baker, The Sunday Times (UK)

"A master of Icelandic fiction . . . Sjón's stories compound the dreamscapes of surrealism, the marvels of Icelandic folklore and a pop-culture sensibility into free-form fables." —The Economist (UK)

"No one can escape Sjón's wild originality." —Informatíon (Denmark)

"Sjón delivers a complex story in which violence and desire, voices and actions, are beautifully woven together." —Politiken (Denmark)

"It's as if Hans Christian Andersen is telling a story by Kafka, or vice versa." —Dagens Nyheter (Sweden)

"Sjón's book gives us hope for the novel as an art form." —Sydsvenska Dagbladet (Sweden)
MCD, 9780374125639, 528pp.
Publication Date: September 11, 2018
About the Author
Born in Reykjavík in 1962, Sjón is the author of the novels The Blue Fox, The Whispering Muse, From the Mouth of the Whale, Moonstone, and CoDex 1962, for which he won several awards, including the Nordic Council's Literature Prize and the Icelandic Literary Prize. He has also been short-listed for the International IMPAC Dublin Literary Award and the Independent Foreign Fiction Prize, and his work has been translated into thirty-five languages.

In addition, Sjón has written more than seven poetry collections, several opera librettos, and lyrics for various artists, including Björk. He was nominated for an Oscar for his lyrics in Dancer in the Dark, and he cowrote the script of the film The Northman with its director, Robert Eggers. In 2017 he became the third writer – following Margaret Atwood and David Mitchell – to contribute to Future Library, a public artwork based in Norway spanning one hundred years.

He lives in Reykjavík, Iceland.
or
Not Currently Available for Direct Purchase