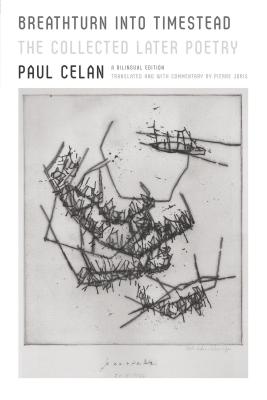 Breathturn into Timestead
The Collected Later Poetry: A Bilingual Edition
Hardcover

* Individual store prices may vary.
Description
2015 National Translation Award Winner in Poetry

Paul Celan, one of the greatest German-language poets of the twentieth century, created an oeuvre that stands as testimony to the horrors of his times and as an attempt to chart a topography for a new, uncontaminated language and world. Breathturn into Timestead: The Collected Later Poetry gathers the five final volumes of his life's work in a bilingual edition, translated and with commentary by the award-winning poet and translator Pierre Joris.


This collection displays a mature writer at the height of his talents, following what Celan himself called the "turn" (Wende) of his work away from the lush, surreal metaphors of his earlier verse. Given "the sinister events in its memory," Celan believed that the language of poetry had to become "more sober, more factual . . . 'grayer.'" Abandoning the more sumptuous music of the first books, he pared down his compositions to increase the accuracy of the language that now "does not transfigure or render 'poetical'; it names, it posits, it tries to measure the area of the given and the possible." In his need for an inhabitable post-Holocaust world, Celan saw that "reality is not simply there; it must be searched for and won."


Breathturn into Timestead reveals a poet undergoing a profound artistic reinvention. The work is that of a witness and a visionary.
Praise For Breathturn into Timestead: The Collected Later Poetry: A Bilingual Edition…
"I will make the outrageous assertion that Paul Celan reinvented poetry—or invented a new kind of poetry—or took poetry to a place where it had never been before. By definition, such work cannot be translated. Then along comes Pierre Joris, and by some mysterious process of linguistic alchemy, he has managed to translate hundreds of examples of this work, or at least to produce versions that embody the strangeness and power of the originals—and the grand adventure of Celan's late poems lives on in English." —Paul Auster

"More than a monumental work of scholarship, Pierre Joris's 40-year project in translation of the later poetry of one of the twentieth century's most original and "untranslatable" poets is an extraordinary work of poetry in contemporary English. With seeming ease, Joris conveys the complexity and inventiveness of the original German without oversimplifying or domesticating its difficulty, its dark beauty, or the depth of its ideas. His commentary is also of great value in illuminating the background, sources and meanings of Celan's singular voice." —Judges' citation, 2015 National Translation Award in Poetry

"*Starred Review* Hard to forget and harder to interpret, the dense and astonishing poems of Paul Celan (1920-1970) stand near the center of postwar European letters, and of Jewish writing after the Holocaust. This first appearance in English of the complete late volumes arrives thanks to a poet well suited to the task. Joris, a celebrated and prolific Luxembourger-American writer, has been translating Celan since 1967 and here finds beautiful--or terrifying--correlates for Celan's wrenched and recombinant speech. Celan, raised amid many languages, spoke German at home. The Nazis killed his parents and held the poet in a labor camp until the end of the war. Celan settled in Paris, but wrote his poems in German. The later poems--six books, three of them posthumous--comprise new compounds, alienated images, hauntingly crystallized phrases that sound like nobody's native tongue: critics find in them responses to the Holocaust, an "excavated heart," a civilization beyond repair. To read Joris's Celan is to see not only the insights and the horrors, but also intimacy, sexual jealousy, irony, even humor and hope. The exemplary en face edition also presents all the German; Joris provides a careful introduction and ample, learned notes." —Publishers Weekly

"Paul Celan was a celebrated translator and a poet recognized as one of the twentieth century's greatest writers in German, alongside Rainer Maria Rilke. Celan's work is defined by his experiences during WWII, including segregation into a Romanian ghetto, the deportation and death of his parents, and imprisonment in a Nazi labor camp. While Celan's early work is characterized by lyrically complex and emotionally intense verse, the tone and tenor of his poetry shifted dramatically as he moved away from the immediacy of wartime memories and began to write out of an urgency to reinvent his mother tongue through enigmatic lines and German neologisms. Nearly every page of this comprehensive bilingual edition includes wild, bewildering jewels: 'Down melancholy's rapids / past the blank woundmirror: There the forty / stripped lifetrees are rafted,' and 'the bloodsugar-pea, x-rayable / by fingernails, / rotates.' Such odd, disorienting turns make for page after page of challenging poetry, and master translator Joris's extensive introduction and commentary provide vital context for readers less familiar with Celan's linguistic audacity. A priceless compendium." —Diego Báez, Booklist

"No twentieth-century poet pierces the heart of language with such an exquisite blade as Paul Celan. With Pierre Joris's stunning translations of Celans' late work, along with his exemplary commentaries, it is as if we are reading Celan for the last time, once again." —Charles Bernstein

"Paul Celan and Pierre Joris work, in this splendid and complex rendering, wonderfully together. Without simplifying, aiming at anything elegantly 'poetic,' or condensing Celan's anxiously layered otherness, Joris has gotten right to its grayness, what Celan calls 'the darkness of the poem today . . . a language fragment . . . freighted with world.'" —Mary Ann Caws
Farrar, Straus and Giroux, 9780374125981, 736pp.
Publication Date: December 2, 2014
About the Author
Paul Celan was born in Czernowitz, Bukovina, in 1920, and is considered by many to be the greatest German-language poet of the second half of the twentieth century. He survived the Holocaust and settled in Paris in 1948, where he lived and wrote until his suicide in 1970. His poetry collections include Poppy and Memory, Speechgrille, Breathturn and Timestead. His prose is gathered in Microliths they are, Little Stones. He remains probably best known for his poem "Todesfuge" ("Death Fugue").