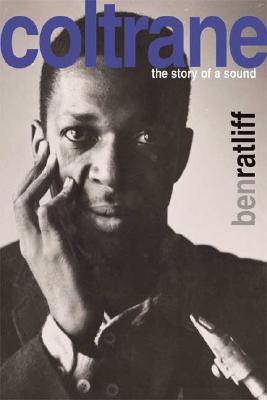 Coltrane: The Story of a Sound (Hardcover)
The Story of a Sound
Farrar, Straus and Giroux, 9780374126063, 272pp.
Publication Date: September 18, 2007
* Individual store prices may vary.
or
Not Currently Available for Direct Purchase
Description
A major work about the great saxophonist—and about the state of jazz.
What was the essence of John Coltrane's achievement that makes him so prized forty years after his death? What was it about his improvising, his bands, his compositions, his place within his era of jazz that left so many musicians and listeners so powerfully drawn to him? What would a John Coltrane look like now—or are we looking for the wrong signs?The acclaimed jazz writer Ben Ratliff addresses these questions in Coltrane. First Ratliff tells the story of Coltrane's development, from his first recordings as a no-name navy bandsman to his last recordings as a near-saint, paying special attention to the last ten years of his life, which contained a remarkable series of breakthroughs in a nearly religious search for deeper expression.
In the book's second half, Ratliff traces another history: that of Coltrane's influence and legacy. This story begins in the mid-'50s and considers the reactions of musicians, critics, and others who paid attention, asking: Why does Coltrane signify so heavily in the basic identity of jazz?Placing jazz among other art forms and American social history, and placing Coltrane not just among jazz musicians but among the greatest American artists, Ratliff tries to look for the sources of power in Coltrane's music—not just in matters of technique, composition, and musical concepts, but in the deeper frequencies of Coltrane's sound.
About the Author
Ben Ratliff has been a jazz critic at "The New York Times "since 1996. He lives in Manhattan with his wife and their two sons. His "New York Times Essential Library: Jazz "was published in 2002.
Praise For Coltrane: The Story of a Sound…
"Ratliff has a keen sense of Coltrane's constantly changing sound, highlighting the collaborative nature of jazz by discussing the bands he played in as both sideman and leader. . . . The consideration of Coltrane's shifting influence on jazz-and other modern musical forms-up to the present day is equally vigorous, refusing to rely on simple adulation. Always going past the legend to focus on the real-life stories and the actual recordings, Ratliff's assessment is a model for music criticism." —Publishers Weekly (starred review) "Ratliff is offering something that is as much a vote of confidence in jazz to come as it is a study of one of the supreme figures of its past  . . .Ratliff writes extremely well, with terse, assured brio."  —Boston Globe "American jazz writing needs more books like this, which engages jazz with an expansive literary imagination in a broad cultural context rather than through the earnest analysis of academia or the exuberant exaggerations of fans. . . . This is an important and rewarding book." —Downbeat "[C]lear-eyed, nuanced consideration of the jazz giant's influence. . . . Laudable."  —The Atlantic Monthly "Brilliant, economical book . . . crisp, judicious prose . . ."  —Associated Press "Astute and unorthodox…" —Bookforum  "If you can write a biography of an idea, Ratliff has written a great one." —Boston Phoenix  "This is popular, nontechnical music analysis at its best." —Booklist  "Were it not for the power and breadth of saxophonist John Coltrane's legacy and the lithe prose of New York Times critic Ben Ratliff, Coltrane would be a scholarly monograph — it's that rich in historical detail and musicological analysis. But Ratliff aims beyond simple biography or ordinary criticism, toward a fresh form. It's a two-part tale: Ratliff follows Coltrane's 'path toward the sublime'—his work with Miles Davis and Thelonious Monk, as leader of his own classic quartet, and as free-jazz avatar; then he charts his influence as expressed by musicians and critics, both past and present. Like Coltrane's legendary solos, Ratliff's book is first rigorous, then beautiful, always in search of empowering truths. Sidestepping a Great-Man narrative, Ratliff finds that 'Above all, Coltrane created possibilities for good things to happen in bands.'"' A-  —EW.com "Ratliff is an intelligent and crafty writer, fully armed with a technical and historical knowledge of jazz and a facility for artfully erudite communication with the reader, even the uninitiated. In this book, he goes to the essence of Coltrane's music, bringing his insights to the huge body of work already done on the master and creating something new in the ongoing examination of this artistic genius." —Charleston Post & Courier
Ben Ratliff's Coltrane is criticism with a sense of the man. It sees the '60s anew without distorting them beyond recognition for someone who was there. It conceptualizes jazz as a still-living music. It makes you want to listen again and think some more. --Robert Christgau "Ben Ratliff's Coltrane is an extraordinarily vivid account of the creative process--both that of the artist and that of the people whose works respond to his. Ratliff is such a terrific writer that he can make musical points clear even to readers who know nothing about theory. This book will be passed from hand to hand."  —Luc Sante, author of Low Life and The Factory of Facts "A triumphant analysis, which captures in well-chosen words the charisma of Coltrane's sound, the excitement of his journey, and the unique quality of his influence, without ever surrendering to the usual jazz book gush.  Ben Ratliff's measured intelligence and readable, elegant prose, his willingness to make necessary distinctions and unsentimental judgments, earn him a place among the best critics we have." —Phillip Lopate John Coltrane's stylistic evolution in the 1950s and 60s was a signal cultural event—as much spiritual and political as technical--and one whose repercussions continue to haunt us. In taking a new look at how Coltrane changed and what those changes have meant to the musicians who followed him, Ben Ratliff brings a mercurial era lucidly to life, sometimes sharply questioning received wisdom, paying close attention to the needs and difficulties of working musicians, and underscoring the continued massive relevance of Coltrane's music.—Geoffrey O'Brien, author of "Sonata for Jukebox"
Advertisement