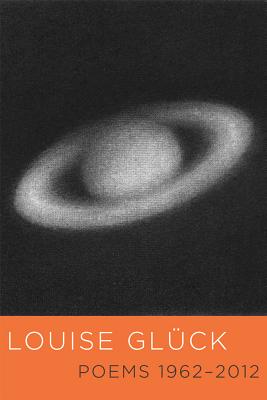 Poems 1962-2012
Hardcover

* Individual store prices may vary.
Other Editions of This Title:
Paperback (11/5/2013)
Hardcover (3/9/2021)
Description
It is the astonishment of Louise Glück's poetry that it resists collection. With each successive book her drive to leave behind what came before has grown more fierce, the force of her gaze fixed on what has yet to be imagined. She invented a form to accommodate this need, the book-length sequence of poems, like a landscape seen from above, a novel with lacunae opening onto the unspeakable. The reiterated yet endlessly transfigured elements in this landscape—Persephone, a copper beech, a mother and father and sister, a garden, a husband and son, a horse, a dog, a field on fire, a mountain—persistently emerge and reappear with the dark energy of the inevitable, shot through with the bright aspect of things new-made.
From the outset ("Come here / Come here, little one"), Gluck's voice has addressed us with deceptive simplicity, the poems in lines so clear we "do not see the intervening fathoms."
From within the earth's
bitter disgrace, coldness and barrenness

my friend the moon rises:
she is beautiful tonight, but when is she not beautiful?

To read these books together is to understand the governing paradox of a life lived in the body and of the work wrested from it, the one fated to die and the other to endure.
Praise For Poems 1962-2012…
"Ms. Glück's new and career-spanning Poems 1962-2012 is a major event in this country's literature, perhaps this year's most major . . . Put together, these compact volumes have a great novel's cohesiveness and raking moral intensity. They display a supple and prosecutorial mind interrogating not merely her own life but also the sensual and political nature of the world that spins around it. Her poems bring with them perilously low barometric pressure . . . Her father helped invent the X-acto knife. This is a cosmically sublime detail; no other poet slices with such accuracy and deadly intent . . . I look forward to whatever she writes next about aging, and I hope she goes on writing about it for a very long time indeed. Ms. Glück is fearless. 'Why love what you will lose?' she asks. She answers her own question: 'There is nothing else to love.'" —Dwight Garner, The New York Times
"Glück's Poems 1962-2012 is a big book by a poet who values, above all, intensity of address, leanness of sentiment, and precision of speech . . . [She is] among the most moving poets of our era . . . Glück's innovation, in her best early poems, was to borrow the coolest American style and apply it to the hottest material: she was an objectivist of the emotions . . . This voice is not going to go away." —Dan Chiasson, The New Yorker
"Glück's latest volume . . . reminds us that she has been not only a resourceful and versatile poet but also an astonishingly brave one. Brave in what sense? In the way she has steadily enlarged her range and idiom, working, to be sure, within the compass of her own nature, but ever testing the limits of her gift, so that the impression made by the work as a whole is not of limitation but of an overwhelming fullness of invention and abundance of life. Glück's poems at their best have always moved between recoil and affirmation, sensuous immediacy and reflection. She has found ways to engage with the world as it is without capitulating to its felt demand that she renounce any alternative sense of what is real. For a poet who can often seem earthbound and defiantly unillusioned, she has been powerfully responsive to the lure of the daily miracle and the sudden upsurge of overmastering emotion . . . Reality has existed for Glück simultaneously as foundation and irritant. She acknowledges what seems to her indisputably true--like the fact of death, or the loss of love--while refusing to concede that the soul is merely what Wallace Stevens once called a 'rustic memorial of a belief' long consigned to irrelevance. Fierce in her determination to see things as they are, she fashions poems that suggest how much more there is to know than she can say. Incorrigibly committed to lucidity and alert against even the slightest imprecision, she ventures in and ventures out as if full comprehensibility were a chimera and an obstacle to true understanding . . . Reading Glück, it is hard not to think that the poems come from what R.P. Blackmur once described as 'the whole history of the common language of the mind, or as Yeats calls it of the soul.' And yet--one more time and yet--Glück's poems can also be thought of as expressions of a very particular and troubled person, a poet determined to get to the bottom of her own experience without making an idol of 'reality' or brute suffering. As with other great poets, Glück does not invite paraphrase. Her poems at their best--and they are very often at their best--embody not just the rage to order, but also the rage to identify a 'truth' that no order can approximate or touch." —Robert Boyers, The Nation
"Glück is as important and influential a poet as we have in America . . . Glück's work is all edges . . . the sharper ones can inflict heavenly hurt, where the meanings are. If you want to know about the last half-century of American poetry, you need to read these poems." —Michael Robbins, The Los Angeles Review of Books
"Since 1962 few American poets have succeeded as well in writing as a poet of poise as Louise Glück . . . Glück has long favored subjects of disharmony as a means to achieve a poetry of poise . . . Glück forces pain to take a bow in her poems. She requires tenderness to admit its shadow afflictions . . . Her poems convulse, twinge, and even gripe. Or, as she asks in an early poem: 'How much beauty can a person bear?' And yet even burdened with the weight of so much distress, her poems most certainly embody the beautiful. That is, distress as beauty. When you consider the ferocious, relentless, merciless, unforgiving, and self-diagnostic stance that has characterized her poems for 50 years as a means to render beauty, you come to see that she is unparalleled in finding beauty in tribulation more so than any American poet since Emily Dickinson . . . Friction and discordance are the means by which she finds insight--and that insight conveys poise in the face of unrequited desire. Which makes her a poet of yearning too--and so she often conveys yearning (even if one does not achieve the object of one's yearning) as a form of beauty as well. These negations have made her the finest poet of austere emotion that we have,--with her signature tone of solemnity a mark of beauty, too. To withstand negation is to unveil poise." —David Biespiel, The Oregonian
"Emerging from a reading of this accomplished collected works is like having run a rigorous marathon. While in shorter individual collections Louise Glück's consistency of tone has the effect of unifying her poems, in a much larger assemblage like this one, the boundaries of individual poems seem to dissolve and merge into what has the feel of one long, extended poem that is an invigorating but demanding read. Glück's voice is like no other in modern American poetry. Her poetic domain--like that of Wallace Stevens--lies in the seclusion of analytic thought. The seamless continuity of her verse suggests a mind in perpetual meditation, deliberating in a state of waking dream. Her laserlike intensity purifies as it objectifies and erodes, leaving an indelible impression on the reader." —Rita Signorelli-Pappas, World Literature Today
"Eleven previous collections are gathered here, echoing with synergistic reverberations, as Glück explores--with growing mastery and imagination, candor and wide-ranging inquiry, intensity and restraint––the turmoil of family life; the fever, bliss, and misery of lust and love; the circular battle with the self; age and death. For 50 years, Glück, a former U.S. poet laureate and Pulitzer winner, has been writing poems of formal elegance, psychic intimacy, brainy fusion, emotional acuity, and aesthetic splendor. As intimate and immediate as her lyrics are, Glück is also vatic, summoning the old gods and the timeless myths to trace the human stream of consciousness, experience, and dream. Glück's assembled life's work of shadow and fire, driven by 'perception of beauty, desire for knowledge,' is magnificent." —Booklist
"Though Glück has held national fame since the late 1970s for her terse, pared-down poems, this first career-spanning collected may be the most widely noted, and the most praised, collected poems in some time. Here is the Pulitzer Prize–winning The Wild Iris (1992), whose talking flowers encapsulated birth, death, loss, and hope; here are the starkly framed family memories of her controversial Ararat (1990), and the careful, self-accusing humor of late work such as The Seven Ages (2001). Here, too, are the stormy, almost overexposed poems (reminiscent of Robert Lowell) with which she began, and the calmly uncompromising universals of A Village Life (2009), where 'the mountain stands like a beacon, to remind the night that the earth exists.' Through screens of familiar stories (Achilles, Penelope, Dante) or through overt--albeit terse--autobiography, Glück at once scrutinizes her own life and reflects on the process by which poems get made, the way that we, too, may come to know ourselves: 'Like everyone else,' she reflects, 'I had a story,/ a point of view.// A few words were all I needed:/ nourish, sustain, attack.' Turning life stories to myths; myths to cool, scary proverbs, Glück compares her style accurately to 'bright light through the bare tree,' her process of writing to spying, to silent listening: 'In my own mind, I'm invisible--that's why I'm dangerous.'" —Publishers Weekly (starred review)
Farrar, Straus and Giroux, 9780374126087, 656pp.
Publication Date: November 13, 2012
About the Author
Louise Glück is the author of more than a dozen books of poems and a collection of essays. Her many awards include the Pulitzer Prize for The Wild Iris, the National Book Critics Circle Award for The Triumph of Achilles, the Bollingen Prize, the Los Angeles Times Book Prize for Poems: 1962-2012, and the Wallace Stevens Award from the Academy of American Poets. She teaches at Yale University and lives in Cambridge, Massachusetts.
or
Not Currently Available for Direct Purchase