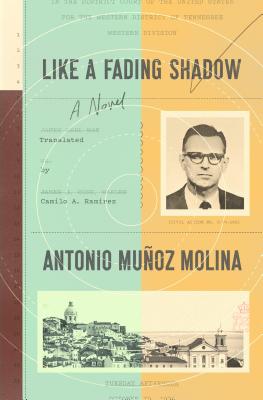 Like a Fading Shadow
A Novel
Hardcover

* Individual store prices may vary.
Other Editions of This Title:
Paperback (7/17/2018)
MP3 CD (8/21/2018)
Compact Disc (8/21/2018)
Description
A hypnotic novel intertwining the author's past with James Earl Ray's attempt to escape after shooting Martin Luther King Jr.

The year is 1968 and James Earl Ray has just shot Martin Luther King Jr. For two months he evades authorities, driving to Canada, securing a fake passport, and flying to London, all while relishing the media's confusion about his location and his image on the FBI's Most Wanted list. Eventually he lands at the Hotel Portugal in Lisbon, where he anxiously awaits a visa to Angola. But the visa never comes, and for his last ten days of freedom, Ray walks around Lisbon, paying for his pleasures and rehearsing his fake identities.

Using recently declassified FBI files, Antonio Muñoz Molina reconstructs Ray's final steps through the Portuguese capital, taking us inside his feverish mind, troubled past, and infamous crime. But Lisbon is also the city that inspired Muñoz Molina's first novel, A Winter in Lisbon, and as he returns now, thirty years later, it becomes the stage for and witness to three alternating stories: Ray in 1968 at the center of an international manhunt; a thirty-year-old Muñoz Molina in 1987 struggling to find his literary voice; and the author in the present, reflecting on his life and the form of the novel as an instrument for imagining the world through another person's eyes.

Part historical fiction, part fictional memoir, Like a Fading Shadow masterfully explores the borders between the imagined, the reported, and the experienced past in the construction of identity.
Praise For Like a Fading Shadow: A Novel…
"I've now read Like a Fading Shadow four times, and I can see it will be one of a handful of books I open and start reading—somewhere, anywhere—at least once a year for the rest of my life." —Michael Hofmann, The London Review of Books

"Blurring fiction, memoir, and biography, the absorbing latest from Muñoz Molina tells two stories: James Earl Ray's 10-day excursion to Lisbon while on the run after assassinating Martin Luther King Jr. in 1968, and the author's own research trip to the same city in 1987 when writing his first novel, A Winter in Lisbon . . . The novel reconstructs the past with incredible detail, and Muñoz Molina spins multiple possibilities for moments when Ray's actions are uncertain. The result is a fascinating dual portrait of a writer looking into the clouded mind of a murderer." —Publishers Weekly, boxed and starred review

"Antonio Muñoz Molina is a true original and has written a book unlike anything else, part fiction, part memoir, part meditation, in which the interiority of a murderer on the run—and not just any murderer, but James Earl Ray, the assassin of Martin Luther King—is set against the interiority of the writer, when young, trying to find his voice. The stories of the killer and the writer circle each other, interrogate and echo each other, and then diverge. A novel is a kind of refuge too, Muñoz Molina suggests. Only one of the two men in this terrific book will find the refuge he seeks." —Salman Rushdie

"A fascinating premise made all the more intriguing by the autobiographical elements of the novel . . . [Like a Fading Shadow] is a stylistically complex novel, with shifts of perspective and time, and gorgeously layered language, a book in which to lose oneself, like Italo Calvino's If on a Winter's Night a Traveler (1979). Molina's compelling tale also evokes comparisons to Don DeLillo's 'historiographic metafiction,' especially in Libra (1988), which explores Lee Harvey Oswald much in the manner that Molina writes about James Earl Ray." —Booklist (starred review)

"Antonio Muñoz Molina is one of the best writers working today. Similar to his masterpiece Sepharad, Like a Fading Shadow is both a novel and a memoir, a historical document and invention, a treatise on the meaning of writing and that of being, and most important, an exquisite read." —Rabih Alameddine, author of An Unnecessary Woman

"Closely following Ray's path but intertwining it with Muñoz Molina's own writing process, [Like a Fading Shadow] delicately oscillates between an author's quest for truth and a criminal's search for safety . . . A tragically poetic study of the calamity that set back the civil rights movement." —Kirkus Reviews

"[Muñoz Molina] stumbles upon truths inaccessible to historians and other novelists alike." - BOMB Magazine
Farrar, Straus and Giroux, 9780374126902, 320pp.
Publication Date: July 18, 2017
About the Author
Antonio Muñoz Molina is the author of more than a dozen novels, including In the Night of Time, Sepharad, and Like a Fading Shadow. He is the recipient of numerous prizes and awards, including Spain's National Narrative Prize, the Planeta Prize, the Medici Prize for Foreign Novel, and the Príncipe de Asturias Prize. He has been a full member of the Royal Spanish Academy since 1995. He lives in Madrid and New York City.

Camilo A. Ramirez is a Colombian literary translator, editor, and media strategist based in New York City.
or
Not Currently Available for Direct Purchase