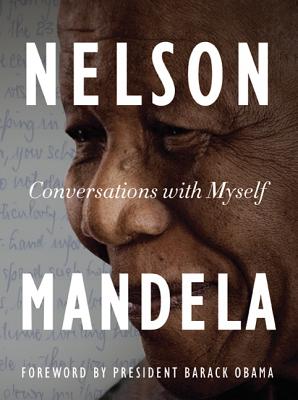 Conversations with Myself (Hardcover)
Farrar, Straus and Giroux, 9780374128951, 480pp.
Publication Date: October 11, 2010
* Individual store prices may vary.
Description
Nelson Mandela is widely considered to be one of the most inspiring and iconic figures of our age. Now, after a lifetime of taking pen to paper to record thoughts and events, hardships and victories, he has bestowed his entire extant personal papers, which offer an unprecedented insight into his remarkable life.
A singular international publishing event, Conversations with Myself draws on Mandela's personal archive of never-before-seen materials to offer unique access to the private world of an incomparable world leader. Journals kept on the run during the anti-apartheid struggle of the early 1960s; diaries and draft letters written in Robben Island and other South African prisons during his twenty-seven years of incarceration; notebooks from the postapartheid transition; private recorded conversations; speeches and correspondence written during his presidency—a historic collection of documents archived at the Nelson Mandela Foundation is brought together into a sweeping narrative of great immediacy and stunning power. An intimate journey from Mandela's first stirrings of political consciousness to his galvanizing role on the world stage, Conversations with Myself illuminates a heroic life forged on the front lines of the struggle for freedom and justice.
While other books have recounted Mandela's life from the vantage of the present, Conversations with Myself allows, for the first time, unhindered insight into the human side of the icon.
About the Author
Nelson Mandela was a former President of South Africa, the first to be elected in fully representative democratic elections. He was born in Transkei, South Africa, in 1918. Before his presidency, Mandela was an anti-apartheid activist and leader of the African National Congress. In 1964, he was convicted of crimes including sabotage committed in the struggle against apartheid. He was imprisoned for 27 years at Robben Island prison and Pollsmoor prison. During his incarceration, his reputation as a potent symbol of resistance to apartheid grew steadily. Released from prison in 1990, Mandela received the Nobel Peace Prize in 1993 and was inaugurated as President of South Africa in 1994. He is the author of the internationally bestselling autobiography Long Walk to Freedom and Conversations with Myself, a collection of his personal papers. Mandela died in December 2013.

BARACK OBAMA is the 44th President of the United States. He is the author of the books Dreams from My Father: A Story of Race and Inheritance and The Audacity of Hope: Thoughts on Reclaiming the American Dream.
Praise For Conversations with Myself…
"This book will reduce the reader to both rapture and tears." —Alec Russell, Financial Times
"Outstanding for what it offers. . . Its collection of letters and meditations, together with its thorough index and appendix, belongs on the shelf of anyone interested in the nature of power and resistance." —J.M. Ledgard, The New York Times Review of Books