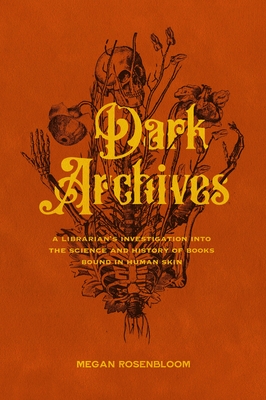 Dark Archives (Hardcover)
A Librarian's Investigation into the Science and History of Books Bound in Human Skin
Farrar, Straus and Giroux, 9780374134709, 272pp.
Publication Date: October 20, 2020
* Individual store prices may vary.
Description
A fascinating, terrifying look at the rarest books—bound in human skin—and the stories of their creation

There are books out there, some shelved unwittingly next to ordinary texts, that are bound in human skin. Would you know one if you held it in your hand?
In Dark Archives, Megan Rosenbloom, a medical librarian and a cofounder of the Death Salon, seeks out the historic and scientific truths behind anthropodermic bibliopegy. Dozens of these books still sit on the shelves of the world's most famous libraries and museums. What are their stories? Dark Archives exhumes their origins and brings to life the doctors, murderers, women, and indigents whose lives are bound together in this rare, scattered, and disquieting collection. It also tells the story of the scientists, curators, and librarians like Rosenbloom?interested in the full complicated histories behind these dark artifacts of nineteenth-century medicine?are developing tests to discover these books and sorting through the ethics of custodianship.
A whip-smart and witty writer, Rosenbloom has crafted a narrative that is equal parts detective work, academic intrigue, history, and medical curiosity. Thrilling, captivating, and macabre in all the right ways, Dark Archives encourages us to take another look at the very serious ways in which the powerful have objectified people over time?perfect for fans of Mary Roach, Lindsey Fitzharris, and the art of collecting.
About the Author
Megan Rosenbloom is a librarian who studies the history of medicine and rare books. Formerly a journalist, she now works as a medical librarian at the University of Southern California in Los Angeles. She is also the obituary editor of the Journal of the Medical Library Association and serves as president of the Southern California Society for the History of Medicine. She is a member of the Anthropodermic Book Project, a multi-disciplinary team scientifically testing alleged human skin books around the world to verify their human origin. She is also the co-founder and director of the Death Salon, the event arm of the Order of the Good Death, and is a leader in the Death Positive movement.
Praise For Dark Archives: A Librarian's Investigation into the Science and History of Books Bound in Human Skin…
"An international treasure hunt, fascinating medical history, high level PR nightmare, and heartrending account of the real people whose flesh was turned into curiosities by the medical professionals they trusted." —Caitlin Doughty, author of Will My Cat Eat My Eyeballs?: Big Questions About Death
"Megan Rosenbloom is the perfect guide to a dark and sinister world populated by Victorian criminals, bodysnatchers, and dissectors—all of whom contributed to the gruesome art of binding books with human skin. A splendid read for Halloween Eve!" —Lindsey Fitzharris, author of The Butchering Art