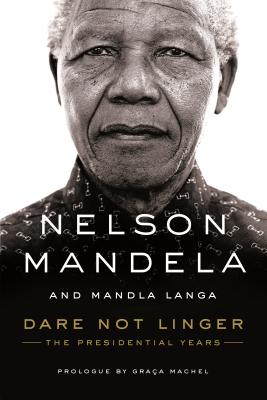 Dare Not Linger
The Presidential Years
Hardcover

* Individual store prices may vary.
Other Editions of This Title:
Digital Audiobook (10/23/2017)
Paperback (10/9/2018)
Library Binding, Large Print (2/7/2018)
CD-Audio (10/24/2017)
Description
The long-awaited second volume of Nelson Mandela's memoirs, left unfinished at his death and never before available, are here completed and expanded with notes and speeches written by Mandela during his historic presidency, making for a moving sequel to his worldwide bestseller Long Walk to Freedom.
"I have discovered the secret that after climbing a great hill, one only finds that there are many more hills to climb. I have taken a moment here to rest, to steal a view of the glorious vista that surrounds me, to look back on the distance I have come. But I can rest only for a moment, for with freedom comes responsibilities, and I dare not linger, for my long walk is not ended."
In 1994, Nelson Mandela became the first president of a democratic South Africa. From the outset, he was committed to serving only a single five-year term. During his presidency, he and his government ensured that all of South Africa's citizens became equal before the law, and he laid the foundation for turning a country riven by centuries of colonialism and apartheid into a fully functioning democracy.
Dare Not Linger is the story of Mandela's presidential years, drawing heavily on the memoir he began to write as he prepared to leave office, but was unable to finish. Now the acclaimed South African writer Mandla Langa has completed the task, using Mandela's unfinished draft, detailed notes that Mandela made as events were unfolding, and a wealth of unseen archival material. With a prologue by Mandela's widow, Graça Machel, the result is a vivid and often inspirational account of Mandela's presidency and the creation of a new democracy. It tells the story of a country in transition and the challenges Mandela faced as he strove to make his vision for a liberated South Africa a reality.
Praise For Dare Not Linger: The Presidential Years…
"A rare human being who, in freeing himself of his demons, also became free to give his extraordinarily leadership to his country and the world." —Bill Clinton
"Underneath the history that has been made, there is a human being who chose hope over fear—progress over the prisons of the past . . . Even as he became a legend, to know the man—Nelson Mandela—is to respect him even more." —Barack Obama
Farrar, Straus and Giroux, 9780374134716, 384pp.
Publication Date: October 24, 2017
About the Author
Nelson Mandela was a former President of South Africa, the first to be elected in fully representative democratic elections. He was born in Transkei, South Africa, in 1918. Before his presidency, Mandela was an anti-apartheid activist and leader of the African National Congress. In 1964, he was convicted of crimes including sabotage committed in the struggle against apartheid. He was imprisoned for 27 years at Robben Island prison and Pollsmoor prison. During his incarceration, his reputation as a potent symbol of resistance to apartheid grew steadily. Released from prison in 1990, Mandela received the Nobel Peace Prize in 1993 and was inaugurated as President of South Africa in 1994. He is the author of the internationally bestselling autobiography Long Walk to Freedom and Conversations with Myself, a collection of his personal papers. Mandela died in December 2013.

Mandla Langa was born in 1950 in Durban, South Africa. After being arrested in 1976, he went into exile and has lived in Botswana, Mozambique, and Angola, as well as Hungary, Zambia, and the United Kingdom, where he was the ANC's Cultural Representative. A writer and journalist, he was the first South African to be awarded the Arts Council of Great Britain bursary for creative writing and has been a columnist for the Sunday Independent and the New Nation. He is also the author of several acclaimed novels, including The Lost Colours of the Chameleon, which won the 2009 Commonwealth Prize for Best Book in the African Region.

Graça Machel is a Mozambican politician and humanitarian. She is the widow of former South African president Nelson Mandela and of Mozambican president Samora Machel.

Graça Machel is a Mozambican politician and humanitarian. She is the widow of former South African president Nelson Mandela and of Mozambican president Samora Machel.