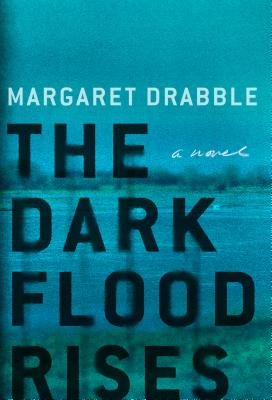 The Dark Flood Rises
A Novel
Hardcover

* Individual store prices may vary.
Other Editions of This Title:
MP3 CD (2/14/2017)
Compact Disc (2/14/2017)
Paperback (2/13/2018)
Hardcover, Large Print (6/28/2017)
Paperback (9/5/2017)
Hardcover (11/3/2016)
Description
One of the Washington Post's 50 Notable Works of Fiction in 2017 and a New York Times Notable Book of 2017

From the great British novelist Dame Margaret Drabble comes a vital and audacious tale about the many ways in which we confront aging and living in a time of geopolitical rupture.
Francesca Stubbs has an extremely full life. A highly regarded expert on housing for the elderly who is herself getting on in age, she drives "restlessly round England," which is "her last love . . . She wants to see it all before she dies." Amid the professional conferences that dominate her schedule, she fits in visits to old friends, brings home cooked dinners to her ailing ex-husband, texts her son, who is grieving over the shocking death of his girlfriend, and drops in on her daughter, a quirky young woman who lives in a flood plain in the West Country. Fran cannot help but think of her mortality, but she is "not ready to settle yet, with a cat upon her knee." She still prizes her "frisson of autonomy," her belief in herself as a dynamic individual doing meaningful work in the world.
The Dark Flood Rises moves between Fran's interconnected group of family and friends in England and a seemingly idyllic expat community in the Canary Islands. In both places, disaster looms. In Britain, the flood tides are rising, and in the Canaries, there is always the potential for a seismic event. As well, migrants are fleeing an increasingly war-torn Middle East.
Though The Dark Flood Rises delivers the pleasures of a traditional novel, it is clearly situated in the precarious present. Margaret Drabble's latest enthralls, entertains, and asks existential questions in equal measure. Alas, there is undeniable truth in Fran's insight: "Old age, it's a fucking disaster!"
Praise For The Dark Flood Rises: A Novel…
One of The Guardian's Best Books of 2017
"This humane and masterly novel by one of Britain's most dazzling writers is . . . deeper than mere philosophy: a praisesong for the magical human predicament exactly as it has been ordained on Earth." —Cynthia Ozick, The New York Times Book Review (cover review)
"A beautiful rumination on what it means to grow old . . . It's a truly lovely novel . . . This isn't a sentimental book, but it's a deeply emotional one." —Michael Schaub, NPR
"Once again, Dame Margaret . . . has created a story that defies its own parameters . Gentler than Muriel Spark's Memento Mori but no less honest, The Dark Flood Rises examines aging from liver spots to liver failure, but the novel's humor vaccinates it from chronic bleakness . . . [Drabble is] refreshingly frank about the tragicomedy of aging." —Ron Charles, Washington Post
"The Dark Flood Rises escapes being unbearably depressing by the brilliance of its characterizations, the cleverness of its observations and the indomitable spirit of Fran." —Patricia Hagen, Minneapolis Star-Tribune
"A timely and relevant novel about the way we live (and die) now . . . Reading Drabble is like having a brilliant and companionable acquaintance delve into the ways of the world across a dinner table. The subject may be death, but she still brims with life." —Mike Fasso, Tampa Bay Times

"A vein of black humor pulses in Margaret Drabble's The Dark Flood Rises, which, thankfully, makes the novel's reflections on how we age and die as entertaining as a conversation with a dear friend." —Associated Press
"[Drabble is] the English novelist supreme . . . The Dark Flood Rises is a compelling conversation, an example of the kind that many folks over seventy may be having with themselves." —Michael Langan, Buffalo News
""Vital and audacious...Along the way, Drabble interjects her sizeable critical expertise...[and] offers readers a broad medley of different approaches to aging." —Norah Piehl, BookBrowse
"Mordant and thought-provoking...More witty than morbid...this wise assessment of aging by one of England's most respected writers deserves our readerly attention." —Lauren Bufferd, BookPage
"The Dark Flood Rises is a kind of Canterbury Tales that involves a pilgrimage towards a vista no one's keen to contemplate. The upshot is a book full of ­humanity and humour and compassion that has a lot more variety and urbanity than you have any right to ask for...You will be enthralled by the sheer artistry . . . Young and old should make a point of reading it. This is a wisdom book, which makes it a rare thing indeed." —The Australian
"Those who appreciate her able combination of intelligence, wit, and rue will willingly follow Drabble into the sunset." —Kirkus Reviews (starred review)
"Searingly sad but often hilarious . . . Drabble has filled her tale with characters desperately trying to make sense of life and loss, of beauty, talent, missed opportunities, faded passion." —Publishers Weekly (starred review)
"There's plenty of joy to be had in this thoughtful meditation on aging and mortality." —Barbara Love, Library Journal (starred review)
"With intimations of the pending ravages of global warming, Drabble's incisive grappling with questions of purpose and chance in life and death is peppered with wisdom, pluck, and humor." —Donna Seaman, Booklist
"Mordant wit and a strong humanitarian concern coexist in this novel . . . [The Dark Flood Rises] is a significant achievement, admirable and truthful." —New Statesman
"Drabble couldn't have written about the indignities, pains and general 'uselessness' of old age any better."
—Lucy Scholes, The Independent
"For all its morbidity, The Dark Flood Rises is a reassuringly vital novel . . . Drabble squares up to old age with pragmatism: she shows us its terrible physical pain, loneliness and expense, but lightens what could threaten to be a grim read with observational humour, delighting in her characters' eccentric pleasures." —Emily Rhodes, The Spectator
"[The main character's] obsession with death yields a great deal of rich, contradictory, and stimulating contemplation." —Matthew Adams, The National
"Beneath the apparently placid surface, Drabble's novel seethes with apocalyptic intent . . . these characters are brilliantly drawn." —Alfred Heckling, The Guardian
"A heartfelt rumination on the process of ageing and [the] inevitability of death . . . In this novel, the dark flood is death itself, but trust Margaret Drabble to take even the most worrisome of topics and make
it witty, relatable and, most importantly, readable." —Rebecca Monks, The List
"Full of characteristically arresting descriptions . . . there is a sharpness about most of this, a sense of serious things being addressed without sentiment or wool-pulling." —The Times
"As the novel sets sail, Drabble quietly, wittily and searchingly portrays her crew. There is a gentleness about her touch, a mood of sympathy and understanding, as if the wisdom of years have allowed a kindly perspective. As always with her work, she is acute on the problems of today, and possibly of tomorrow . . . Indeed, [the novel's] sophistication and understanding of human nature are what make this such a satisfying, rich read." —Herald Scotland
"A thought-provoking, witty and surprisingly acerbic read." —Press and Journal
"A darkly witty and exhilarating novel … bleak but bracing . . . Its sharp perceptions and macabre verve make it an often exhilarating read." —Sunday Times
"An acerbic, sharp, meditation on what it means to lead a good life and how to ensure a good death." —Observer
"Surprisingly uplifting, this profound novel has an unforgettable central character." —Sunday Telegraph
"Masterly, poignant and uplifting." —Mail on Sunday
Farrar, Straus and Giroux, 9780374134952, 336pp.
Publication Date: February 14, 2017
About the Author
Margaret Drabble is the author of The Sea Lady, The Seven Sisters, The Peppered Moth, and The Needle's Eye, among other novels. She has written biographies of Arnold Bennett and Angus Wilson, and is the editor of the fifth and sixth editions of The Oxford Companion to English Literature. For her contributions to contemporary English literature, she was made a Dame of the British Empire in 2008.