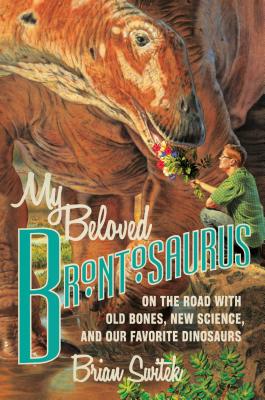 My Beloved Brontosaurus
On the Road with Old Bones, New Science, and Our Favorite Dinosaurs
Hardcover

* Individual store prices may vary.
Other Editions of This Title:
Digital Audiobook (4/15/2013)
Paperback (3/4/2014)
Description
A Hudson Booksellers Staff Pick for the Best Books of 2013

One of Publishers Weekly's Top Ten Spring Science Books

A Bookshop Santa Cruz Staff Pick

Dinosaurs, with their awe-inspiring size, terrifying claws and teeth, and otherworldly abilities, occupy a sacred place in our childhoods. They loom over museum halls, thunder through movies, and are a fundamental part of our collective imagination. In My Beloved Brontosaurus, the dinosaur fanatic Brian Switek enriches the childlike sense of wonder these amazing creatures instill in us. Investigating the latest discoveries in paleontology, he breathes new life into old bones.

Switek reunites us with these mysterious creatures as he visits desolate excavation sites and hallowed museum vaults, exploring everything from the sex life of Apatosaurus and T. rex's feather-laden body to just why dinosaurs vanished. (And of course, on his journey, he celebrates the book's titular hero, "Brontosaurus"—who suffered a second extinction when we learned he never existed at all—as a symbol of scientific progress.)

With infectious enthusiasm, Switek questions what we've long held to be true about these beasts, weaving in stories from his obsession with dinosaurs, which started when he was just knee-high to a Stegosaurus. Endearing, surprising, and essential to our understanding of our own evolution and our place on Earth, My Beloved Brontosaurus is a book that dinosaur fans and anyone interested in scientific progress will cherish for years to come.
Praise For My Beloved Brontosaurus: On the Road with Old Bones, New Science, and Our Favorite Dinosaurs…
"Charming . . . We are beneficiaries of Mr. Switek's undiminished passion . . . The book is a delight, coming along when so much has changed in our understanding of dinosaurs, ever since the beginning of a renaissance in dinosaur studies in the 1970s and '80s . . . This may be the one book for catching up on what has become of the dinosaurs you thought you knew from grade school." —The New York Times

"My Beloved Brontosaurus is, in many ways, science writer Brian Switek's love letter to his favorite animal . . . But the book is more than a personal ode to fossils. Switek meets experts, tours museums and visits excavation sites. He is searching no longer for preserved eggs that might one day hatch dino-babies but rather for an understanding of what life in the age of dinosaurs was like." —The Washington Post

"Switek geeks out gloriously on everything from the truth about Jurassic Park to the ugliest roadside dinosaurs he has ever seen. He's a friendly guide to the latest in dinosaur science, whizzing through journal article after journal article on how cross sections of dinosaur bone can tell us about their physiology, or how fossil olfactory lobes can reveal their sense of smell through time . . . Much has been written about the 'dinosaur revolution' of recent decades, in which the idea of sluggish, passive reptiles transformed into more active and engaging creatures." —The Dallas Morning News

"Switek passionately and playfully explores scientists' evolving perception of the wild, wonderful dinosaur world, emphasizing at every turn the dynamic nature of their field despite its now inanimate subjects . . . Switek intersperses his rich, well-researched scientific and historical discussions with personal anecdotes and cultural signposts, weaving together a narrative that reveals the current state of the field as well as some of the wrong turns along the way." —Science

"Fortunately for us, Brian Switek has continued to channel the enthusiasms of his own inner five-year-old. In his zany, sometimes mind-blowing romp through the new science of old bones . . . you too can nerd out anew . . . the discoveries Switek shares fill the old world with new wonders . . . Switek rekindles that childhood amazement at how vast the dinosaur world really was." —Barnes & Noble Review

"My Beloved Brontosaurus should appeal not only to those interested in dinosaurs, but to anyone interested in science, the history of science, or the natural world in general. It will also provide essential crib notes for any parent struggling to keep up with their child's encyclopedic knowledge of the beasts." —The Times Literary Supplement

"Science writer Brian Switek 'breathes new life into old bones' with this jaw-dropping book about dinosaurs. Forget everything you thought you knew about the brontosaurus, for example--turns out they never existed. And the T-rex might have had feathers. I couldn't believe how much there was to learn in this book. If you were the kind of kid who watched Jurassic Park obsessively, My Beloved Brontosaurus will feel like Christmas morning." —Bookshop Santa Cruz

"[Switek] deftly brings the concerns of dinosaur fanatics regarding the dinosaurian public image to the popular culture . . . it's always a treat to read someone so captivated by the romance of natural history . . . Switek's message is that dinosaurs are a relevant, vital field of study because the illumination extends to broader issues of evolution and the fate of our world. In the same way, My Beloved Brontosaurus uses the engaging topic of dinosaur lives as a way to celebrate the ongoing exploration of science at large." —Love in the Time of Chasmosaurs (blog)

"Cleverly written, well researched and sprinkled with lots of tidbits of information gleaned from dinosaur sites that include Utah's wealth of material, Brian Switek's My Beloved Brontosaurus: On the Road with Old Bones, New Science and Our Favorite Dinosaurs is a jewel." —Deseret News

"Switek has a knack for finding fascinating specifics and presenting them in engaging ways. He excels at relating fossil finds to their once-living counterparts, giving these animals an awesome sense of reality. Even readers whose younger days of dinosaur frenzy are long extinct will find My Beloved Brontosaurus a fascinating read." —Shelf Awareness (starred review)

"Fascinating . . . Switek's scope of knowledge is awesome . . . This is in the classic 'news you can use' for nerds genre." —Discover magazine's "Gene Expression" blog

"If you are itching to learn more about dinosaurs than just the bare bones, so to speak, then Brian Switek's My Beloved Brontosaurus is a must-read . . . In addition to being packed with fresh research, this book is just flat-out fun to read . . . Perhaps Switek's greatest triumph with My Beloved Brontosaurus is proving beyond a shadow of a doubt that dinosaurs are not some esoteric, irrelevant subject, but are deeply connected to our own human story." —The Mindhut

"Switek's dinomania is infectious. The book charms with the author's passionate curiosity . . . half guidebook, half love note. Switek lays out an accessible, rich history of these creatures, along the way meditating on the larger issues raised by their ancient lives and our modern study of them, including our evolving understanding of evolution, the role of personality and bias in the scientific process, and the psychology of just what we humans see in these fascinating monsters." —The Boston Globe

"Switek's writing is crisp and clean, and he knows his dinosaurs . . . [He] does a good job of keeping up with the latest refinements in dinosaur science. Crucially, he shares his enthusiasm well, writing about the fun, the weird and the wonderful without the tall tales of the explorers of old." —New Scientist

"Switek's book is a lifeline for the dinosaur enthusias--tan entertaining guide to the latest science of dinosaurs." —ScienceNews

"[C]harming . . . Read Mr. Switek's book to rekindle your love of all things dinosaur: the cheesy movies, the action figures, the many happy hours spent wandering through imaginary Jurassic jungles. But more than that, read it to remind yourself that the dinosaurs' story is our story and that, as Mr. Switek writes, 'extinction is the ultimate fate of all species. Nothing so majestically encapsulates these simple, powerful truths of nature quite like a dinosaur.'" —The Wall Street Journal

"[Switek] offer[s] a compelling mixture of reliable information, personal experiences and thoughts, anecdotes about paleontological research and even science philosophy, delivered in a breezy and engaging style . . . [he] paints a comprehensive picture of how our understanding of dinosaur evolution gradually advances . . . Switek has succeeded in covering a wide range of interesting topics in dinosaur palaeontology with infectious enthusiasm." —Nature

"A charming journey . . . Making scientific concepts accessible using a playful voice, in the manner of Neil DeGrasse Tyson and Malcolm Gladwell, Switek guides readers through the ever-shifting world of conventional dino-wisdom, from why they became the dominant life form of their time, to what they looked like outside those giant bones, and even covering how they might have had sex." —Salt Lake City Weekl

"Switek's chatty, informative cross-country adventure is the perfect read for catching up on the latest, most fascinating dino science." —Mental Floss

"Switek has the charm and knowledge to make what you thought you learned in 4th grade totally awesome again." —Ryan Britt, The Barnes & Noble Book Blog

"[A] wonderful overview of current research and knowledge of dinosaurs, for both lifelong dino-lovers and people who need an introduction to the prehistoric beasts . . . informal, often humorous (in the tradition of great nonfiction writers like Mary Roach and Bill Bryson), without sacrificing scientific detail. The result is both readable and highly entertaining . . . an excellent field guide to the real dinosaurs that walked the planet." —DoubleXScience

"In My Beloved Brontosaurus, the dinosaur fanatic Brian Switek enriches the childlike sense of wonder these amazing creatures instill in us . . . Endearing, surprising, and essential to our understanding of our own evolution and our place on Earth, My Beloved Brontosaurus is a book that dinosaur fans and anyone interested in scientific progress will cherish for years to come." —The Guardian's GrrlScientist blog

"Switek earned fame as the unabashed dinosaur advocate behind the fossil-focused blog Laelaps. He applies that same blend of boyish exuberance and serious science to this exploration of paleontology's roots, revisions, and future course . . . his zeal is infectious . . . Switek fleshes out the monstrous skeletons that we all remember from childhood museum field trips with meaty new findings about their anatomy and behavior." —Discover

"A revealing work of pop paleontology . . . Engaging and accessible enough for the lay person, readers will readily agree when Switek concludes that 'dinosaurs are better than ever." —Publishers Weekly

"Writing with unaffected ardor, Switek will resonate with readers fascinated by dinosaurs." —Booklist

"An enthusiastic account of the history, description, discoveries, ongoing controversies and inaccurate media obsession with these popular but extinct creatures . . . A genuinely informative introduction to [Switek's] favorite subject." —Kirkus Reviews

"Brian Switek is my favorite dinosaur tour guide in the world—smart, funny, lyrical, and can't-put-it-down readable" —Deborah Blum, bestselling author of The Poisoner's Handbook

"There are so many dinosaur books—but My Beloved Brontosaurus is something special. Brian Switek, a self-confessed dinosaur fanatic, imparts his enthusiasm in a lively, thoroughly entertaining and carefully documented way. It is a joy to read such a well-researched and contemporary account of dinosaurs written for non-specialists . . . This hard-to-put-down volume includes all manner of tidbits, from amorous penguins to alligators dying of sunstroke. Well written and creatively structured, this beguiling work is enriched with personal experiences. And when readers reach the end of the book they will feel a sense of loss, like the demise of the incredible creatures captured between its covers." —Christopher McGowan, author of The Dragon Seekers, Curator Emeritus, Vertebrate Paleontology, Royal Ontario Museum

"Switek has a true passion for the giants of the ancient past! Whether you are new to the world of the 'fearfully great lizards' or are a lapsed dinosaur-fanatic, this book will help you understand how paleontologists bring fossils to life." —Thomas R. Holtz, Jr., Department of Geology, University of Maryland; author of Dinosaurs: The Most Complete Up-To-Date Encyclopedia for Dinosaur Lovers of All Ages

"You won't find a better guide to paleontology than Brian Switek, a fossil-crazed writer whose clear-eyed skepticism never dampens his boyish enthusiasm. And why should it? Dinosaurs, Switek shows convincingly, need no hype to blow your mind. The man is fearless. This book is splendid." —David Dobbs, author of My Mother's Lover and Reef Madness

"With this new book, Brian Switek reaffirms his status as one of our premier gifted young science writers. It's an exciting time for dinosaur research, and Brian is the best guide I know." —Kevin Padian, University of California Museum of Paleontology, Berkeley
Scientific American / Farrar, Straus and Giro, 9780374135065, 272pp.
Publication Date: April 16, 2013
About the Author
Brian Switek is the author of Written in Stone. He is a regular online columnist for Smithsonian and Wired. He has written for Scientific American, Nature, The Wall Street Journal, and The Guardian. His examinations of fossil discoveries and the latest in paleontology have been featured on the BBC and NPR. He lives in Salt Lake City, Utah.
or
Not Currently Available for Direct Purchase