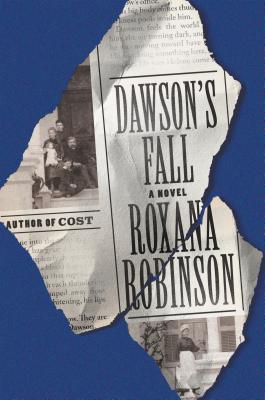 Dawson's Fall
A Novel
Hardcover

* Individual store prices may vary.
Other Editions of This Title:
Digital Audiobook (5/13/2019)
Paperback (9/8/2020)
Description
A cinematic Reconstruction-era drama of violence and fraught moral reckoning

In Dawson's Fall, a novel based on the lives of Roxana Robinson's great-grandparents, we see America at its most fragile, fraught, and malleable. Set in 1889, in Charleston, South Carolina, Robinson's tale weaves her family's journal entries and letters with a novelist's narrative grace, and spans the life of her tragic hero, Frank Dawson, as he attempts to navigate the country's new political, social, and moral landscape.

Dawson, a man of fierce opinions, came to this country as a young Englishman to fight for the Confederacy in a war he understood as a conflict over states' rights. He later became the editor of the Charleston News and Courier, finding a platform of real influence in the editorial column and emerging as a voice of the New South. With his wife and two children, he tried to lead a life that adhered to his staunch principles: equal rights, rule of law, and nonviolence, unswayed by the caprices of popular opinion. But he couldn't control the political whims of his readers. As he wrangled diligently in his columns with questions of citizenship, equality, justice, and slavery, his newspaper rapidly lost readership, and he was plagued by financial worries. Nor could Dawson control the whims of the heart: his Swiss governess became embroiled in a tense affair with a drunkard doctor, which threatened to stain his family's reputation. In the end, Dawson—a man in many ways representative of the country at this time—was felled by the very violence he vehemently opposed.
Praise For Dawson's Fall: A Novel…
"Dawson's Fall asks what truth means in an era when conviction matters more, and Roxana Robinson's answer—that morality is friable—should make us sit up and tremble." —The New York Times Book Review

"Robinson's documentary novel . . . proves unyielding and compelling in its timely themes, with many depictions of how white men's seething resentment erupts into racist violence and how Southern codes of honor and toxic values, particularly slavery, corroded individual lives and the national character." —Booklist

"Robinson bases her formidable novel on the lives of her great-grandparents, exposing the fragile and horrific state of affairs in the American South two decades after the end of the Civil War . . . Robinson's descriptive and imaginative prose sings; this book is a startling reminder of the immoral and lasting brutality visited on the South by the institution of slavery." —Publishers Weekly

"Robinson uses lynchings, duels, and sexual assaults to shed light on populism and toxic masculinity . . . A stylish and contemplative . . . novel, considerate of facts but not burdened by them." —Kirkus Reviews (starred review)

"Dawson's Fall is a remarkable achievement, a fully realized vision of a time and place long gone. I was astonished by the ease with which Roxana Robinson meshes the known and the imagined to make a texture utterly trustable and often stunning. Most of all I was impressed by the language of this book, at once restrained and powerful; the delight in detail; the telling word. This is masterful writing." —Josephine Humphreys, author of Nowhere Else on Earth

"Roxana Robinson is a great American storyteller and never better than when she braids history and fiction, pulling truth out of mere facts. Dawson's Fall grips us with fascinating characters, great and small, caught in the powerful unfolding of events that have shaped our country, and Robinson's own wise, clear-eyed, and heartfelt narrative." —Amy Bloom, author of White Houses

"Acclaimed writer Roxana Robinson delves into her own family history as she sets her sights on the Civil War at its very heart, South Carolina, with spectacular results. Like Charles Frazier's Cold Mountain, her own Dawson's Fall will be a revelation to many readers in its profound and nuanced depiction of Southerners' widely varied feelings about the Civil War and its aftermath. The past springs brilliantly to life in this tragic and compelling story, as accurate and fully realized a depiction of daily life and the extraordinary events of this time as has ever been written." —Lee Smith, author of Dimestore: A Writer's Life

"Roxana Robinson tells the moving story of her great grand-parents, who lived in Charleston after the Civil War, her great-grandfather an Englishman and editor of the city paper. She draws on letters, journals and newspaper articles about them and adds her own novelistic grace to make them come to life. With a fine eye for detail, she describes the horrors of the post-war period of racism and violence they could not escape." —Frances FitzGerald, author of The Evangelicals

"In Dawson's Fall, acclaimed author Roxana Robinson has turned her own family history into a propulsive novel. She unspools the story of Frank Dawson, a Confederate veteran struggling to redefine the South, an Englishman in a land thick with suspicion of outsiders. With complicated characters and a rich sense of time and place, this is an immersive tale about the meaning of America." —T. J. Stiles, author of Custer's Trials: A Life on the Frontier of a New America
Sarah Crichton Books, 9780374135218, 352pp.
Publication Date: May 14, 2019
About the Author
Roxana Robinson is the author of more than ten books, including the novels Sparta and Cost; short story collections; and the biography Georgia O'Keeffe: A Life. Her work has appeared in The Atlantic, The New Yorker, Harper's Magazine, The Washington Post, The Wall Street Journal, and Vogue, among other publications. She has received fellowships from the National Endowment for the Arts and the Guggenheim Foundation, and she was president of the Authors Guild from 2014 to 2017. She teaches in the Hunter College MFA program and divides her time among New York, Connecticut, and Maine.