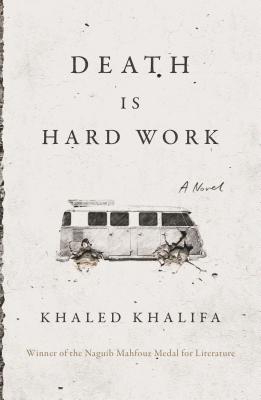 Death Is Hard Work
A Novel
Hardcover

* Individual store prices may vary.
Other Editions of This Title:
Digital Audiobook (2/11/2019)
Paperback (12/3/2019)
Compact Disc (2/12/2019)
Compact Disc (2/12/2019)
MP3 CD (2/12/2019)
Description
FINALIST FOR THE NATIONAL BOOK AWARD FOR TRANSLATED LITERATURE

A dogged, absurd quest through the nightmare of the Syrian civil war

Khaled Khalifa's Death Is Hard Work is the new novel from the greatest chronicler of Syria's ongoing and catastrophic civil war: a tale of three ordinary people facing down the stuff of nightmares armed with little more than simple determination.

Abdel Latif, an old man from the Aleppo region, dies peacefully in a hospital bed in Damascus. His final wish, conveyed to his youngest son, Bolbol, is to be buried in the family plot in their ancestral village of Anabiya. Though Abdel was hardly an ideal father, and though Bolbol is estranged from his siblings, this conscientious son persuades his older brother Hussein and his sister Fatima to accompany him and the body to Anabiya, which is—after all—only a two-hour drive from Damascus.

There's only one problem: Their country is a war zone.

With the landscape of their childhood now a labyrinth of competing armies whose actions are at once arbitrary and lethal, the siblings' decision to set aside their differences and honor their father's request quickly balloons from a minor commitment into an epic and life-threatening quest. Syria, however, is no longer a place for heroes, and the decisions the family must make along the way—as they find themselves captured and recaptured, interrogated, imprisoned, and bombed—will prove to have enormous consequences for all of them.
Praise For Death Is Hard Work: A Novel…
"[A] brilliant, blackly absurdist road-trip novel, a restaging of As I Lay Dying in the thick of the world's most brutal civil war." —Sam Sacks, The Wall Street Journal

"Astonishing . . . The journey recalls Faulkner's As I Lay Dying, the long last ride of Addie Bundren; like Faulkner too, Khalifa employs a shifting array of voices and reflections, moving from perspective to perspective, present to past and back again. The effect is a persistent deepening, as stories are introduced and then revisited, details added through the play of memory . . . The power of the novel . . . is that it unfolds within a human context, which pushes against and resists the prevailing social one." —David Ulin, Los Angeles Times

"Refusing to look away from its characters' challenges, the novel is clear-eyed in its presentation of living in a war zone. Winner of the Naguib Mahfouz Medal for Literature, Syrian author Khalifa reaches readers with a style that is straightforward, true, and profound." —Emily Dziuban, Booklist (starred review)

"Khalifa's novel compellingly tackles the strain of responsibility felt by a man in war-torn Syria . . . serves as a reminder of the devastation of war and the power of integrity." —Publishers Weekly

"Insistent, memorable portrait of the small indignities and large horrors of the civil war in Syria . . . Suggestive at times of a modern Decameron and a skillfully constructed epic that packs a tremendous amount of hard-won knowledge into its pages." —Kirkus (starred review)

"Wryly compelling...Death Is Hard Work may be Khalifa's finest achievement yet, movingly conveying the fear, paranoia and hardships of life in an embattled police state." —The Financial Times

"If literature is a momentary stay against confusion, then Khalifa's novels are ardent stays against destruction and decay—and Death Is Hard Work continues this tradition." —Nick Ripatrazone, The Millions

"Death is Hard Work moves in a way similar to the war it chronicles—mercilessly over the bones of its victims . . . The result is something at the intersection of Faulkner and Kafka, a modern-day As I Lay Dying passed through the lens of maddening bureaucracy, hypocrisy and slaughter." —Omar El Akkad, BookPage
Farrar, Straus and Giroux, 9780374135737, 192pp.
Publication Date: February 12, 2019
About the Author
Khaled Khalifa was born in 1964 near Aleppo, Syria, the fifth child of a family of thirteen siblings. He studied law at Aleppo University and actively participated in the foundation of Aleph magazine with a group of writers and poets. A few months later, the magazine was closed down by Syrian censorship. Active in the arts scene in Damascus where he lives, Khalifa is a writer of screenplays for television and cinema as well as novels that explore Syrian history. His 2019 novel Death Is Hard Work was a finalist for the National Book Award.
or
Not Currently Available for Direct Purchase