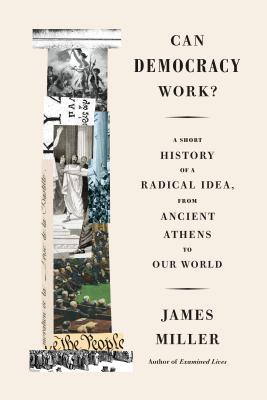 Can Democracy Work? (Hardcover)
A Short History of a Radical Idea, from Ancient Athens to Our World
Farrar, Straus and Giroux, 9780374137649, 320pp.
Publication Date: September 18, 2018
Other Editions of This Title:
Paperback (9/10/2019)
* Individual store prices may vary.
Description
A new history of the world's most embattled idea
Today, democracy is the world's only broadly accepted political system, and yet it has become synonymous with disappointment and crisis. How did it come to this? In Can Democracy Work? James Miller, the author of the classic history of 1960s protest Democracy Is in the Streets, offers a lively, surprising, and urgent history of the democratic idea from its first stirrings to the present. As he shows, democracy has always been rife with inner tensions. The ancient Greeks preferred to choose leaders by lottery and regarded elections as inherently corrupt and undemocratic. The French revolutionaries sought to incarnate the popular will, but many of them came to see the people as the enemy. And in the United States, the franchise would be extended to some even as it was taken from others. Amid the wars and revolutions of the twentieth century, communists, liberals, and nationalists all sought to claim the ideals of democracy for themselves—even as they manifestly failed to realize them.
Ranging from the theaters of Athens to the tents of Occupy Wall Street, Can Democracy Work? is an entertaining and insightful guide to our most cherished—and vexed—ideal.
About the Author
James Miller is a professor of politics and the chair of liberal studies at the New School for Social Research. He is the author of The Passion of Michel Foucault and Flowers in the Dustbin: The Rise of Rock & Roll, 1947–1977, among other books. He lives in New York City.
Praise For Can Democracy Work?: A Short History of a Radical Idea, from Ancient Athens to Our World…
"What makes the book compelling is its focus on colorful thinkers, activists, and political leaders who lived and breathed the democratic moment throughout history, from Pericles and Socrates in ancient Athens to Woodrow Wilson and Vladimir Lenin in the early twentieth century. Miller shows that democracy's ascent is best seen not as a gradual unfolding of a political principle driven by reason and moral destiny but rather as a grand roller coaster ride of struggle, revolution, and backlash. Today's populist outbursts look quite ordinary alongside this history." —G. John Ikenberry, Foreign Affairs
"The strength of this book lies . . . in the exquisite portraits it paints of characters who stand behind the immortalized Pericles, Robespierre, and Thomas Jefferson . . . [Miller] forces the reader to sit up and realize that history isn't a definitive grayed parchment beyond reproach, but actually a living force constantly capable of new interpretation and meaning in our current world. . . Like the ekklesia in Athens, the constituent assembly in Versailles, and the soviet in Petrograd – Can Democracy Work? offers insightful context on how our own body politic will survive these turbulent times." —John Colin Marston, The Christian Science Monitor
"This is a bold, eloquent, and utterly convincing history of what democracy has meant and should mean—from the Assembly of ancient Greece to the anti-Trump resistance. James Miller has produced one of the wisest reflections on the glories and limits of popular rule I have ever read."—Michael Kazin, author of The Populist Persuasion: An American History
"Democracy has always been at the center of James Miller's career, whether he was investigating the sublime theories of the Enlightenment or the street politics of the 1960s. Now, at the very moment of democracy's apparent endangerment, one of its best friends offers up the most capacious and inspiring history of it ever composed. From the Greeks to the present, Miller's light touch and profound insight join each other on every page to make this a truly indispensable work for the present crisis." —Samuel Moyn, author of Not Enough: Human Rights in an Unequal World
"No one is better qualified to wrestle with the riddle of democracy than James Miller, which is why I have been eagerly awaiting this brilliant and necessary book. Can Democracy Work? is an eloquent, clear-eyed account of democracy's myriad challenges. This concise and compelling history deserves to be read and debated by all who still dare to dream of a society of equals. These pages left me feeling better prepared and reinvigorated to work toward a more democratic future." —Astra Taylor, director of What is Democracy? and author of The People's Platform
"James Miller, who has illuminated democracy's radical possibilities, now offers some sharp reflections on how those possibilities have fared over the centuries. At a moment when the very meaning of the word is up for grabs, Miller brings us back to philosophical essentials as forged by contingency, contradiction, and human folly. Refreshing and unsettling, here is some political intelligence in a dark and confusing time." —Sean Wilentz, author of The Rise of American Democracy
"Distinguished historian of ideas James Miller's short history of democracy and its different meanings is both compulsive and compulsory reading for our sometimes shockingly disenchanted times. Ever optimistic, Miller remains enamored of his native United States's striking experiment in cosmopolitan self-governance, and stands proudly and persuasively tall for liberal—and democratic—ideals." —Paul Cartledge, author of Democracy: A Life
"This sharp, spirited, engaged intellectual history of democracy, including its recent and often loose coupling with liberalism, combines an appraisal of both inherent and situational pitfalls with an appreciation of redemptive possibilities. If democracy is protean, what matters, this rich work teaches, is the quality of our normative choices and institutional imagination." —Ira I. Katznelson, author of Fear Itself: The New Deal and the Origins of Our Time

". . . An attractively broad and accessible account of democracy from the Greeks to the present day. . .[guides] readers through the mass of difficult material with enviable clarity . . . [offers] impressive new evidence and analyses." —David A. Bell, New York Review of Books
"Engaging ....I'm particularly drawn to Miller's investigation of a concept that most of us think we understand. As Miller demonstrates, "democracy" deserves a second look." —Stan Persky, Dooney's Cafe