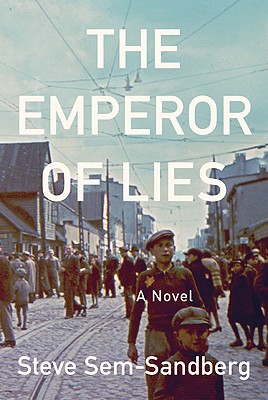 The Emperor of Lies (Hardcover)
Farrar, Straus and Giroux, 9780374139643, 672pp.
Publication Date: August 30, 2011
* Individual store prices may vary.
or
Not Currently Available for Direct Purchase
Description
Winner of the August Prize, Sweden's most important literary award
A
Globe and Mail
Best Books of the Year 2011 Title
To be published in more than twenty-five languages
A major international literary event
"This is real literature. A great work of fiction." —Per Svensson, Dagens Nyheter
In February 1940, the Nazis established what would become the second-largest Jewish ghetto, in the Polish city of Lódz. The leader they appointed was Mordechai Chaim Rumkowski, a sixty-three-year-old Jewish businessman and orphanage director—and the elusive, authoritarian power sustaining the ghetto's very existence.
A haunting, profoundly challenging novel, The Emperor of Lies chronicles the tale of Rumkowski's monarchical rule over a quarter-million Jews for the next four and a half years. Driven by a titanic ambition, he sought to transform the ghetto into a productive industrial complex and strove to make it—and himself—indispensable to the Nazi regime. These compromises would have extraordinary consequences not only for Rumkowski but for everyone living in the ghetto. Drawing on the detailed records of life in Lódz, Steve Sem-Sandberg, in a masterful feat of literary imagination and empathy, captures the full panorama of human resilience and probes deeply into the nature of evil. Through the dramatic narrative, he asks the most difficult questions: Was Rumkowski a ruthless opportunist, an accessory to the Nazi regime motivated by a lust for power? Or was he a pragmatist who managed to save Jewish lives through his collaboration policies? How did the inhabitants of the ghetto survive in such extreme circumstances?
A critically acclaimed breakout bestseller in Sweden, The Emperor of Lies introduces a writer of great significance to American readers. The archives detail daily life in the Lodz ghetto, under the reign of Rumkowki, but it takes a writer with Sem-Sandberg's singular talent to help us understand the truth of this chilling history.
About the Author
Steve Sem-Sandberg was born in 1958. He divides his time between Vienna and Stockholm.
Praise For The Emperor of Lies…
Praise for The Emperor of Lies


Library Journal (starred): "This is the story of the Lodz ghetto, located in Poland's second-largest city. Unlike the bigger Warsaw ghetto, the one that the Germans established at Litzmannstadt (their name for Lodz) was highly organized and offered jobs to thousands of Jews, who made items for use by the German army and civilian population—before they were gradually shipped off to the death camps. Masterminding this giant enterprise was Mordechai Chaim Rumkowski, the Eldest of the Jews and the "Emperor" of the title. How this initially unmarried and childless man, whom some would call a misfit, came to a position of preeminence in the ghetto is the heart of this riveting narrative. Sem-Sandberg, who lives in both Vienna and Stockholm, relied on the Ghetto Chronicle, secretly compiled by the Jews of Lodz, which he has deftly fictionalized. Readers must struggle with the issue of whether Rumkowski was a crass opportunist or saved countless lives through his near monarchical rule. Death's translation is first-rate, and the reading group guide should be especially helpful. VERDICT This portrait of hell is highly recommended to knowledgeable readers with a love of world literature and an interest in the era." —Edward Cone, New York
"This extraordinary work of fiction is a historical novel in a deeper than the usual sense, since the author concedes that truth rather than fiction supplies the crucial detail that directs our moral vision . . . Sem-Sandberg's success lies in the way he conveys the moral tragedy not in retrospect but in its duration. As well as any other novelist of the Holocaust, he conveys someone else's nihilism as your experience, answering dehumanization with modest and convincing portraits of humanity."—Timothy Snyder,
The Times Literary Supplement
"It would seem all the more difficult . . . from this remove in time and after so much retelling, to write a freshly felt, fully absorbing novel about the Holocaust — and yet this is exactly what Steve Sem-Sandberg has done . . . Was Rumkowski a sinner or saint? Collaborator or liberator? It is around this central question that The Emperor of Lies swirls, providing along the way an almost Dickensian cast of characters and cinematic richness of detail that invites immersion in the way few contemporary novels of serious ambition do . . . The Emperor of Lies is a chilling and illuminating look at a period of history that has been analyzed and reconstructed before but rarely in quite so three-dimensional a fashion." —Daphne Merkin, The New York Times Book Review
"A Swedish bestseller, this sprawling, Dickensian novel of the Holocaust now lands in America, where it is sure to attract attention." —Kirkus Reviews
"[An] extraordinary novel . . . The story has been told many times before . . . yet rarely with such imaginative empathy . . .  A brilliantly sustained work of historical fiction." —Ian Thomson, The Sunday Telegraph
"This is fiction of true moral force, brilliantly sustained and achieved. It helps us to do what is so hard, simply to think about the Holocaust. Normally, the mind sheers away in horror after exposure to the accumulation of grueling detail and to the ungraspable weight of the statistics. It is so difficult to focus our imagination, our empathy, and Sem-Sandberg provides a way for us to do that, guiding the reader through the mass of information to the human heart of these appalling events. Fiction here is operating at its best, to close the gap between past and present, between them and us: not through sentiment, but through real understanding.
This is a stunning achievement and one to be applauded. I have lived with the book over several days, feeling I was living inside it, even dreaming about it. To read this novel is both an ordeal and a privilege, and I hope it commands the attention it deserves. It could be life-changing. I find it difficult to think of any book that has had such an immediate and powerful impact on me. So often there seems no way to approach these horrors but sidelong, at a tangent. What I admire and applaud is the author's direct engagement, the commitment to reality he has made. He shows us this fearful world in all its ambivalence and its human particularity. And yet you are not transfixed with horror; you are not forced beyond thought; you are debating all the time, what could they have done, what should they have done, how could it have been different? You are commanded to live through it and rethink it.
If there is one detail that for me selects itself as unforgettable it is the image of the X-ray plates of the children: the record of pathology preserved, the living subjects long ago lost and perished. Even if we have only the ghost of bones, this brave and brilliant author has made them a fitting commemoration." —Hilary Mantel, author of Wolf Hall, winner of the Man Booker Prize
"Sem-Sandberg's recreation of the Lodz ghetto, utterly convincing, rich in sympathy and understanding, is more a lightly fictionalised documentary than a work of the imagination. Nevertheless it needed that form of imagination which goes by the name of empathy to enter this world of horrors and show how individuals sought to survive or succumbed." —Allan Massie, The Scotsman
"Sem-Sandberg's achievement is that this history becomes but a background to a multitude of vivid characters, the ordinary Jewish people of the ghetto, whose experiences he weaves expertly into a mesmerising whole . . . The Emperor of Lies is a novel about heart-wrenching suffering and extraordinary evil, transformed by Sem-Sandberg's talents into an irresistible work of fiction, absorbing from first page to last . . . Dickens would have been very pleased with this novel." —Carmen Callil, The Guardian
"[The story] is told in almost dispassionate prose which because of its sheer understatedness makes it all the more potent . . . Sem-Sandberg is an intensely visual writer and scene after scene comes vividly to life. The vast company of characters are memorably drawn and naturally the emperor of lies dominates . . . The final section of the book rises to startling heights of descriptive writing as the steadily emptying ghetto becomes a freezing snowscape barely populated other than by the ghosts who have perished. The concluding pages are almost unbearable . . . The Emperor of Lies is a memorable examination of human resilience and the will to survive. It is a most distinguished addition to the literature of the holocaust." —Peter Burton, The Daily Express
"The author uses the Ghetto Chronicle, a 3,000-page archive set up by Rumkowski in 1940, to give this novel an extraordinary immediacy and power." —Kate Saunders, The Times (London)
"In this vast and impressive book, the Swedish novelist Steve Sem-Sandberg revisits these five years of barbaric history. The chronology from April 1940 to January 1945 is handled with great skill . . . [and] the book is immeasurably strengthened by its multiple points of view . . . Yet the book is not a mere recitation of crime and evil. There are compound ironies in the fact that Rumkowski wanted to make the authorities acknowledge that 'the ghetto was a special place' . . . Perhaps the book's chief virtue is that it doesn't attempt to resolve these complexities." —Tom Deveson, The Sunday Times (London)
"Steve Sem-Sandberg re-creates the ghetto with intelligent meticulousness and passionate invention . . . With this book, Sem-Sandberg steps into the magic circle of leading European writers . . . A] masterly novel." —Anna Paterson, The Independent
"Sem-Sandberg has achieved something monumental, but with a strange and necessary lightness of touch. The Emperor of Lies is sobering, scarifying, and, in its hunger for the truth, enthralling." —Sebastian Barry, author of The Secret Scripture
"With The Emperor of Lies Steve Sem-Sandberg cements his position as one of Sweden's significant authors. The book deserves marked attention." —Markus Huss

"Majestic . . . Frankly speaking it's an amazing novel . . . Part of the great achievement here is owed to how masterfully Steve Sem-Sandberg has managed to filter his material to a story with both cinematic flexibility and graphic clarity." —Mikael van Reis, Göteborgs-Posten
Advertisement