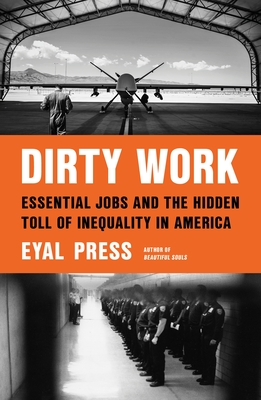 Dirty Work
Essential Jobs and the Hidden Toll of Inequality in America
Hardcover

* Individual store prices may vary.
Other Editions of This Title:
Digital Audiobook (8/30/2021)
Digital Audiobook (2/9/2022)
Paperback (8/16/2022)
Description
Winner of the 2022 Hillman Prize for Book Journalism

A groundbreaking, urgent report from the front lines of "dirty work"—the work that society considers essential but morally compromised

Drone pilots who carry out targeted assassinations. Undocumented immigrants who man the "kill floors" of industrial slaughterhouses. Guards who patrol the wards of the United States' most violent and abusive prisons. In Dirty Work, Eyal Press offers a paradigm-shifting view of the moral landscape of contemporary America through the stories of people who perform society's most ethically troubling jobs. As Press shows, we are increasingly shielded and distanced from an array of morally questionable activities that other, less privileged people perform in our name.

The COVID-19 pandemic has drawn unprecedented attention to essential workers, and to the health and safety risks to which workers in prisons and slaughterhouses are exposed. But Dirty Work examines a less familiar set of occupational hazards: psychological and emotional hardships such as stigma, shame, PTSD, and moral injury. These burdens fall disproportionately on low-income workers, undocumented immigrants, women, and people of color.

Illuminating the moving, sometimes harrowing stories of the people doing society's dirty work, and incisively examining the structures of power and complicity that shape their lives, Press reveals fundamental truths about the moral dimensions of work and the hidden costs of inequality in America.
Praise For Dirty Work: Essential Jobs and the Hidden Toll of Inequality in America…
"[A] disturbing and necessary new book . . . In Press's moral worldview, there are not only guilt and innocence, but rather fine-grained degrees of culpability and exculpation that fit uneasily with the sensibilities of a sound-bite-driven social media culture . . . It's a testament to his insight and vision that in spite of the ugliness to which he exposes us on almost every page, he still makes us want to set aside cynicism and pessimism and join him in finding ways to strengthen the moral bonds between us, however flawed we might be." —Tasmin Shaw, New York Times Book Review

"Terrific: learned, patient, unflinching, powerful." —Jennifer Szalai, The New York Times

"A muckraker with the sensibility of a moral philosopher." —Ava Kofman, Bookforum

"Dirty Work makes a powerful case that, instead of vilifying dirty workers, Americans must reckon with what is being done in their name . . . Dirty Work is about weighty moral questions, but it's also about people, profiling dozens of workers and empathetically engaging with their crises of conscience. While never absolving his interviewees, [Press] forces readers to ask themselves whether, under similar circumstances, they would have behaved any differently." —Hank Stephenson, Shelf Awareness

"Engrossing and frequently enraging . . . Press's lucid narrative is studded with gut-wrenching scenes . . . This deeply reported and eloquently argued account is a must-read." —Publishers Weekly (starred review)

"Essential reading." —Caren Nichter, Library Journal (starred review)

"Probing . . . A provocative book that will make readers more aware of terrible things done in their names." —Kirkus

"[Press'] compelling book is smart and sophisticated. As exposés go, this one reaches beyond standard journalistic fare . . . It isn't rose-colored glasses that prevent a clear vision of what really goes on; it's gold-rimmed glasses and lenses made of meritocratic hubris that blinds the privileged classes from seeing the mudsills in our midst." —Nancy Isenberg, The American Scholar

"Press's cases are diverse and compelling . . . [his] concept of 'dirt' is gender-blind and therefore, in theory, defines 'moral injury' as a locus for worker solidarity, because it is experienced by all kinds of people in similar ways, whether in war, at work, or at home . . . By extending the concept of moral injury to the workplaces of millions of workers, Press offers readers a chance to be witnesses too." —Jo Livingstone, The New Republic

"Press' purpose goes beyond explaining the physical and psychological dangers of these jobs. Press wants readers to see the link between economic inequality and other 'structural disadvantages that shape who ends up doing this work.' More important, he wants to close the gap that allows the privileged to separate themselves morally from people who perpetrate our dirty work." —Vikas Turakhia, Star Tribune

"Press suggests that the public could bring [meaningful] pressure against the purveyors of dirty work by refusing to look the other way . . . One way to make this happen is by getting to know dirty workers as people. Dirty Work gives us a guided tour." —Bill Lueders, The Progressive Magazine

"Long before the COVID pandemic highlighted our dependence on essential workers, our existence as consumers and citizens was underpinned by an army of people doing jobs we might prefer not to think about. In this penetrating, astutely observed, beautifully written book, Eyal Press explores the lives of those who work these jobs: the corrections officer, the drone operator, the woman who slaughters chickens for a living. Dirty Work makes no easy judgments, but instead confronts a series of deep and vexing moral questions. It exposes the bonds of complicity that make this not just someone else's story, but one which implicates us all. A masterful, important book." —Patrick Radden Keefe, author of Empire of Pain

"This is a scathing and thoughtful book about labor and principles—or, rather about when the former sabotages the latter, in the brutal industries that prop up American life, from our appetite for cheap meat and fossil fuel to mass incarceration to remote killing as part of our foreign policy to the tech industry's amoral profit seeking. Though the moral injury impacts the workers first, it belongs to us all. Eyal Press brings this home in a series of powerful portraits of workers, and through considerations of both their industries and the ways we look away or are prevented from seeing what they do. Ultimately, Dirty Work is a book about human sacrifice and the forces that disguise it." —Rebecca Solnit, author of Recollections of My Nonexistence: A Memoir

"In this richly reported, disquieting book, Eyal Press highlights the stigmatizing, morally injurious work we ask some of the least advantaged members of society to perform in our name. Prison guards, slaughterhouse workers, and drone operators who carry out high-tech killings perform society's 'dirty work' out of public view. This book will prompt a public reckoning with inequality in work by revealing how we are all implicated in the dirty work we outsource to others." —Michael J. Sandel, author of The Tyranny of Merit: Can We Find the Common Good?

"Our society fights wars, imprisons criminals, produces food, and makes energy. However necessary it may be, the work involved is often ugly and violent. We want it done, cheaply, but don't want to see it done. Enter Eyal Press, a writer in the tradition of George Orwell and Martha Gellhorn, who asks us to look at the dirty work that men and women do in our name. With measured prose and exquisite poise, Press describes the moral burden these workers assume, and analyzes the systemic inequities that burden reflects. The result is as stunning as it is disturbing." —Corey Robin, author of The Enigma of Clarence Thomas
Farrar, Straus and Giroux, 9780374140182, 320pp.
Publication Date: August 17, 2021
About the Author
Eyal Press is an author and a journalist based in New York. The recipient of the James Aronson Award for Social Justice Journalism, an Andrew Carnegie fellowship, a Cullman Center fellowship at the New York Public Library, and a Puffin Foundation fellowship at Type Media Center, he is a contributor to The New Yorker, The New York Times, and numerous other publications. He is the author of Beautiful Souls and Absolute Convictions.
or
Not Currently Available for Direct Purchase