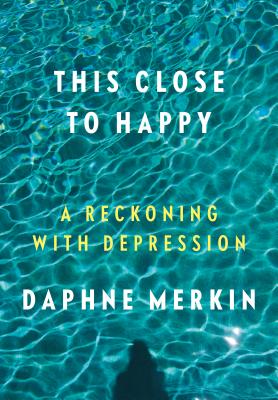 This Close to Happy
A Reckoning with Depression
Hardcover

* Individual store prices may vary.
Other Editions of This Title:
Digital Audiobook (2/6/2017)
Paperback (2/27/2018)
MP3 CD (2/7/2017)
Compact Disc (2/7/2017)
Compact Disc (2/7/2017)
Description
A New York Times Book Review Favorite Read of 2016
"Despair is always described as dull," writes Daphne Merkin, "when the truth is that despair has a light all its own, a lunar glow, the color of mottled silver." This Close to Happy—Merkin's rare, vividly personal account of what it feels like to suffer from clinical depression—captures this strange light.
Daphne Merkin has been hospitalized three times: first, in grade school, for childhood depression; years later, after her daughter was born, for severe postpartum depression; and later still, after her mother died, for obsessive suicidal thinking. Recounting this series of hospitalizations, as well as her visits to myriad therapists and psychopharmacologists, Merkin fearlessly offers what the child psychiatrist Harold Koplewicz calls "the inside view of navigating a chronic psychiatric illness to a realistic outcome." The arc of Merkin's affliction is lifelong, beginning in a childhood largely bereft of love and stretching into the present, where Merkin lives a high-functioning life and her depression is manageable, if not "cured." "The opposite of depression," she writes with characteristic insight, "is not a state of unimaginable happiness . . . but a state of relative all-right-ness."
In this dark yet vital memoir, Merkin describes not only the harrowing sorrow that she has known all her life, but also her early, redemptive love of reading and gradual emergence as a writer. Written with an acute understanding of the ways in which her condition has evolved as well as affected those around her, This Close to Happy is an utterly candid coming-to-terms with an illness that many share but few talk about, one that remains shrouded in stigma. In the words of the distinguished psychologist Carol Gilligan, "It brings a stunningly perceptive voice into the forefront of the conversation about depression, one that is both reassuring and revelatory."
Praise For This Close to Happy: A Reckoning with Depression…
"[Merkin narrates] with insight, grace and excruciating clarity, in exquisite and sometimes darkly humorous prose . . . For all its highly personal focus, [This Close to Happy] is an important addition to the literature of mental illness." —Andrew Solomon, The New York Times Book Review (cover review)
"I will not be the last to thank Ms. Merkin for resisting this desire [to die] long enough to give us what is one of the most accurate, and therefore most harrowing, accounts of depression to be written in the last century . . . Ms. Merkin speaks candidly and beautifully about aspects of the human condition that usually remain pointedly silent." —John Kaag, Wall Street Journal
"Wry, self-aware . . . a work of lacerating intelligence about a condition that intellect cannot heal." —The New Yorker
"[A] triumph on many levels . . . As insightful and beautifully written as it is brave . . . This Close to Happy earns a place among the canon of books on depression . . . books that offer comfort to fellow depressives and elucidation for those lucky enough to have dodged its scourge." —Heller McAlpin, Washington Post
"[A] stunning self portrait" —Christian Lorentzen, New York
"A hybrid of memoir, case study, and confession, which joins such classics as Kay Redfield Jamison's An Unquiet Mind and Andrew Solomon's The Noonday Demon in the contemporary literature of depression. . . Merkin has written [a book] that will illuminate, challenge, and possibly even console." —Adam Kirsch, Tablet
"[This Close to Happy is] a testament to Merkin's commitment to capturing the grim distortions that depression can produce. . . This Close to Happy is more than a memoir of mental illness. Merkin is a good writer—perceptive, provocative, relentlessly interrogative of her own experience—and despite her difficult subject matter, she does, in this memoir, what good writers do: she sends urgent, cogent dispatches from another world, a protracted battlefield that we might not otherwise know about." —Lisa Fetchko, Los Angeles Review of Books
"[A] compelling chronicle . . . Merkin's work is unique in describing the mundane burden of a deeply felt and closely observed life lived with depression . . . [H]er account of depression is both personal, literary and, at the same time, existential." —Tom Teicholz, Forbes
"Merkin is a wonderful writer whose keen eye for detail and human foibles enables her to brilliantly light her subject. . . . In page after page, she delivers elegant, evocative prose." —Psychology Today
"This Close to Happy is as illuminating and hard to put down as it is painful." —People
"Merkin is a fine stylist . . . She has at her disposal wide-ranging allusions, and she draws on poetry with a charming ease, a frankness that assumes her reader's sophistication, even as she capably holds the reader's hand and clarifies the relevance of a particular reference." —Forward
"Daphne Merkin exhibits shocking honesty in allowing readers to look into her journey. . . Her depth of writing experience on the topic comes through in emotion-packed prose . . . This book offers the education necessary for readers need to follow depression as it rises and falls in one woman's life, as well as in the lives of thousands of others." —Wyatt Massey, America Magazine
"Merkin's deeply intimate account of living with clinical depression is illuminating, heartbreaking, and powerfully written. With lively prose and shrewd observations . . . Merkin's exploration into her complicated yet unconditional devotion to her mother is rendered with compassion and profound perception. Merkin eloquently blends the personal with the researched; her intellectual tenacity and emotional rawness impress as much as they entertain. This book is a wonderful addition to literature about the unrelenting battle against depression." —Publishers Weekly (starred review)
"Dark thoughts hover over virtually every page of this mesmerizing memoir, and yet there is also the very real possibility of hope. . . Merkin's exceptional book belongs on the same shelf as such classics as William Styron's Darkness Visible (1990) and Kay Redfield Jamison's An Unquiet Mind (1995)." —Booklist (starred review)
"[Merkin] has a signature method to her writing, one that exuberantly crosshatches high- and lowbrow, and one that reveals and protects in equal measure." —Bookforum
"Opening This Close to Happy was like getting a long letter from my best friend at sleepaway camp. I had no idea it was this bad for you, was my first thought, and then, we have both been so paralyzed by grief. This is why we all feel so lonely right now—the longing, the depression, the comedy of it all, wrapped up in a story about sex and Judaism, our mothers. I felt so whole when snuggling up alone with Merkin's brilliant, full-of-feeling masterpiece. I flew through it and hated to let go when it ended." —Jill Soloway
"Fierce, clear-eyed, and beautifully honest, Daphne Merkin's is an essential voice. This Close to Happy, a lucid and elegantly written account of her lifelong struggles withdepression, unsettles and illuminates in equal measure. This is an important book." —Claire Messud
"If the face presented to the world is a mask to protect ourselves, Daphne Merkin bravely removes hers, revealing the truth of herself, courageously exploring, seeking—and sometimes even finding—the hope that glimmers at the end of the tunnel. Please read as soon as possible." —Gloria Vanderbilt
"This beautifully written tale of Daphne Merkin's depressive demons is by far the most accurate and human account of depression and its impact that I have ever read. I highly recommend it, both to those in the mental health professions and to those who care about the suffering of their loved ones." —Glen O. Gabbard, M.D.
"The greatness of this book is in the way Merkin takes the measure of the adversary." —Peter Sacks
"D. W. Winnicott wrote that depression is the fog over the battlefield. In this extraordinarily lucid and moving book, Daphne Merkin illuminates the dark and desperate battle that depression can be. This is a book for all those who know nothing about depression and for those who know too much." —Adam Phillips
"This Close to Happy belongs on the shelf with William Styron's Darkness, Visible and Andrew Solomon's The Noonday Demon. It brings a stunningly perceptive voice to the forefront of the conversation about depression, one that is both reassuring and revelatory." —Carol Gilligan, author of In a Different Voice
"This Close to Happy is honest, fearless in the way we have come to expect from Daphne Merkin, and, as a bonus, frankly informative. From Merkin we get the inside view of navigating a chronic psychiatric illness to a realistic outcome. As she writes, 'the opposite of depression is not a state of unimaginable happiness, but a state of relative all-right-ness.' For some, that insight alone will speak volumes. Her candor discussing the fears, tribulations, and triumphs of a lifetime of treatment will be valuable for anyone who loves someone with depression but makes necessary reading for the mental health professionals on the other side of the couch." —Harold S. Koplewicz, M.D., President, Child Mind Institute
Farrar, Straus and Giroux, 9780374140366, 304pp.
Publication Date: February 7, 2017
About the Author
DAPHANE MERKIN's writing frequently appears in The New York Times, Bookforum, Departures, Travel + Leisure, W, Vogue, Tablet Magazine, and other publications. She is a former staff writer for The New Yorker and The New York Times and a regular contributor to ELLE. Merkin has taught writing at the 92nd Street Y, Marymount College, and Hunter College. Her previous books include Enchantment, which won the Edward Lewis Wallant Award for best novel on a Jewish theme, and two collections of essays, Dreaming of Hitler and The Fame Lunches, which was a New York Times Notable Book of the Year. She lives in New York City.
1. How did the book enhance your understanding of depression? What does Daphne Merkin's experience tell us about the impact of nature versus nurture on the psyche?
2. In chapter 4, the author writes, "The very presence of money in someone's background tends to evoke envy and irritation . . . 'What does she know of real suffering?'. . . and elicits a certain disbelief about the possibility of other kinds of privation." Before reading about Merkin's life, were you skeptical that someone from such a wealthy family could suffer such anguish?
3. As you read about Merkin's lifetime of therapists and prescriptions, what did you make of the role of modern psychiatry?
4. In crystalline prose, Merkin describes the allure of suicide. How did you react to the logic of her thinking?
5. How did your image of Merkin's mother shift from chapter to chapter? What fed Merkin's fantasy that Ursula would rescue her?
6. How was Merkin affected by her emotionally aloof father, Hermann, and by watching her mother pamper him?
7. Orthodox Judaism was an integral part of Ursula and Hermann's identity. Why did all of their children except Daphne integrate their parents' orthodoxy into their own identities? If you had been Daphne, would you have signed Hermann's contract, agreeing to keep kosher in exchange for a luxurious home?
8. Merkin's mother eventually said it was a mistake to hire the abusive housekeeper Jane, though Jane lived with the Merkins for the rest of her life. How was Jane able to assert so much control?
9. How does the relationship between Merkin and her brothers and sisters relate to her depression? What determines whether siblings take care of each other or become rivals?
10. Does the fact that Merkin's parents were refugees from Nazi Germany explain their approach to parenting, or would the household have been run the same way regardless of their tragic family history?
11. How is Zoë's perception of the world influenced by her mother's state of mind?
12. What enables Merkin to be such a high-functioning writer?
13. As Merkin surveyed a literary landscape populated by writers who struggled with depression (evoked by her tattered Virginia Woolf doll), what did you observe about the relationship between language and mental illness?
14. Merkin was born in the 1950s. How have attitudes about the authenticity of women evolved in American culture since then?
15. In chapter 8, Merkin recalls the psychiatrist she saw in her twenties who dug up a note that she had written as an eight-year-old patient at Columbia Presbyterian Babies' Hospital. In the note, young Merkin says that she is afraid to go home, and she wants to know why her mother is only nice to her when she is sick. What significant truths are revealed in those words?
16. Is there evidence of Merkin's chronic depression in her recent essay collection The Fame Lunches?
or
Not Currently Available for Direct Purchase