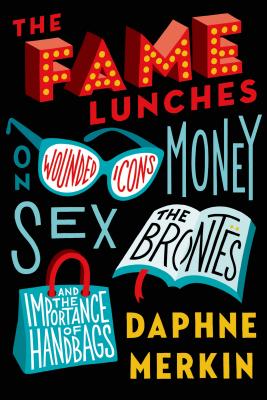 The Fame Lunches (Hardcover)
On Wounded Icons, Money, Sex, the Brontës, and the Importance of Handbags
Farrar, Straus and Giroux, 9780374140373, 416pp.
Publication Date: September 2, 2014
* Individual store prices may vary.
Description
A wide-ranging collection of essays by one of America's most perceptive critics of popular and literary culture

From one of America's most insightful and independent-minded critics comes a remarkable new collection of essays, her first in more than fifteen years. Daphne Merkin brings her signature combination of wit, candor, and penetrating intelligence to a wide array of subjects that touch on every aspect of contemporary culture, from the high calling of the literary life to the poignant underside of celebrity to our collective fixation on fame. "Sometimes it seems to me that the private life no longer suffices for many of us," she writes, "that if we are not observed by others doing glamorous things, we might as well not exist."
Merkin's elegant, widely admired profiles go beneath the glossy façades of neon-lit personalities to consider their vulnerabilities and demons, as well as their enduring hold on us. As her title essay explains, she writes in order "to save myself through saving wounded icons . . . Famous people . . . who required my intervention on their behalf because only I understood the desolation that drove them." Here one will encounter a gallery of complex, unforgettable women—Marilyn Monroe, Courtney Love, Diane Keaton, and Cate Blanchett, among others—as well as such intriguing male figures as Michael Jackson, Mike Tyson, Truman Capote, and Richard Burton. Merkin reflects with empathy and discernment on what makes them run—and what makes them stumble.
Drawing upon her many years as a book critic, Merkin also offers reflections on writers as varied as Jean Rhys, W. G. Sebald, John Updike, and Alice Munro. She considers the vexed legacy of feminism after Betty Friedan, Bruno Bettelheim's tarnished reputation as a healer, and the reenvisioning of Freud by the elusive Adam Phillips.
Most of all, though, Merkin is a writer who is not afraid to implicate herself as a participant in our consumerist and overstimulated culture. Whether ruminating upon the subtext of lip gloss, detailing the vicissitudes of a pre–Yom Kippur pedicure, or arguing against our obsession with household pets, Merkin helps makes sense of our collective impulses. From a brazenly honest and deeply empathic observer, The Fame Lunches shines a light on truths we often prefer to keep veiled—and in doing so opens up the conversation for all of us.
About the Author
DAPHNE MERKIN's writing frequently appears in The New York Times, Bookforum, Departures, Travel + Leisure, W, Vogue, Tablet Magazine, and other publications. She is a former staff writer for The New Yorker and The New York Times and a regular contributor to ELLE. Merkin has taught writing at the 92nd Street Y, Marymount College, and Hunter College. Her previous books include Enchantment, which won the Edward Lewis Wallant Award for best novel on a Jewish theme, and two collections of essays, Dreaming of Hitler and The Fame Lunches, which was a New York Times Notable Book of the Year. She lives in New York City.
Praise For The Fame Lunches: On Wounded Icons, Money, Sex, the Brontës, and the Importance of Handbags…
"Precise, pointed. . . . Together, these essays . . . showcase a fearless intelligence. . . . Merkin addresses more complicated issues, or at least ones calling for either honest self-examination or subtlety. . . . These are stunning works, enough to hold us for at least another decade." —Clea Simon, The Boston Globe
"[Merkin] writes like an angel, whatever the subject." —Editor's Choice, Buffalo News
"Unfailingly intelligent." —Heller McAlprin, NPR
"Outstanding . . . one of our best narrative nonfiction writers. Merkin's voice is secular and modern and yet filled with some sort of ancient wisdom, and coupled with intellectual and emotional honesty, while maintaining a pureness of heart. That is no easy feat." —Elaine Margolin, Jewish Journal
"A diverse array of work . . . The keenly perceptive Merkin adroitly tackles high and low culture . . . refreshingly candid . . . . No matter what topic, readers will be treated to mesmerizing prose, lively wit, and penetrating analysis; the collection is a joy to read." —Publishers Weekly (starred, boxed review)
"An eclectic collection of pieces, all of which feature her unique style and voice . . . . Merkin's style is inevitably exploratory--these are 'essays' in the word's literal sense. Like Montaigne, she writes to figure something out, not because she's already figured it out . . . Essays that go down like candy but nourish like health food." —Kirkus Reviews
"Fearless, impolitic, honest, darkly observant, these superb essays tell all of our secrets." —Katie Roiphe
"Daphne Merkin is one of the smartest and best readers I know--not only of books (about which she writes peerlessly) but of people and their preoccupations. She is fiercely honest, even when she turns her unflinching eye on herself, and has such range and such an uncanny ability to draw connections that her essays leave you enlightened about things you never knew you cared about." —Chip McGrath
"Daphne Merkin's voice is unmistakable in its wit and audacity and undertone of melancholy. The essay form is a perfect medium for her delicious arias." —Janet Malcolm
"Daphne Merkin puts the mark of her distinctive style--intellectual and literary--on everything she writes about, from Kabbalah to camp. This is the juiciest collection of cultural criticism to come along in quite a while and establishes her as a unique and major essayist." —Phyllis Rose
"The Fame Lunches is nothing short of a great read. It's filled with unexpected insights into the Complexity, Sorrow, and Beauty of my favorite subject: Women. Everything Daphne Merkin touches glows in the light of her shining talent." —Diane Keaton
"Daphne Merkin's sparkling and unreasonably informed essays are about fame, yes, and lunches, somewhat. Above all, they are strikingly original takes on the human condition." —Woody Allen
"The Fame Lunches is a delicious and delightful feast. What a pleasure to read a writer who can use language with joy and inventiveness. Daphne Merkin has taken the essay form back to its roots in Michel Montaigne, Joseph Addison, Richard Steele, and Samuel Johnson. Her range is vast, her intellect inspiring. Whether you agree with her conclusions or not, watching her mind work is a thing of beauty." —Erica Jong, author of Seducing the Demon: Writing for My Life
"Everything Daphne Merkin writes is so smart, it shines." —The Washington Post Book World on Daphne Merkin
"One of the few contemporary essayists who have (and deserve) a following." —New York Magazine on Daphne Merkin
or
Not Currently Available for Direct Purchase