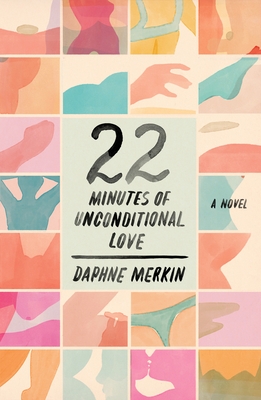 22 Minutes of Unconditional Love
A Novel
Hardcover

* Individual store prices may vary.
Other Editions of This Title:
Paperback (7/6/2021)
Description
"Daphne Merkin meets the formidable challenge of describing female lust and romantic obsession with all the desired daring, candor, and skill. The result is a bracingly honest, keenly insightful, utterly compelling book." —Sigrid Nunez, author of The Friend

A harrowing, compulsively readable novel about breaking free of sexual obsession

A novel of unsurpassed candor, punctuated by bold ruminations on love, marriage, family, sex, gender, and relationships, 22 Minutes of Unconditional Love depicts one woman's psychological descent into sexual captivity. This is the story of the extremes to which she will go to achieve erotic bliss—and of her struggle to regain her soul.

As Daphne Merkin's audacious new novel opens, a wife and mother looks back at the moment when her life as a young book editor is upended by a casual encounter with an intriguing man who seems to intuit her every thought.

Convinced she's found the one, Judith Stone succumbs to the push and pull of her sexual entanglement with Howard Rose, constantly seeking his attention and approval. That is, until she realizes that beneath his erotic obsession with her, Howard is intent on obliterating any sense of self she possesses. As Merkin writes, his was "the allure of remoteness, affection edged in ice." Escaping Howard's grasp—and her own perverse enjoyment of being under his control—will test the limits of Judith's capacity to resist the siren call of submission.

Narrated by Judith in a time before the #MeToo movement, 22 Minutes of Unconditional Love charts the persistent hold the past has on us and the way it shapes our present.
Praise For 22 Minutes of Unconditional Love: A Novel…
"An arresting novel that explores the alchemy of contradictions that exist in all great works of literature. Observant and witty, Merkin makes each sentence pack a provocative wallop. So, come for the promise of a compulsively readable novel — 'Obsession makes for good copy,' the narrator tells us — and stay for a fascinating lesson on the making of art." --Adrienne Brodeur, The New York Times Book Review

"An unguarded immersion into a period of 'erotic servitude' . . . Merkin's novel is casting back to an earlier era of feminism that prioritized sexual satisfaction . . . This is a study of sex as a great and terrible adventure, a bad decision that Judith will think longingly about for years to come." --Sam Sacks, The Wall Street Journal

"Merkin's novel is several things: a metafictional romance, a ballad of doomed eroticism, a snapshot of single womanhood in New York City whose trappings (pay phones, pantyhose) have been lost to the sands of time. But it is also an unsettling script-flipper in the vein of Hitchcock's voyeuristic thriller, slick and deftly seductive, inviting you to look over its shoulder into the depths of one woman's sexual obsession—only to find her staring back at you, accusatory and coy." --Kat Rosenfield, Tablet

"There's a hush over Daphne Merkin's 22 Minutes of Unconditional Love, as if the novel had been written in the middle of the night, where the work-a-day is suspended and morning is in another life . . . You may find you're almost holding your breath." --Evan Harris, The East Hampton Star

"[A] wily tale of carnal obsession . . . Merkin is at her sly and provocative best as her brainy, candid, and witty protagonist intermittently interrupts the erotic spell of her addiction to address the reader and question everything from gender roles to therapy to the very nature of fiction. With psychological acuity, sexual heat . . . Merkin's incisive novel of a woman piloting herself through the wildfire of sexual obsession is as boldly canny as it is cleverly diverting." --Booklist

"Daphne Merkin puts into words observations that have mystified me forever. Like Milan Kundera, she knows how to get inside the sexual mind without making the reader cringe. There is no one who writes better." —Carly Simon

"Daphne Merkin meets the formidable challenge of describing female lust and romantic obsession with all the desired daring, candor, and skill. The result is a bracingly honest, keenly insightful, utterly compelling book." —Sigrid Nunez, author of The Friend

"22 Minutes of Unconditional Love is a very strong book, full of echoes and recognitions and interest on many levels—personal, literary, sociological, philosophical. Its take on the freedoms and constraints of feminism is much needed. Daphne Merkin's prose has some of the shocking exhilaration of early Edna O'Brien." —Margaret Drabble, author of The Dark Flood Rises

"Daphne Merkin has written a novel as vexing and bright as a Rubik's Cube. 22 Minutes of Unconditional Love is an anti-romance about a woman's profane and humiliating desire to be defined by love." —Catherine Lacey, author of Pew

"Sometimes desire is a catastrophe. You can be a supremely brainy woman and not have the first clue about your predilections, until the wrong man comes along and introduces you to them. Daphne Merkin gives us an exquisitely rendered philosophical mystery about the divided self, and the awkward fact that we don't necessarily choose what arouses us." —Laura Kipnis, author of Unwanted Advances: Sexual Paranoia Comes to Campus
Farrar, Straus and Giroux, 9780374140380, 256pp.
Publication Date: July 7, 2020
About the Author
Daphne Merkin is the author of the novel Enchantment, which won the Edward Lewis Wallant Award for best novel on a Jewish theme, as well as collections of essays and a memoir, This Close to Happy. A former staff writer for The New Yorker, her essays frequently appear in The New York Times, Bookforum, The New Republic, Departures, ELLE, Travel + Leisure, Tablet, and many other publications. Merkin has taught writing at the 92nd Street Y, Marymount Manhattan College, and Hunter College, and she currently teaches at Columbia University's MFA program. She lives in New York City.
or
Not Currently Available for Direct Purchase