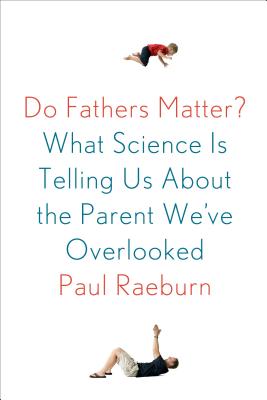 Do Fathers Matter? (Hardcover)
What Science Is Telling Us About the Parent We've Overlooked
Scientific American / Farrar, Straus and Giro, 9780374141042, 288pp.
Publication Date: June 3, 2014
* Individual store prices may vary.
Description
A 2015 National Parenting Publications Awards Gold Winner
A Mom's Choice Awards Gold Medal Winner

For too long, we've thought of fathers as little more than sources of authority and economic stability in the lives of their children. Yet cutting-edge studies drawing unexpected links between fathers and children are forcing us to reconsider our assumptions and ask new questions: What changes occur in men when they are "expecting"? Do fathers affect their children's language development? What are the risks and rewards of being an older-than-average father at the time the child is born? What happens to a father's hormone levels at every stage of his child's development, and can a child influence the father's health? Just how much do fathers matter?
In Do Fathers Matter? the award-winning journalist and father of five Paul Raeburn overturns the many myths and stereotypes of fatherhood as he examines the latest scientific findings on the parent we've often overlooked. Drawing on research from neuroscientists, animal behaviorists, geneticists, and developmental psychologists, among others, Raeburn takes us through the various stages of fatherhood, revealing the profound physiological connections between children and fathers, from conception through adolescence and into adulthood-and the importance of the relationship between mothers and fathers. In the process, he challenges the legacy of Freud and mainstream views of parental attachment, and also explains how we can become better parents ourselves.
Ultimately, Raeburn shows how the role of the father is distinctly different from that of the mother, and that embracing fathers' significance in the lives of young people is something we can all benefit from. An engrossing, eye-opening, and deeply personal book that makes a case for a new perspective on the importance of fathers in our lives no matter what our family structure, Do Fathers Matter? will change the way we view fatherhood today.
About the Author
Paul Raeburn is a journalist and blogger and the author of four books, including Acquainted with the Night: A Parent's Quest to Understand Depression and Bipolar Disorder in His Children. Raeburn's stories have appeared in Discover, The Huffington Post, The New York Times Magazine, Scientific American, and Psychology Today, among many others. A past president of the National Association of Science Writers, Raeburn has been the chief media critic at the Knight Science Journalism Tracker; the science editor at BusinessWeek and the Associated Press; and the creator and host of Innovations in Medicine and The Washington Health Report on XM satellite radio. A native of Detroit, Raeburn now lives in New York City with his wife, the writer Elizabeth DeVita-Raeburn, and their two children.
Praise For Do Fathers Matter?: What Science Is Telling Us About the Parent We've Overlooked…
"Raeburn's book reveals the fascinating ways in which dads matter to children, and how children matter to dads . . . at center stage here is Raeburn's ability to present research in ways both engaging and clear." —Jenni Laidman, Chicago Tribune
"A thought-provoking field piece on the science of fatherhood, studded with insights on how to apply it in the real world" —Alex Stone, The New York Times (Science)
"A zippy tour through the latest research on fathers' distinctive, or predominant, contributions to their children's lives, Do Fathers Matter? is filled with provocative studies of human dads--not to mention a lot of curious animal experiments . . . [Paul Raeburn] writes clearly, untangling cause from effect, noting probabilities and inserting caveats. . . he is an ideal guide to tricky, uncertain research in a nascent field. . . . father research cuts across disciplines, and Mr. Raeburn excels at mapping the twistiness of the road ahead." —Mark Oppenheimer, The New York Times
"Raeburn shows with mounting evidence the role of the father and his effect on the care and nurturing of children . . . As the father of a rapidly growing and changing little girl, I gained more from Raeburn's work than all the daddy lit put together." —Kent Black, The Boston Globe
"[Do Fathers Matter? is] a clear-eyed march through the history of family studies and a helpful review of the new generation of research devoted to identifying the impact of dads . . . [it] gathers an impressive diversity of studies into a single, highly readable volume, covering such topics as conception, pregnancy, infants, teenagers and aging fathers." —Bruce Feiler, The Washington Post
"[Raeburn's] lively tour through the latest research in biology, ethology, psychology, sociology and neuroscience is intriguing." —Joshua Kendall, Los Angeles Times
"A valuable, compelling book for fathers, mothers, grandparents and parents-to-be -- and perhaps even for their children . . . Do Fathers Matter? uncovers a trove of good research about fathers and parenting." —Kevin Begos, Associated Press
"[Do Fathers Matter?] aims to dispel [the] uncertainty about fathers' roles in their children's lives...Raeburn's broad argument--that fathers have been maligned, even though they matter as much as mothers--is convincingly made." —Joshua Rothman, The New Yorker
"[Do Fathers Matter] is dedicated to presenting the most remarkable of those hidden studies about dads to the layperson, and arguing that the evidence suggests fathers do matter, in ways that conform to conventional wisdom as well as in some that may be surprising." —Andy Hinds, The Daily Beast
"A wide-ranging plea for both genders to remember that dads are not also-rans in the business of child rearing." —Lenore Skenazy, The New York Times Book Review
"A good, solid piece of science journalism . . . stuffed with studies showing the vital role fathers play in their children's lives from the moment of conception, through the mother's conception onward." —Jeffrey Kluger, Time
"[Do Fathers Matter?] is astounding in its scope and perspective on fatherhood, with some of its revelations being downright shocking." —Janice Shaw Crouse, The Washington Times
"A warm, enjoyable collection of stories about the science of fatherhood . . . a highly readable account." —Peter B. Gray, Psychology Today
"When science journalist Paul Raeburn first assessed the available research on fathers, he found the pickings decidedly slim. Scientists are now redressing the balance, and Raeburn has rounded up key findings in developmental psychology, evolutionary biology, genetics and neuroscience." —Nature
"I recommend Do Fathers Matter? to anyone who has ever wondered if indeed fathers are as important as mothers when it comes to setting the stage for success later in life. My prediction is you will be able to relate to Raeburn's well-developed and wonderfully executed book in a way that will change the way you feel about both of your parents." —Aaron W. Hughey, Bowling Green Daily News
"As food for thought, [Do Fathers Matter?] provides an ample helping for anyone willing to look at the ways fathers are portrayed, the realities of male parenting and all the gray areas in between." —Kirkus Reviews
"Whisking readers through research in evolutionary biology, psychology, sociology, and genetics to provide a 'new understanding of the biology of fatherhood,' Raeburn is on comfortable ground discussing the hard science, such as the discovery of imprinted genes, and his personal concern about the 'medical price' paid by older fathers...Raeburn's attempt to promote the modern father as a 'similarly nurturing and attentive' parent might indeed help, as he hopes, prompt a more informed cultural conversation." —Publishers Weekly
"To answer the provocative question 'Do fathers matter?,' Paul Raeburn draws extensively on cutting-edge science, animal research, neurobiology, and large-population studies. Anyone interested in parenthood, human development, and culture must read this thoughtful book." —Gretchen Rubin, bestselling author of Happier at Home and The Happiness Project
"A must-read book for anyone who cares about the well-being of children, Do Fathers Matter? is a scientifically rigorous paean to the importance of fathers. Writing with grace and clarity, Paul Raeburn turns conventional wisdom on its head and places fathers, right alongside mothers, on a well deserved pedestal." —Susan Cain, bestselling author of Quiet: The Power of Introverts in a World That Can't Stop Talking
"A thoughtful, sensitive, and nuanced exploration of how fathers enrich the lives of children." —Robert E. Emery, Director of the Center for Children, Families, and the Law at the University of Virginia, and author of The Truth About Children and Divorce
"Dispelling one myth after another, Do Fathers Matter? offers a detailed, state-of-the-art map of a much neglected and misunderstood terrain--the unique, complex, and powerful role fathers play in the healthy development of children. From anthropological studies to the latest brain research, Paul Raeburn gives us a thorough, eye-opening, and moving account that will change your vision of men in families forever. A tour de force." —Terry Real, family therapist, founder of the Relational Life Institute, and bestselling author of I Don't Want to Talk About It, How Can I Get Through to You?, and The New Rules of Marriage
"Outdated myths and perceptions about fatherhood continue to exist, but Paul Raeburn's comprehensive, scientific approach lays them all to waste. If you doubt a father's importance or capabilities as a parent, this indispensable read should change your mind." —Doug French, cofounder, Dad 2.0 Summit
"Do fathers matter? Yes, they do, and Paul Raeburn shows us why, in the most engaging and illuminating way imaginable. Delving into psychology, biology, sociology, and history, Raeburn returns with rich insights and practical lessons for today's dads, and for the sons, daughters, and partners who love them. Do Fathers Matter? fills a gap in our knowledge about parenting, but it also opens broad new vistas that we scarcely knew existed--until the science of fatherhood, and its chronicler Paul Raeburn, came along to reveal them." —Annie Murphy Paul, author of The Cult of Personality Testing, Origins, and Brilliant: The Science of How We Get Smarter
"Paul Raeburn does a fantastic job of exploring the science of fatherhood as well as the myths that have affected how we think about fathers. With a keen understanding of science and a journalist's commitment to hard facts and data, he sheds light on what is known about men as fathers--and what's yet to be discovered. Ultimately, Raeburn answers the title's question, 'Do fathers matter?,' with an emphatic yes." —Josh Levs, CNN journalist and "dad blogger," fathers' rights advocate, and author of a forthcoming book on modern fatherhood
or
Not Currently Available for Direct Purchase