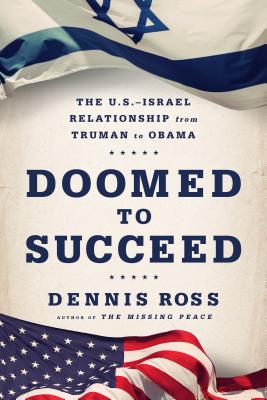 Doomed to Succeed
The U.S.-Israel Relationship from Truman to Obama
Hardcover

* Individual store prices may vary.
Other Editions of This Title:
Digital Audiobook (10/12/2015)
Paperback (10/4/2016)
Description
Winner of the National Jewish Book Award's Gerrard and Ella Berman Memorial Award in History.

A necessary and unprecedented account of America's changing relationship with Israel

When it comes to Israel, U.S. policy has always emphasized the unbreakable bond between the two countries and our ironclad commitment to Israel's security. Today our ties to Israel are close—so close that when there are differences, they tend to make the news. But it was not always this way.
Dennis Ross has been a direct participant in shaping U.S. policy toward the Middle East, and Israel specifically, for nearly thirty years. He served in senior roles, including as Bill Clinton's envoy for Arab-Israeli peace, and was an active player in the debates over how Israel fit into the region and what should guide our policies. In Doomed to Succeed, he takes us through every administration from Truman to Obama, throwing into dramatic relief each president's attitudes toward Israel and the region, the often tumultuous debates between key advisers, and the events that drove the policies and at times led to a shift in approach.
Ross points out how rarely lessons were learned and how distancing the United States from Israel in the Eisenhower, Nixon, Bush, and Obama administrations never yielded any benefits and why that lesson has never been learned. Doomed to Succeed offers compelling advice for how to understand the priorities of Arab leaders and how future administrations might best shape U.S. policy in that light.
Praise For Doomed to Succeed: The U.S.-Israel Relationship from Truman to Obama…
"Dennis Ross and 'Middle East Peace Process' are nearly synonymous . . . In Doomed to Succeed, the Washington hand brings his account up to date by covering the George W. Bush and Barack Obama administrations and looking at U.S.-Israel relations from Truman on . . . Mr. Ross's treatment of each administration is necessarily brief but useful for that very reason: It's hard to think of a college course on this subject that would not assign this book as a text." —Elliot Abrams, The Wall Street Journal
"In this well researched history Ross meticulously chronicles the bumpy ride that the two nations have taken together . . . This book is both thoughtful and largely even-handed. It also provides an important eyewitness account of the history it analyses." —David Holahan, Christian Science Monitor
"It would be hard to find someone whose background better suited him to write about the U.S.-Israel relationship than Dennis Ross . . . His new book does not disappoint: Doomed to Succeed devotes a pithy chapter to each administration, explaining its policies and the reasoning behind them. "
—David Isaac, The Washington Free Beacon
"Dennis Ross could hardly have found more relevant timing to release his latest book examining the long history of the US-Israel relationship, including an often personal account of the tumultuous relationship between Jerusalem and the Obama administration." —Rebecca Shimoni Stoil, The Times of Israel
"Ross's even-handed history does identify perhaps the single biggest factor in explaining U.S. missteps concerning Israel and the region as a whole." —Peter Berkowitz, Real Clear Politics
"Throughout this illuminating book, [Dennis Ross] writes clearly and elucidates the complexities of not only the U.S.-Israel relationship, but of the larger Middle Eastern picture. He comes neither to bury nor praise the administrations in which he has worked or those in which he did not; as a consequence, readers will benefit from a front-row vantage point without encountering a myopic perspective. Ross provides a learned, wise template for understanding the long-term relationship between two countries tethered to one another out of shared self-interest and geopolitical necessity and yet with sometimes-conflicting senses of the way forward." —Kirkus Reviews (starred review)
"Ross deftly explores the contingencies of this history, which hinged on personality clashes, the chaos of events, and the personal attitudes held by presidents, while stressing broader themes . . . . Ross's fluently written account includes colorful firsthand recollections of crises and diplomatic wranglings. Readers of all political persuasions will enjoy this fresh, contrarian analysis of America's Middle East policy." —Publishers Weekly
"Few people have been more involved with the U.S.-Israel relationship and the broader Middle East than Dennis Ross. In his new book he provides both a remarkable history and an insider's explanation of what has driven our policy towards Israel and the region. In the process, he tells a fascinating story not only about how the relationship evolved over time, but also about the assumptions that continue to shape our views of the region and the lessons we need to draw from this. For anyone who cares about U.S.-Israeli ties, this is a must read." —Madeleine K. Albright, 64th U.S. Secretary of State
"How about an insider's views? How about writing from a constructive point of view? How about learning something about Israel, the U.S. and the Middle East? That's all here thanks to Dennis Ross." —George P. Shultz, 60th U.S. Secretary of State
"Doomed to Succeed is a thoughtful book worthy of a man we called our 'peace process junkie' when he served as head of the U.S. State Department's Policy Planning Staff while I was Secretary of State. Dennis Ross is a fine diplomat who intimately and accurately understands the Arab-Israeli conflict. His new book is a must-read for anyone interested in the U.S.-Israel relationship." —James A. Baker, III, 61st U.S. Secretary of State
"Dennis Ross brings a unique mix of experience and skill to the task of telling the story of America's relationship and encounters with Israel over the last six decades. He is an unparalleled combination of careful scholar and practitioner. Ross has been at the center of United States policy in the Middle East for three decades. No U.S. diplomat has known the key policymakers in the Middle East for as long as or as well as Ross. All this is reflected in this fascinating history. It compellingly chronicles the personalities, policy debates and seemingly unending crises the U.S. has confronted in the Middle East from the time of Israel's founding and the presidency of Harry Truman through today. Doomed to Succeed is destined to be an important work for a long time to come." —Tom Donilon, former National Security Advisor to President Barack Obama
"This remarkable book is a definitive treatment of the U.S.-Israeli relationship. A gifted analyst and veteran diplomat, Dennis Ross demonstrates that to maintain this 'strategic partnership' both sides must commit to 'no surprises,' intensive high-level consultations, and 'no unilateral actions' that threaten each other's fundamental interests. A must-read book for future policy-makers." —Stephen Hadley, former National Security Advisor to President George W. Bush
"For almost forty years, Dennis Ross has been an inside player and close observer of Israeli-U.S. relations. In this smart and provocative book, he provides an insightful look at the policies toward Israel pursued from the Truman Administration to the present and how that has affected America's relationships in the Middle East. It's not only great history but a guide for the future." —Walter Isaacson, President and CEO of the Aspen Institute
"Dennis Ross has written what might be the definitive book on one of the most complicated, emotionally fraught and strategically consequential relationships between two states in the world today. No one is better positioned than Ross to explore the contours of the U.S.-Israel relationship, and he does so lucidly, with nuance, analytical sophistication, a cool eye, and great authority. Doomed to Succeed will be mandatory reading for anyone concerned about the future of Israel, and about America's role in the world." —Jeffrey Goldberg, author of Prisoners: A Story of Friendship and Terror
Farrar, Straus and Giroux, 9780374141462, 496pp.
Publication Date: October 13, 2015
About the Author
Dennis Ross, Middle East envoy for George H. W. Bush and Bill Clinton, is now a fellow at the Washington Institute for Near East Policy. Foreign Affairs called his first book, The Missing Peace, "a major contribution to the diplomatic history of the twentieth century."
or
Not Currently Available for Direct Purchase