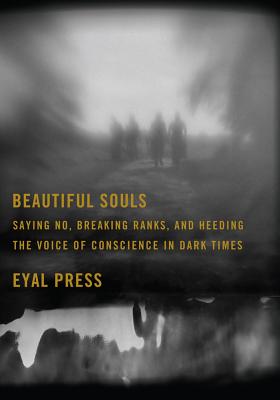 Beautiful Souls (Hardcover)
Saying No, Breaking Ranks, and Heeding the Voice of Conscience in Dark Times
Farrar, Straus and Giroux, 9780374143428, 208pp.
Publication Date: February 14, 2012
Other Editions of This Title:
Paperback (2/5/2013)
MP3 CD (5/28/2012)
Compact Disc (5/28/2012)
Compact Disc (5/28/2012)
Pre-Recorded Audio Player (8/1/2012)
* Individual store prices may vary.
Description
On the Swiss border with Austria in 1938, a police captain refuses to enforce a law barring Jewish refugees from entering his country. In the Balkans half a century later, a Serb from the war-blasted city of Vukovar defies his superiors in order to save the lives of Croats. At the height of the Second Intifada, a member of Israel's most elite military unit informs his commander he doesn't want to serve in the occupied territories.
Fifty years after Hannah Arendt examined the dynamics of conformity in her seminal account of the Eichmann trial, "Beautiful Souls" explores the flipside of the banality of evil, mapping out what impels ordinary people to defy the sway of authority and convention. Through the dramatic stories of unlikely resisters who feel the flicker of conscience when thrust into morally compromising situations, Eyal Press shows that the boldest acts of dissent are often carried out not by radicals seeking to overthrow the system but by true believers who cling with unusual fierceness to their convictions. Drawing on groundbreaking research by moral psychologists and neuroscientists, "Beautiful Souls" culminates with the story of a financial industry whistleblower who loses her job after refusing to sell a toxic product she rightly suspects is being misleadingly advertised. At a time of economic calamity and political unrest, this deeply reported work of narrative journalism examines the choices and dilemmas we all face when our principles collide with the loyalties we harbor and the duties we are expected to fulfill.
About the Author
Eyal Press is an author and journalist based in New York. His work has appeared in the New York Review of Books, The New York Times Magazine, The Nation, The Raritan Review and numerous other publications. A 2011 Schwartz fellow at the New America Foundation, he is the author of Absolute Convictions, and a past recipient of the James Aronson Award for Social Justice Journalism.
Praise For Beautiful Souls: Saying No, Breaking Ranks, and Heeding the Voice of Conscience in Dark Times…
"A subtle and thoughtful book. . . Beautiful Souls gains much from its storytelling approach. It is rich in personal, circumstantial details that analytical thinkers in search of clear principles may overlook." —The Economist
"[Beautiful Souls] provides rich, provocative narratives of moral choice. . . In exploring [resisters'] courage, Press makes us wonder if we would have the strength to act against the crowd, and in so doing spread a bit of light in our dark times." —Michael S. Roth, The Washington Post
"An act of conscience describes an action motivated by loyalty to a conviction, but it usually requires the defiance of other loyalties. . . Press's real achievement in this short book is not in his research or analysis, but in his refusal to flinch from that disquieting fact. . . He knows that those who act bravely are all the more likely to feel anguished, since they know what's at stake. In some ways this book is a thoughtful gesture of support. That might sound like a small thing, but it's not." —Louisa Thomas, The New York Times Book Review
"What makes you eager to push this book into the hands of the next person you meet are the small, still moments, epics captured in miniature. . . Mr. Press's book is a hymn to the mystery of disobedience." —Mark Oppenheimer, The New York Times
"An intelligent . . . examination of moral courage and its consequences." —Kirkus Reviews
"Press builds out his analysis via thick description. His portraits are finely sketched, and enriched by old-fashioned journalistic effort, drawing heavily on interviews with his protagonists and their families, colleagues, and acquaintances. What emerges is a portrait not of superheroes but of ordinary men and women, often ambivalent about their own roles, who see their acts of courage and resistance simply as what they 'had to do.'" —Rosa Brooks, Bookforum
"What drives the unwilling executioners—those rare creatures brave enough to stand up for what is right in the face of real threat—is the question Mr. Press asks in this valentine to the human spirit . . . Some of these figures wonder if their individual actions have much power to reverse injustice. Mr. Press argues that "acts of conscience have a way of reverberating." Of course, they can do so only if people know about them; that is the service of this humane and absorbing book." —Ruth Franklin, The Wall Street Journal 
"A collection of stories very well told, a biography of unlikely courage." —Michael Bond, The New Scientist
"Proving time and again that the boldest renegades are just regular people with independent minds —rather than dyed-in-the-wool radicals — Beautiful Souls underscores dissent's populist potential. Acts of conscience, as Press puts it, 'have a way of reverberating.'" —Hannah Levintova, Mother Jones
"Few of us will ever face a crisis of conscience of the magnitude that Press (Absolute Convictions, 2007) illuminates in this fascinating examination of courage, and yet who among us hasn't pondered how we would react when confronted with a profound moral or ethical dilemma? In placing the spotlight on four specific individuals, Press allows readers to place themselves amid controversial circumstances while he challenges the assumption that it takes an extraordinary individual to perform extraordinary deeds. There's the Swiss police captain who refuses, in 1938, to follow orders and expel Jewish refugees; the Serb who saves the lives of Croats during the Balkan War; the Israeli soldier who questions serving in occupied settlements; and finally the financial adviser who blows the whistle on a massive Ponzi scheme. Press argues that there is nothing saintly or particularly virtuous about these individuals, nor are they the rebellious sort we typically associate with social resistance. Rather than dismissing societal values, they hold these ideals—brotherhood, unity, diligence—as inviolable. The real question is why the rest of us don't." — Patty Wetli, Booklist
"In his latest, journalist Press (Absolute Convictions) explores what compels people to act according to their conscience when faced with a moral dilemma in dangerous circumstances. In 1938, a Swiss police captain allows Jewish refugees to cross into "neutral" Switzerland, defying orders that the border be closed. During the Balkan conflict, in 1991, a Serb disobeys his superiors to save the lives of Croats from his hometown, the war-torn city of Vukovar. A financial adviser in Houston loses her job when she refuses to sell a toxic product she rightly suspects of being a Ponzi scheme. In a particularly compelling vignette, an Israeli soldier in an elite military unit refuses to serve in the occupied territories during the second intifada. Drawing on research by psychologists, sociologists, political activists and theorists (such as Susan Sontag and Hannah Arendt), and neuroscientists, Press reveals that the boldest acts of defiance are often made by ordinary people who regard the ideals and values of their societies to be inviolable. This thought-provoking and moving narrative highlights the different ways people react to moral quandaries and, at its best, makes us question the role our own passivity or acquiescence plays in allowing unconscionable acts to happen on our watch." —Publishers' Weekly (starred review)
"Beautiful Souls helps us understand why a minority stands on principle when a majority fails. It's an important book for our time, about conscience, group pressures, ethics, and psyches, and a beautifully crafted one that never falls prey to simple answers about matters of conscience." —Rebecca Solnit, author of A Paradise Built in Hell
"Too often we think of courage only as something required to charge into gunfire or scale an icy peak. Eyal Press looks at courage of a different and far more important kind. His examples spread across decades and continents, and he is wise enough to know that it can take as much bravery to defy an unethical corporation as it does to resist a totalitarian regime. This is an important and inspiring book." —Adam Hochschild, author of To End All Wars and King Leopold's Ghost
or
Not Currently Available for Direct Purchase