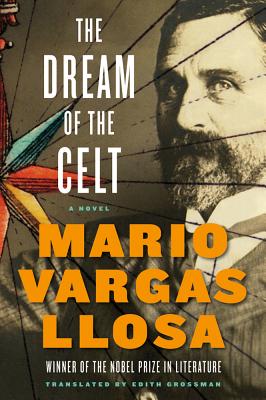 The Dream of the Celt (Hardcover)
A Novel
Farrar, Straus and Giroux, 9780374143466, 368pp.
Publication Date: June 5, 2012
Other Editions of This Title:
Paperback (6/4/2013)
* Individual store prices may vary.
Description
A subtle and enlightening novel about a neglected human rights pioneer by the Nobel Laureate Mario Vargas Llosa

In 1916, the Irish nationalist Roger Casement was hanged by the British government for treason. Casement had dedicated his extraordinary life to improving the plight of oppressed peoples around the world—especially the native populations in the Belgian Congo and the Amazon—but when he dared to draw a parallel between the injustices he witnessed in African and American colonies and those committed by the British in Northern Ireland, he became involved in a cause that led to his imprisonment and execution. Ultimately, the scandals surrounding Casement's trial and eventual hanging tainted his image to such a degree that his pioneering human rights work wasn't fully reexamined until the 1960s.
In The Dream of the Celt, Mario Vargas Llosa, who has long been regarded as one of Latin America's most vibrant, provocative, and necessary literary voices—a fact confirmed when he was awarded the Nobel Prize in Literature in 2010—brings this complex character to life as no other writer can. A masterful work, sharply translated by Edith Grossman, The Dream of the Celt tackles a controversial man whose story has long been neglected, and, in so doing, pushes at the boundaries of the historical novel.
About the Author
Mario Vargas Llosa is Peru's foremost author and the winner of the 2010 Nobel Prize in Literature. In 1994 he was awarded the Cervantes Prize, the Spanish-speaking world's most distinguished literary honor, and in 1995 he won the Jerusalem Prize. His many distinguished works include The Storyteller, The Feast of the Goat, Aunt Julia and the Scriptwriter, Death in the Andes, In Praise of the Stepmother, The Bad Girl, Conversation in the Cathedral, The Way to Paradise, and The War of the End of the World. He lives in London.

Edith Grossman has translated the poetry and prose of major Spanish-language authors, including Gabriel García Marquez, Alvaro Mutis, and Mayra Montero, as well as Mario Vargas Llosa.
Praise For The Dream of the Celt: A Novel…
"In the star-studded world of the Latin American novel, Mario Vargas Llosa is a supernova." —Raymond Sokolov, The Wall Street Journal on Mario Vargas Llosa
"Vargas Llosa speaks in his own voice, sees through his own eyes. His vision is unique. His genius is unmistakable." —Eugenia Thornton, The Plain Dealer (Cleveland) on Mario Vargas Llosa
"The bold, dynamic and endlessly productive imagination of the Peruvian novelist Mario Vargas Llosa, one of the writing giants of our time, is something truly to be admired . . . As with any great writer, [he] makes us see clearly what we have been looking at all the while but never noticed." —Alan Cheuse, San Francisco Chronicle on Mario Vargas Llosa
"Generous in friendship, unfailingly curious about the world at large, tireless in his quest to probe the nature of the human animal, [Vargas Llosa] is a model writer for our times." —Marie Arana, The Washington Post on Mario Vargas Llosa
"[Vargas Llosa] is a worldly writer in the best sense of the word: intelligent, urbane, well-traveled, well-informed, cosmopolitan, free-thinking and free-speaking." —Merle Rubin, Los Angeles Times on Mario Vargas Llosa
"Mario Vargas Llosa has long been a literary adventurer of the very first order . . . [He], I am convinced, can tell us stories about anything and make them dance to his inventive rhythms." —Lisa Appignanesi, The Independent on Mario Vargas Llosa
Coverage from NPR
or
Not Currently Available for Direct Purchase