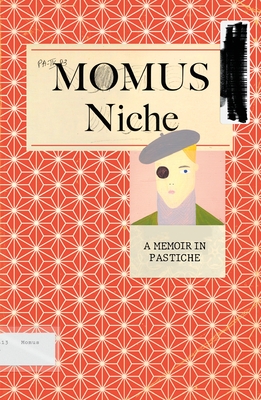 Niche (Hardcover)
A Memoir in Pastiche
Farrar, Straus and Giroux, 9780374144081, 336pp.
Publication Date: July 14, 2020
Other Editions of This Title:
MP3 CD (8/11/2020)
Compact Disc (8/11/2020)
* Individual store prices may vary.
Description
"Diarist, novelist, satirist, lyricist beyond peer."* In Niche: A Memoir in Pastiche, Nick Currie, a.k.a. Momus, presents the story of his life, career, and conquests on the margins of multiple music and art scenes.

Momus—named for the ancient Greek god of mockery, and described by The Guardian as "the David Bowie of the art-pop underground"—has recorded over thirty albums for labels like 4AD and Creation, published half a dozen works of speculative fiction, and written articles for The New York Times, Wired, ArtForum, Frieze, and The Wire. An unknown band called Pulp once asked him to produce their next album. (He said no.) An unknown band called Of Montreal once invited him to go on tour with them. (He said no.) He's collaborated with fans Vampire Weekend and with the Magnetic Fields' Stephin Merrit. He's had an impression of his penis preserved by the notorious Cynthia Plaster Caster. Maybe you've heard of him. Probably you haven't. This is his story. Or, rather, stories.

Rather than one avuncular tell-all relayed in his own voice, Momus has structured the narrative of his life as a typically atypical mockery of the rock-bio oral history. Instead of using living witnesses, Momus assumes the voices of 217 dead authors and artists and forces them to speak for and about him. From these dramatic monologues—sometimes unreliable, often comical—there gradually emerges a picture of one eccentric star's life across three continents and in his own, remarkable, niche.

"Herein is spun the tale of the immortally fabulous life and glittering times of our dodgy Anthropocene's greatest still-living songwriter, as related by a chorus of eerie, mocking, sometimes supportive, often judgmental post-mortem Raudive voices in a séance spanning centuries of ectoplasmic 'I told you so.' Here is why Momus may one day be canonized the first saint of a religion yet to be dreamed . . . Read, be enlightened, and pretend you always knew." *—Grant Morrison, comic book writer and superfan
About the Author
Momus, born Nick Currie, is a Scot who makes songs, books, and art. He is the author of works of speculative fiction such as Unamerica (Success and Failure) and Popppappp, and he has released over thirty albums including Akkordion. Momus lives between Berlin and Paris.
Praise For Niche: A Memoir in Pastiche…
"This is that rare show-biz memoir that's both entertaining and a literary triumph." —Publishers Weekly (starred review)

"Here then we have, at long last, the story of Momus, i.e. the Phylogeny of Nick Currie, as chronicled through the eyes of the Greats, a curious artifact securing its rightful place within the Canon—as if Orson Welles had directed Spinal Tap . . . in other words, essential Momus." —Ariel Pink, musician

"[A] grand entertainment, effortlessly blending pop culture and high culture." —Kirkus (starred review)

"Niche is the first book I have seen in five years which begins to merit the accolade of masterpiece." —Christian Kracht, author of The Dead and Imperium

"Momus's Niche is just an extraordinary thing, wicked, hilarious, sinuously deep, thought through like a circuit, with prose that made mine attack me out of envy. The most exciting life story I've read in possibly forever." —Dennis Cooper, author of The Marbled Swarm

"Diarist, novelist, satirist, lyricist beyond peer. Herein is spun the tale of the immortally fabulous life and glittering times of our dodgy Anthropocene's greatest still-living songwriter, as related by a chorus of eerie, mocking, sometimes supportive, often judgmental post-mortem Raudive voices in a séance spanning centuries of ectoplasmic 'I told you so.' Here is why Momus may one day be canonized the first saint of a religion yet to be dreamed . . . Read, be enlightened, and pretend you always knew." —Grant Morrison, comic book writer and superfan

"Named after the Greek god of mockery, Momus became the poster boy of a particularly knowing, particularly literary kind of post-punk-post-pop that was as indebted to Roland Barthes as much as it was Jaques Brel." —Josh Baines, Vice

"Momus is the David Bowie of the art-pop underground." —Julian Gough, The Guardian