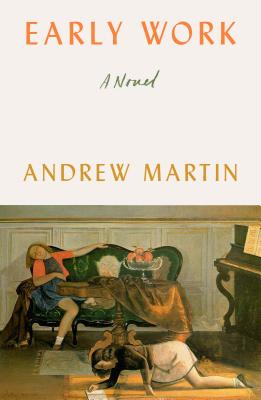 Early Work
A Novel
Hardcover

* Individual store prices may vary.
Other Editions of This Title:
Digital Audiobook (7/9/2018)
Paperback (7/9/2019)
Description
"What a debut! Early Work is one of the wittiest, wisest (sometimes silliest, in the best sense), and bravest novels about wrestling with the early stages of life and love, of creative and destructive urges, I've read in a while. The angst of the young and reasonably comfortable isn't always pretty, but Andrew Martin possesses the prose magic to make it hilarious, illuminating, moving." —Sam Lipsyte, author of The Ask and The Fun Parts

For young writers of a certain temperament—if they haven't had such notions beaten out of them by MFA programs and the Internet—the delusion persists that great writing must be sought in what W. B. Yeats once called the "foul rag and bone shop of the heart." That's where Peter Cunningham has been looking for inspiration for his novel—that is, when he isn't teaching at the local women's prison, walking his dog, getting high, and wondering whether it's time to tie the knot with his college girlfriend, a medical student whose night shifts have become a standing rebuke to his own lack of direction. When Peter meets Leslie, a sexual adventurer taking a break from her fiancé, he gets a glimpse of what he wishes and imagines himself to be: a writer of talent and nerve. Her rag-and-bone shop may be as squalid as his own, but at least she knows her way around the shelves. Over the course of a Virginia summer, their charged, increasingly intimate friendship opens the door to difficult questions about love and literary ambition.

With a keen irony reminiscent of Sam Lipsyte or Lorrie Moore, and a romantic streak as wide as Roberto Bolaño's, Andrew Martin's Early Work marks the debut of a writer as funny and attentive as any novelist of his generation.

"Beautifully executed and very funny, Early Work is a sharp-eyed, sharp-voiced debut that I didn't want to put down." —Julia Pierpont, author of Among the Ten Thousand Things and The Little Book of Feminist Saints
Praise For Early Work: A Novel…
"Early Work by Andrew Martin . . . is really dirty . . . It's a book about young graduate students who drink a lot, read a lot, have a lot of sex, and somehow, it's just mesmerizing . . . terrific." —Ann Patchett, PBS NewsHour

"Marvelous . . . Read [Early Work] on a beach for the refreshment of a classic boy-meets-girl plot, or turn the pages more slowly to soak in some truly salty koans and morally insolvent characters . . . It's an accomplished and delightful book, but there's no hashtag for that." —Molly Young, The New York Times

"[Andrew] Martin introduces characters in sharp, funny flash-portraits that declare the book's intention to perch, vape in hand, on the border of earnestness and satire . . . Early Work is a gift for those readers who like being flirted with by thoughtful and interesting people, and who like observing such people as they flirt with each other." —Katy Waldman, The New Yorker

"Funny and trenchant . . . Martin takes on the boozy world of writers with the panache of J. P. Donleavy's classic bawdy tale of intellectual debauchery The Ginger Man. . . . [Early Work] cleverly dramatizes writers who overcome early indulgences to hone their skills and master their craft." ?Bruce Jacobs, Shelf Awareness

"Compulsively readable . . . [Early Work] asks big questions about ambition and success and art and love, but it's also a story of a love affair, delicious and horrible in equal measure." —Emily Temple, Literary Hub

"Stunning . . . whip-smart and rather disturbing . . . [Andrew] Martin has a remarkable ear for natural dialogue and pitch-perfect, witty banter . . ." —Dana Hansen, Chicago Review of Books

"A wry and pitch-perfect novel about late-twentysomething writers and lazy-progressive creatives in varying stages of existential crisis . . . Early Work is a cautionary tale; it reveals, with damning irony, that one who romanticizes the agonized and drug-addled artist, prioritizing the lifestyle over any actual output, does so at his peril. Because, eventually, the people around him will have created some early work of their own—if only for the opportunity to move beyond it." —Arianna Rebolini, BuzzFeed

"A well-written . . . amusing debut about what it takes to succeed or fail in love or art." —Kirkus Reviews

"That moment in early adulthood when life seems full of possibilities but is also incredibly scary forms the sweet spot of [Andrew] Martin's astute debut ... A smart and beautifully observed story about fallible people." —Publishers Weekly

Farrar, Straus and Giroux, 9780374146122, 256pp.
Publication Date: July 10, 2018
About the Author
Andrew Martin's first novel Early Work was a New York Times Notable Book of 2018 and a finalist for the Cabell First Novelist Award. His stories and essays have been published in The Paris Review, The Atlantic, The New York Review of Books, Harper's, and T: The New York Times Style Magazine. He lives in New York with his partner, Laura, and their dog Bonnie.
or
Not Currently Available for Direct Purchase