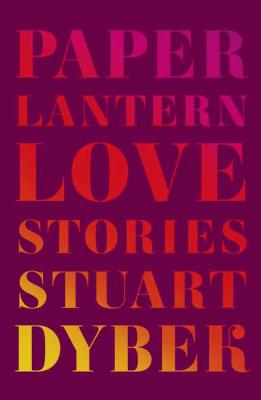 Paper Lantern
Love Stories
Hardcover

* Individual store prices may vary.
Description
A new collection of short stories by a master of the form with a common focus on the turmoils of romantic love
Ready!
Aim!
On command the firing squad aims at the man backed against a full-length mirror. The mirror once hung in a bedroom, but now it's cracked and propped against a dumpster in an alley. The condemned man has refused the customary last cigarette but accepted as a hood the black slip that was carelessly tossed over a corner of the mirror's frame. The slip still smells faintly of a familiar fragrance.
So begins "Tosca," the first in this vivid collection of Stuart Dybek's love stories. Operatically dramatic and intimately lyrical, grittily urban and impressionistically natural, the varied fictions in Paper Lantern all focus on the turmoil of love as only Dybek can portray it. An execution triggers the recollection of a theatrical romance; then a social worker falls for his own client; and lovers part as giddily, perhaps as hopelessly, as a kid trying to hang on to a boisterous kite. A flaming laboratory evokes a steamy midnight drive across terrain both familiar and strange, and an eerily ringing phone becomes the telltale signature of a dark betrayal. Each story is marked with contagious desire, spontaneous revelation, and, ultimately, resigned courage. As one woman whispers when she sets a notebook filled with her sketches drifting out to sea, "Someone will find you."
Some of Dybek's characters recur in these stories, while others appear only briefly. Throughout, they—and we—are confronted with vaguely familiar scents and images, reminiscent of love but strangely disconcerting, so that we might wonder whether we are looking in a mirror or down the barrel of a gun. "After the ragged discharge," Dybek writes, "when the smoke has cleared, who will be left standing and who will be shattered into shards?" Paper Lantern brims with the intoxicating elixirs known to every love-struck, lovelorn heart, and it marks the magnificent return of one of America's most important fiction writers at the height of his powers.
Praise For Paper Lantern: Love Stories…
"Not only our most relevant writer, but maybe our best." —Darin Strauss, New York Times Book Review
"What I will remember about these stories . . . [are the] sudden moments that rise up out of a conversation or out of the surface of a mirror, or which suddenly appear, as shocking as being served an entree of predigested seaweed from the beaks of swifts: a little alarming, a little wonderful." —Meg Wolitzer, NPR
"Stuart Dybek's genre-bending short stories flout many of the basic premises of fiction itself. . . . What drives them is less the need to tell a story than to evoke--through closely observed, carefully rendered images and free-associative visual memories--physical sensations. . . . His writing feels painterly." —Shoshana Olidort, The Chicago Tribune
"Ecstatic Cahoots and Paper Lantern confirm Dybek as a virtuoso of the short story--a nimble, compassionate writer who uses precise, lucid, original descriptions. He shows us all we need to know and nothing more." —Valerie Milner, The San Francisco Chronicle
"Here are bold, frankly erotic tales of transporting force--stories so sensual someone, somewhere, must be reading one aloud to a lover on a rumpled hotel bed." —John Freeman, The Boston Globe
"To read [Dybek] is to be reminded of the resonance of small moments, the connections that arise and dissipate with the passing power of a thought . . . Again and again, we get a notion of what might have been, of life or narrative going in different ways." —David L. Ulin, Los Angeles Times
"A modern master . . . Dybek is incapable of writing a dull page." —Clarence Brown, The Seattle Times
"Paper Lantern . . . deserves to be read and reread by those who cherish words and all that they evoke when they are carefully strung together." —Kevin Grauke, philly.com
"The nine stories gathered here have appeared, scattered across two decades, in the most prestigious American outlets for short fiction; they make for a remarkably unified and consistent collection. . . . A very fine book from a gifted practitioner of the short story form." —Publisher's Weekly, starred review
Farrar, Straus and Giroux, 9780374146443, 224pp.
Publication Date: June 3, 2014
About the Author
Stuart Dybek is the author of five books of fiction--Ecstatic Cahoots, Paper Lantern, I Sailed with Magellan, The Coast of Chicago, and Childhood and Other Neighborhoods--as well as two collections of poetry, Brass Knuckles and Streets in Their Own Ink. Dybek is the recipient of many prizes and awards, including the PEN/Malamud Award, an Arts and Letters Award from the American Academy of Arts and Letters, a Whiting Writers' Award, four O. Henry Awards, a MacArthur Fellowship, and a Guggenheim Fellowship. He is distinguished writer-in-residence at Northwestern University.
Coverage from NPR
or
Not Currently Available for Direct Purchase