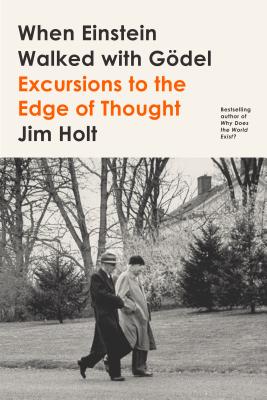 When Einstein Walked with Gödel
Excursions to the Edge of Thought
Hardcover

* Individual store prices may vary.
Other Editions of This Title:
Digital Audiobook (5/14/2018)
Paperback (5/14/2019)
CD-Audio (5/15/2018)
Description
From Jim Holt, the New York Times bestselling author of Why Does the World Exist?, comes an entertaining and accessible guide to the most profound scientific and mathematical ideas of recent centuries in When Einstein Walked with Gödel: Excursions to the Edge of Thought.

Does time exist? What is infinity? Why do mirrors reverse left and right but not up and down? In this scintillating collection, Holt explores the human mind, the cosmos, and the thinkers who've tried to encompass the latter with the former. With his trademark clarity and humor, Holt probes the mysteries of quantum mechanics, the quest for the foundations of mathematics, and the nature of logic and truth. Along the way, he offers intimate biographical sketches of celebrated and neglected thinkers, from the physicist Emmy Noether to the computing pioneer Alan Turing and the discoverer of fractals, Benoit Mandelbrot. Holt offers a painless and playful introduction to many of our most beautiful but least understood ideas, from Einsteinian relativity to string theory, and also invites us to consider why the greatest logician of the twentieth century believed the U.S. Constitution contained a terrible contradiction—and whether the universe truly has a future.
Praise For When Einstein Walked with Gödel: Excursions to the Edge of Thought…
"Holt ....performs his observational comedy within the realm of the higher sciences — math, theoretical physics, philosophy — but gives us enough setup that we're in on the joke . . . I don't know of another writer quite like him . . . When Einstein presents a remarkably unified sensibility . . . I found Holt's essay on the Riemann hypothesis to be totally charming. In fact, this was my experience for nearly the whole book. In piece after piece, Holt acts as a model host, giving us only the best bits while paring away most difficulties . . . It's a perfect bedtime book, with each essay providing a luminous devotional on weighty topics, delivered with a light touch." —David Kordahl, Los Angeles Review of Books

"I've just discovered the brilliant essays of Jim Holt . . . When Einstein Walked with Gödel: Excursions to the Edge of Thought . . . offers lucid and entertaining accounts of deep problems in physics, maths and philosophy." —Martin Rees, Physics World

"A smart, erudite, and witty guided tour of some of the most colorful episodes and characters in the history of science and mathematics." —Jimena Canales, Undark

"Jim Holt's essay collection When Einstein Walked with Gödel is a gleaming introduction to the mysteries of modern physics and mathematics. Holding your hand through discussions of artificial intelligence, string theory, theories of time, Holt's 'Excursions to the Edge of Thought' are the journeys of a lifetime." —Christopher Bray, The Tablet (London)

"These are bold, thought-provoking pieces . . . Stories of real humans and their mathematical, physical and philosophical theories—some of the most complex ever devised." —Andrew Jaffe, Nature

"In these pieces, plucked from the last 20 years, Holt takes on infinity and the infinitesimal, the illusion of time, the birth of eugenics, the so-called new atheism, smartphones and distraction. It is an elegant history of recent ideas . . . Holt is an amphibious kind of writer, so capably slipping from theology to cosmology to poetry, you're reminded that specialization is a modern invention." —Parul Sehgal, The New York Times

"Jim Holt . . . is one of the very best modern science writers." —Steven Poole, The Wall Street Journal

"Science writing of the caliber on display in When Einstein Walked with Gödel is a boon in these times of looming scientific illiteracy. Holt makes his recondite subjects seem not only fascinating but fun." —Steve Donoghue, The Christian Science Monitor

"[A] fantastic essay collection [filled] with stories about eccentric geniuses and groundbreaking ideas at the intersection of science and philosophy . . . Holt delivers this feast of wild genius, oddball thinkers, and sheer creativity in his signature accessible style of writing and playful tone." —Publishers Weekly (starred review)

"Jim Holt's When Einstein Walked with Gödel is a thrilling trek through some of the greatest insights in physics, philosophy, and mathematics. Insightful, enlightening, and entertaining, Holt explores how a collection of thinkers—some quirky, some tragic, all ingenious—redefined the very boundaries of space, time, and knowledge." —Brian Greene, author of The Hidden Reality: Parallel Universes and the Deep Laws of the Cosmos

"Jim Holt's essays are full of wonder and wisdom, irreverence and wit. And they also possess a special quality: reading them is like getting a joke—beyond the words, there's a sense of revelation and unity, ours to enjoy." —Edward Frenkel, Professor of Mathematics at the University of California, Berkeley, and author of Love & Math: The Heart of Hidden Reality

"Jim Holt not only has an unerring sense for locating the most interesting questions lying on the borders of philosophy, science, and mathematics; he also has a talent for expressing the human and emotional dimensions of the life of the mind. The blend goes toward making When Einstein Walked with Gödel an unusually absorbing and stimulating collection of essays." —Rebecca Newberger Goldstein, author of Plato at the Googleplex: Why Philosophy Won't Go Away
Farrar, Straus and Giroux, 9780374146702, 384pp.
Publication Date: May 15, 2018
About the Author
Jim Holt writes about math, science, and philosophy for The New York Times, The New Yorker, The Wall Street Journal, and The New York Review of Books. His Why Does the World Exist?: An Existential Detective Story was an international bestseller.