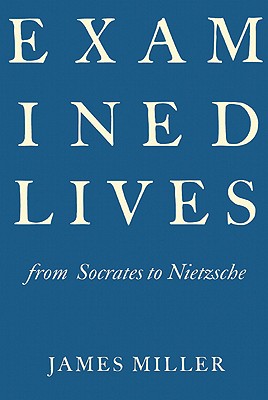 Examined Lives: From Socrates to Nietzsche (Hardcover)
From Socrates to Nietzsche
Farrar, Straus and Giroux, 9780374150853, 432pp.
Publication Date: January 4, 2011
* Individual store prices may vary.
or
Not Currently Available for Direct Purchase
Description
A New York Times Notable Book for 2011
We all want to know how to live. But before the good life was reduced to ten easy steps or a prescription from the doctor, philosophers offered arresting answers to the most fundamental questions about who we are and what makes for a life worth living.

In Examined Lives, James Miller returns to this vibrant tradition with short, lively biographies of twelve famous philosophers. Socrates spent his life examining himself and the assumptions of others. His most famous student, Plato, risked his reputation to tutor a tyrant. Diogenes carried a bright lamp in broad daylight and announced he was "looking for a man." Aristotle's alliance with Alexander the Great presaged Seneca's complex role in the court of the Roman Emperor Nero. Augustine discovered God within himself. Montaigne and Descartes struggled to explore their deepest convictions in eras of murderous religious warfare. Rousseau aspired to a life of perfect virtue. Kant elaborated a new ideal of autonomy. Emerson successfully preached a gospel of self-reliance for the new American nation. And Nietzsche tried "to compose into one and bring together what is fragment and riddle and dreadful chance in man," before he lapsed into catatonic madness.

With a flair for paradox and rich anecdote, Examined Lives is a book that confirms the continuing relevance of philosophy today—and explores the most urgent questions about what it means to live a good life.
About the Author
James Miller is a professor of politics and the chair of liberal studies at the New School for Social Research. He is the author of "The Passion of Michel Foucault "and "Flowers in the Dustbin: The Rise of Rock & Roll, 1947-1977," among other books. He lives in Manhattan.
Praise For Examined Lives: From Socrates to Nietzsche…
Praise for Examined Lives
 "Fascinating. . . Miller does not rest with digging out petty failings or moments of hypocrisy. He shows us philosophers becoming ever more inclined to reflect on these failings, and suggests that this makes their lives more rather than less worth studying."—Sarah Bakewell, The New York Times Review of Books "Reading Jim Miller's Examined Lives is like watching Roger Federer play tennis.  The graceful movement of his mind is a joy to behold."—Lewis H. Lapham "This book proves, once and for all, that philosophy isn't simply a body of knowledge, but a practice that requires a body—a living, breathing person in relentless pursuit of ever-elusive wisdom. May the Socratic passion that infuses its pages infect all who read them!" —Astra Taylor, director of Examined Life and Zizek! "James Miller has achieved an unlikely feat: he's written a page-turner about the history of philosophy. Examined Lives does for the great philosophers what Dr. Johnson did for the English poets in Brief Lives—given us biographies in miniature, portraits of the life behind the work. He makes even the toughest cases—Kant, Descartes, Nietzsche—come alive. It's a great story, and Miller is a superb story-teller."—James Atlas, author of Bellow: A Biography

"All too often, philosophers' ideas are presented acontextually. James Miller artfully shows how philosophers' ideas reflect their lives and often, in turn, impact those lives." —Howard Gardner, The John H. and Elisabeth A. Hobbs Professor of Cognition and Education, Harvard University

"James Miller's Examined Lives is a wise and courageous book that reminds us of the sheer delight of the love of wisdom and the unsettling effect of the philosophic life. Our age is in many ways a battle between the hard-earned serenity of Montaigne and the inescapable torment of Nietzsche. Miller gives us armor in this battle!" —Cornel West, Princeton University
"James Miller's Examined Lives is a tour de force of biography, history, and philosophy. Rarely have great lives and great ideas of the past been presented so accessibly or with such relevance for the present." —James Carroll, author of Constantine's Sword
Advertisement