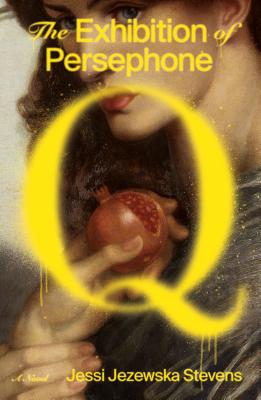 The Exhibition of Persephone Q
A Novel
Hardcover

* Individual store prices may vary.
Other Editions of This Title:
Paperback (3/2/2021)
MP3 CD (5/26/2020)
Description
A New York Times Book Review Editors' Choice
A WALL STREET JOURNAL AND VOGUE MOST ANTICIPATED BOOK OF 2020

"A triumph of tone and intelligence. Percy Q's perspective is skewed and searching at once, and through her eyes, we see afresh not only New York's post-9/11 landscape but also the world of art, and love, and the process of becoming." —Rivka Galchen, author of Atmospheric Disturbances

Percy is pregnant. She hasn't told a soul. Probably she should tell her husband—certainly she means to—but one night she wakes up to find she no longer recognizes him. Now, instead of sleeping, Percy is spending her nights taking walks through her neighborhood, all the while fretting over her marriage, her impending motherhood, and the sinister ways the city is changing.

Amid this alienation—from her husband, home, and rapidly changing body—a package arrives. In it: an exhibition catalog for a photography show. The photographs consist of a series of digitally manipulated images of a woman lying on a bed in a red room. It takes a moment for even Percy to notice that the woman is herself . . . but no one else sees the resemblance.

Percy must now come to grips with the fundamental question of identity in the digital age: To what extent do we own our own image, and to what extent is that image shaped by the eyes of others?

Capturing perfectly the haunted atmosphere of Manhattan immediately after 9/11—and the simmering insanity of America ever since—Jessi Jezewska Stevens's The Exhibition of Persephone Q is a darkly witty satire about how easy it is to lose ownership of our own selves.
Praise For The Exhibition of Persephone Q: A Novel…
"I was magnetized not just by a great story, but one that felt uncannily timely...Percy is forced to confront questions of identity and selfhood that feel both poignant and meta during a time of crisis." —Michael Baron, Literary Hub

"Stevens has combined the surreal with the actual to create a book painfully relevant to this new age of female testimony . . . A fantastic debut." —Noelle McManus, Women's Review of Books

"Stevens' debut is a compelling and visually rich novel that explores alienation in all its forms. The book's poetic language and realistically absurd characters will keep readers intrigued until the final page." —Leah von Essen, Booklist

"Finally a book that exposes how dull Occam's Razor has become after all these years. Adroitly crafted, The Exhibition of Persephone Q is a fun, urbane look at the faulty heuristics of perception and authenticity. Proof positive that in the age of Photoshop and Trumpian Denialism, the simplest explanation no longer applies." —Paul Beatty, author of The Sellout

"An intimate and obsessive exploration of the act of seeing and the act of being seen. It's also a metaphysical detective story, an investigation of absence and voids, and a darkly comedic treatise on the art world and living in a series of apartments and rooms in New York . . . The Exhibition of Persephone Q mostly reminded me of taking a walk at night alongside a brilliant companion who has a keen mind, and an eye for absurdity." —Patty Yumi Cottrell, The Believer

"Stevens's writing proves that both time and technology are best understood in retrospect, sequences made logical long after each moment has passed. The novel has a romantic slowness, unfurling gracefully, little by little, to show how quickly the present gives way to the future, or concedes to the past." —Haley Mlotek, New York Times

"The Exhibition of Persephone Q is a resonant and uncanny novel, a moving meditation on "how casually one version of reality detaches from the truth; it peels away naturally, like damp wallpaper in a neglected room." Jessi Jezewska Stevens is a promising, persuasive new writer, and I will be surprised if this doesn't turn out to be one of the strongest debut novels of 2020." —Justin Taylor, Bookforum

"The Exhibition of Persephone Q is comprised of the things our own stories are—the lives of so many others. And Percy—like all of us—navigates her own psyche as a balancing act, juggling her surroundings, her relationships and lovers, and the life growing inside of her." —Kristina Tate, BOMB

"An exploration of self, identity, and reality in the digital age." —The Millions (Most Anticipated, March 2020)

"The Exhibition of Persephone Q is an intimate, precise first novel, in turns funny and unsparing." —Alyssa Favreau, Hazlitt

"Set against post-9/11 madness, The Exhibition of Persephone Q is a tantalizing debut novel of the pleasant desire of losing and finding one's self in a strange, drifting world. The story teaches us that tragedy doesn't just give rise to depression, as Stevens tenderly demonstrates how disaster can also be a door: an excuse to exit or enter a life with or without warning." —Paris Close, Paperback Paris

"Jessi Jezewska Stevens's The Exhibition of Persephone Q is a captivating portrait of urban solitude, by turns strange, poignant, and poetic." —Chloe Aridjis, author of Sea Monsters

"The Exhibition of Persephone Q has the heart of a Hitchcock film. With a voice both riveting and wisely bizarre, Jessi Jezewska Stevens tells a timeless story of the battle to stop the present from turning into the past." —Catherine Lacey, author of Nobody Is Ever Missing

"The Exhibition of Persephone Q is a great millennial ghost story, in which a wry, wise, yet guileless heroine is haunted by all the other stories she could be living. Jessi Stevens is the Muriel Spark of 21st century New York." —Joshua Cohen, author of Book of Numbers

"With a voice both lucid and searching, Jessi Stevens depicts the great illogic of love, as well as all the small, strange quiddities of being a body in a material and virtual world. Lit up with melancholy, humor, and perfect oddness, this remarkable debut casts an afterglow long after its final pages." —Hermione Hoby, author of Neon in Daylight

"Brimming with wit, intricately and playfully observed, The Exhibition of Persephone Q is a marvel, a treat, a mystery rooted in the unquestioned and unquestionable substance of identity. Stevens announces herself as a bold, surprising, and utterly compelling voice, with a slant on the world that is entirely her own." —Alexandra Kleeman, author of You Too Can Have a Body like Mine

"Stevens's striking, unique debut explores the increasing alienation a young woman feels as eerie phenomena creep into her life . . . Stevens is a talented writer, and her debut is a propulsive experience." —Publishers Weekly

"Stevens' debut is a compelling and visually rich novel that explores alienation in all its forms. The book's poetic language and realistically absurd characters will keep readers intrigued until the final page." —Leah von Essen, Booklist

"Stevens' dreamlike first novel is a delicate and drifting exploration of Percy's relationships with friends, lovers, neighbors, and the many not-quite strangers who form the fabric of city life. As Percy wanders, New York itself is reflected through the prism of her many identities . . . in luminous prose that captures the essence of a place in the middle of its most defining transformation. A stellar debut." —Kirkus Reviews (starred)
Farrar, Straus and Giroux, 9780374150921, 224pp.
Publication Date: March 3, 2020
About the Author
Jessi Jezewska Stevens holds a BA in mathematics from Middlebury College and an MFA in fiction from Columbia University. Her stories and essays have appeared in The Paris Review, Tin House, Guernica, BOMB, and elsewhere. She lives in New York, where she teaches fiction. The Exhibition of Persephone Q is her debut novel.
or
Not Currently Available for Direct Purchase