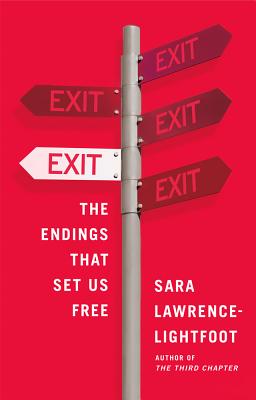 Exit: The Endings That Set Us Free (Hardcover)
The Endings That Set Us Free
Sarah Crichton Books, 9780374151195, 272pp.
Publication Date: May 22, 2012
* Individual store prices may vary.
or
Not Currently Available for Direct Purchase
Description
From a renowned sociologist, the wisdom of saying goodbye
Sara Lawrence-Lightfoot is enthralled by exits: long farewells, quick goodbyes, sudden endings, the ordinary and the extraordinary. There's a relationship, she attests, between small goodbyes and our ability "to master and mark the larger farewells."
In "Exit," her tenth book, she explores the ways we leave one thing and move on to the next; how we anticipate, define, and reflect on our departures; our epiphanies that something is over and done with.
Lawrence-Lightfoot, a sociologist and a professor at the Harvard Graduate School of Education, has interviewed more than a dozen women and men in states of major change, and she paints their portraits with sympathy and insight: a gay man who finds home and wholeness after coming out; a sixteen-year-old boy forced to leave Iran in the midst of the violent civil war; a Catholic priest who leaves the church he has always been devoted to, he life he has loved, and the work that has been deeply fulfilling; an anthropologist who carefully stages her departure from he "field" after four years of research; and many more.
Too often, Lawrence-Lightfoot believes, we exalt new beginnings t the expense of learning from our goodbyes. "Exit" finds isdom and perspective in the possibility of moving on and marks the start of a new conversation, to help us discover how we might make our exits with purpose and dignity.
About the Author
Sara Lawrence-Lightfoot, a MacArthur prize-winning sociologist, is the Emily Hargroves Fisher Professor of Education at Harvard University, where, since 1972, she has studied the culture of families, communities, and schools, and the relationships between human development and social change. She is the author of ten books, including "The Third Chapter," " Respect," "The Essential Conversation," and "Balm in Gilead," which won the 1988 Christopher Award for "literary merit and humanitarian achievement." In 1993, she was awarded Harvard's George Ledlie Prize for research that makes "the most valuable contribution to science" and is to "the benefit of mankind." She is the recipient of twenty-eight honorary degrees and is the first African-American woman in Harvard's history to have an endowed professorship named in her honor.
Praise For Exit: The Endings That Set Us Free…
"With her trademark grace and insight, Sara Lawrence-Lightfoot has added exit lines to her repertoire. in Exit, she is a superb storyteller and a wise guide to the inevitable farewells that punctuate our lives and often set us free."—Ellen Goodman, author of Paper Trail: Common Sense in Uncommon Times "In searching for the grace and courage of exits at every stage in the life cycle, Sara Lawrence-Lightfoot offers insights into the deeper continuities that exits can affirm, binding us together and emphasizing the meaning in the composition of our lives. She argues the need for our culture to evolve rituals that express these enduring values in facing the unknown."—Mary Catherine Bateson, author of Composing a Further Life: The Age of Active Wisdom "The resonant testimonials Lawrence-Lightfoot spotlights nicely dovetail into a conclusion befitting her research into the inevitability of departures and our individual choice to accept or bemoan them. A finely researched examination that sheds a new light on the catharsis of goodbye."—Kirkus Reviews "Lawrence-Lightfoot has penned an examination of how people exit careers, countries, and even life. Believing that the small departures we make daily prepare us for the large ones—emigration, divorce, death—the author argues that each is a drama of ambivalence, decision-making, and epiphany . . ."—Publishers Weekly 
Coverage from NPR
Advertisement