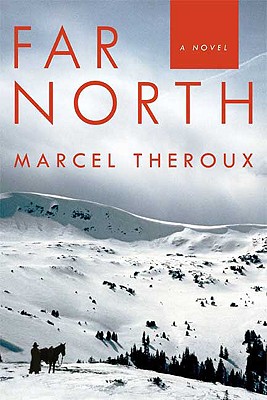 Far North (Hardcover)
Farrar, Straus and Giroux, 9780374153533, 320pp.
Publication Date: June 9, 2009
Other Editions of This Title:
Digital Audiobook (11/30/2009)
Paperback (6/22/2010)
Hardcover (4/10/2012)
* Individual store prices may vary.
Description
Far North is a 2009 National Book Award Finalist for Fiction.
My father had an expression for a thing that turned out bad. He'd say it had gone west. But going west always sounded pretty good to me. After all, westwards is the path of the sun. And through as much history as I know of, people have moved west to settle and find freedom. But our world had gone north, truly gone north, and just how far north I was beginning to learn.

Out on the frontier of a failed state, Makepeace—sheriff and perhaps last citizen—patrols a city's ruins, salvaging books but keeping the guns in good repair.

Into this cold land comes shocking evidence that life might be flourishing elsewhere: a refugee emerges from the vast emptiness of forest, whose existence inspires Makepeace to reconnect with human society and take to the road, armed with rough humor and an unlikely ration of optimism.

What Makepeace finds is a world unraveling: stockaded villages enforcing an uncertain justice and hidden work camps laboring to harness the little-understood technologies of a vanished civilization. But Makepeace's journey—rife with danger—also leads to an unexpected redemption.

Far North takes the reader on a quest through an unforgettable arctic landscape, from humanity's origins to its possible end. Haunting, spare, yet stubbornly hopeful, the novel is suffused with an ecstatic awareness of the world's fragility and beauty, and its ability to recover from our worst trespasses.
About the Author
Marcel Theroux is the author of three novels, "A Blow to the Heart," "A Stranger in the Earth," and "The Confessions of Mycroft Holmes: A Paper Chase," which won a Somerset Maugham Award. He lives in London.
Praise For Far North…
"How refreshing to meet Makepeace Hatfield, who faces a world gone wild with hope, humor, and a scrappy tenacity that manages to find beauty in a ravaged arctic landscape, and hangs on to humanity against all odds." —Pam Houston, author of Cowboys Are My Weakness

"Theroux is a master storyteller, and the narrative is as full of surprises as it is of murders. And in Makepeace he's created the moral centre of a heartless world: hardened by . . . experiences [yet] capable of great courage, friendship and loyalty, so that the bleak vision of this novel contains a glint of consolation." —Brandon Robshaw, The Independent on Sunday (five stars)

"An absorbing end-of-days fable." —GQ

"It's a great pleasure to fall into the pages of a natural-born storyteller. If you're looking for an unforgettable character, your search ends here." —Russell Hoban, author of Riddley Walker

"Imaginative and extremely well written." —Kate Saunders, The Times (London)

"An atmospheric tale of a near-future dystopia . . . One for fans of Margaret Atwood." —Evening Standard

"Marcel Theroux delivers a masterly sleight-of-hand . . . and after the third chapter deftly pulls the rug from under the reader's feet. I was completely duped. It is set in a cruel Siberian landscape that is dotted with slave camps and where 'human beings are rat-cunning and will happily kill you twice over for a hot meal.' This is an action-packed, dystopian adventure story with cracking set pieces." —Sebastian Shakespeare, Tatler

"Theroux's postapocalyptic road novel will inevitably be compared to that other postapocalyptic road novel Oprah liked, and while Theroux . . . is not the existential stylist McCarthy is, he is a superior plotter . . . Theroux succeeds in crafting a wildly eccentric and intelligent page-turner that's ultimately and strangely hopeful." —Publishers Weekly (starred review)
or
Not Currently Available for Direct Purchase