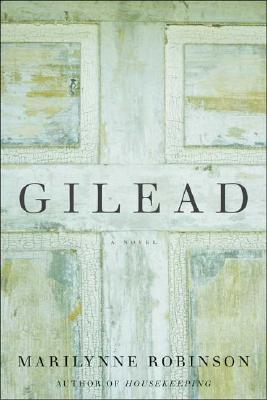 Gilead
Hardcover

* Individual store prices may vary.
Other Editions of This Title:
Digital Audiobook (3/31/2005)
Paperback (8/4/2020)
Hardcover (8/4/2020)
Paperback (1/10/2006)
CD-Audio (11/3/2015)
Compact Disc (1/1/2005)
Description
2005 Pulitzer Prize Winner for Fiction 2004 National Book Critics Circle Winner In 1956, toward the end of Reverend John Ames's life, he begins a letter to his young son, an account of himself and his forebears. Ames is the son of an Iowan preacher and the grandson of a minister who, as a young man in Maine, saw a vision of Christ bound in chains and came west to Kansas to fight for abolition: He "preached men into the Civil War," then, at age fifty, became a chaplain in the Union Army, losing his right eye in battle. Reverend Ames writes to his son about the tension between his father--an ardent pacifist--and his grandfather, whose pistol and bloody shirts, concealed in an army blanket, may be relics from the fight between the abolitionists and those settlers who wanted to vote Kansas into the union as a slave state. And he tells a story of the sacred bonds between fathers and sons, which are tested in his tender and strained relationship with his namesake, John Ames Boughton, his best friend's wayward son.

This is also the tale of another remarkable vision--not a corporeal vision of God but the vision of life as a wondrously strange creation. It tells how wisdom was forged in Ames's soul during his solitary life, and how history lives through generations, pervasively present even when betrayed and forgotten.

Gilead is the long-hoped-for second novel by one of our finest writers, a hymn of praise and lamentation to the God-haunted existence that Reverend Ames loves passionately, and from which he will soon part.
Praise For Gilead…
"Gilead is a beautiful work--demanding, grave and lucid . . . Robinson's words have a spiritual force that's very rare in contemporary fiction." --James Wood, The New York Times Book Review

"Robinson's 1981 debut, Housekeeping, was a perfect novel if ever there was one, and her long-awaited second novel proves just as captivating . . . Robinson's prose is lovely and wonderfully precise . . . Gilead is a gentle journey that will be even better the second time you read it." --Jeremy Jackson, People

"[Gilead] is so serenely beautiful, and written in a prose so gravely measured and thoughtful, that one feels touched with grace just to read it. Gilead possesses the quiet ineluctable perfection of Flaubert's A Simple Heart as well as the moral and emotional complexity of Robert Frost's deepest poetry . . . Immensely moving." --Michael Dirda, The Washington Post Book World

"A major work." --Philip Connors, Newsday

"A beautifully rendered story . . . full of penetrating intellect and artful prose . . . that captures the splendors and pitfalls of being alive . . . The world could use . . . more novels this wise and radiant." --Kathryn Schwille, The Charlotte Observer

"Compelling . . . Brilliant." --Martin Northway, St. Louis Post-Dispatch

"There is a lot of pleasure to be had in the novel's probing, thoughtful narrative voice." --Matt Murray, The Wall Street Journal

"Magnificent . . . A psalm worthy of study, a sermon of the loveliest profundity . . . [A] literary miracle . . . 'A'." --Lisa Schwarzbaum, Entertainment Weekly

"A Great American Novel." --Time Out New York

"Robinson's long-awaited second novel is an almost otherwordly book-and reveals Robinson as a somewhat otherwordly figure herself . . . A work of enormous integrity . . . Original and strong . . . A beautiful book of ideas." --Mona Simpson, The Atlantic Monthly

"The mature and thoughtful work of a superb and thoughtful storyteller." -Ellen Emry Heltzel, St. Petersburg Times

"An inspired work from a writer whose sensibility seems steeped in holy fire." --Lisa Shea, Elle

"The wait since 1981 and Housekeeping is over. Robinson returns with a second novel that, however quiet in tone and however delicate of step, will do no less than tell the story of America--and break your heart . . . Robinson has composed, with its cascading perfections of symbols, a novel as big as a nation, as quiet as thought, and moving as prayer. Matchless and towering." --Kirkus, starred review

"The long wait has been worth it . . . Robinson's prose is beautiful, shimmering and precise . . . Destined to become her second classic." --Publishers Weekly, starred review

"Quietly powerful [and] moving." --O, The Oprah Magazine (recommended reading)

Praise for Housekeeping:

"I found myself reading slowly, then more slowly-this is not a novel to be hurried through, for every sentence is a delight." -Doris Lessing

"Housekeeping is a haunting dream of a story told in a language as sharp and clear as light and air and water." -Walker Percy

"The richness and variety and the peculiarity of tone Marilynne Robinson sustains are masterful." -Mary Gordon

"Housekeeping is a resounding achievement." -Chicago Tribune

"Housekeeping brilliantly portrays the impermanence of all things." -Time

"Stunningly moving . . . Dazzling." -People
Farrar, Straus and Giroux, 9780374153892, 256pp.
Publication Date: November 4, 2004
About the Author
Marilynne Robinson is the author of the modern classic "Housekeeping" (FSG, 1981)--winner of the PEN/Hemingway Award--and two books of nonfiction, "Mother Country" (FSG, 1989) and "The Death of Adam." She teaches at the University of Iowa Writers' Workshop.
or
Not Currently Available for Direct Purchase