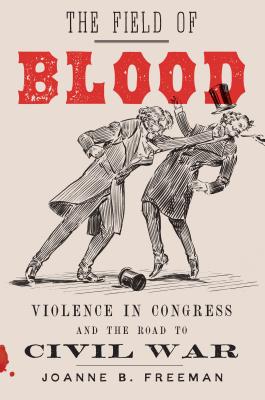 The Field of Blood
Violence in Congress and the Road to Civil War
Hardcover

* Individual store prices may vary.
Other Editions of This Title:
Digital Audiobook (9/10/2018)
Paperback (9/10/2019)
Description
"One of the best history books I've read in the last few years." —Chris Hayes

The Field of Blood recounts the previously untold story of the violence in Congress that helped spark the Civil War.

A NEW YORK TIMES NOTABLE BOOK OF THE YEAR
AN NPR BEST BOOK OF THE YEAR
ONE OF SMITHSONIAN'S BEST HISTORY BOOKS OF THE YEAR

Historian Joanne B. Freeman recovers the long-lost story of physical violence on the floor of the U.S. Congress. Drawing on an extraordinary range of sources, she shows that the Capitol was rife with conflict in the decades before the Civil War. Legislative sessions were often punctuated by mortal threats, canings, flipped desks, and all-out slugfests. When debate broke down, congressmen drew pistols and waved Bowie knives. One representative even killed another in a duel. Many were beaten and bullied in an attempt to intimidate them into compliance, particularly on the issue of slavery.

These fights didn't happen in a vacuum. Freeman's dramatic accounts of brawls and thrashings tell a larger story of how fisticuffs and journalism, and the powerful emotions they elicited, raised tensions between North and South and led toward war. In the process, she brings the antebellum Congress to life, revealing its rough realities—the feel, sense, and sound of it—as well as its nation-shaping import. Funny, tragic, and rivetingly told, The Field of Blood offers a front-row view of congressional mayhem and sheds new light on the careers of John Quincy Adams, Henry Clay, and other luminaries, as well as introducing a host of lesser-known but no less fascinating men. The result is a fresh understanding of the workings of American democracy and the bonds of Union on the eve of their greatest peril.
Praise For The Field of Blood: Violence in Congress and the Road to Civil War…
A New York Times Notable Book of 2018
An NPR Best Book of 2018
One of Smithsonian's Best History Books of 2018

Finalist for the Gilder Lehrman Lincoln Prize
Semifinalist for the PEN/ John Kenneth Galbraith Award

"Given the enormous literature on the Civil War era, it's difficult for a historian to say something genuinely new, but Freeman has managed to do just that . . . Freeman is a meticulous researcher and a vivid writer, and The Field of Blood makes for entertaining reading." —Eric Foner, The London Review of Books

"An impressive feat of research . . . Freeman's story [. . .] has elements of both horror and slapstick . . . The Field of Blood [. . . ] feels current. The political discourse it documents, if not the level of political violence, is alarmingly familiar in our own time . . ." —Andrew Delbanco, The Nation

"Superb . . . Freeman has written a smartly argued, diligently researched, even groundbreaking book." —Eric Herschtal, The New Republic

"Absorbing, scrupulously researched . . . Freeman uncovers the brawls, stabbings, pummelings, and duel threats that occurred among United States congressmen during the three decades just before the Civil War.... Men and women crowded the Congressional galleries with the expectation of seeing entertaining outbreaks, much the way fans of professional wrestling or hockey do today . . . But Freeman never loses sight of the fact that fighting in Congress was far more than a sport." —David S. Reynolds, The New York Times Book Review

"A superb, serious, authoritative, lively, occasionally amusing work of scholarly bravura . . . Freeman's research is prodigious, her scholarship unimpeachable. By shifting her gaze from the conventionally cited causes of the Civil War, she has deepened our understanding of its coming. " —James M. Banner, Jr., The Weekly Standard

"Fascinating . . . [Field of Blood] demonstrates the historic truth of an observation by black activist H. Rap Brown in the 1960s: 'Violence is a part of America's culture; it is as American as cherrypie.' . . . [Joanne B.] Freeman's book goes far toward explaining why there was a Civil War." —H.W. Brands, The Wall Street Journal

"In her vivid and remarkable new book . . . Joanne B. Freeman puts dozens of forgotten episodes of political violence into stark context . . . Freeman's wry touch and appreciation for the absurdities of politics – and politicians – give the book a burst of energy and readability. Most vitally, the story she tells has heightened relevance in our own tumultuous era." —Randy Dotinga, Christian Science Monitor

"Freeman's research, both archival and secondary, is stunning ... [her] prose is clear and accessible ... [a] superb volume, which should stand for years as one of the most important books on the antebellum era." —Douglas R. Egerton, Civil War Book Review

"Compelling and enlightening . . . Freeman's pathbreaking book should be read by anyone interested in Congress, the Civil War or American history in general." —Roger Bishop, BookPage

"Leavened by the author's wry wit, the book is a page turning triumph of narrative history, deeply researched and persuasively argued. It explains, more lucidly than ever before, "the wrenching experience of plotting a political path in a nation behind torn in two." —Brian Matthew Jordan, New York Journal of Books

"With narrative flair and scholarly gravitas, Joanne Freeman has given us a powerful and original account of a ferociously divided America. For readers who think things in the first decades of the 21st century have never been worse, Freeman's portrait of a tempestuous and tumultuous U.S. Congress offers a sobering and illuminating corrective. She shows us that the battles of the Civil War began not at Fort Sumter but in the U.S. Capitol, providing a new and compelling angle of vision on the origins of what Lincoln called our 'fiery trial.'"
—Jon Meacham, author of the Pulitzer Prize-winning The American Lion

"In 1861, Americans grimly set to slaughtering the better part of a million of their fellow citizens. It was the most extraordinary break in the nation's history—and Joanne Freeman charts its approach in an extraordinary new way. With insightful analysis and vivid detail, she explores the human relationships among congressmen before the Civil War, and finds a culture of astonishing violence. In fistfights, duels, and mass brawls, her innovative account detects steps toward disunion—and changes how we think about political history." —T.J. Stiles, Pulitzer Prize-winning author of Custer's Trials

"Joanne B. Freeman's erudition—and humor—are their own accomplishment, but it's remarkable a masterful work on the disruptive state of the Union arrives precisely at this time. There could be no better guide. I'm left wondering whether America is in a state of disrepair or still in the process of being born." —Adrian Nicole LeBlanc, author of Random Family

"Those who deplore the hyperpartisanship and decline of civility in contemporary American politics as unprecedented need to know more history. As Joanne Freeman makes clear in this compelling account, party strife, personal honor, and above all the slavery controversy brought unparalleled mayhem to the floors of Congress in the generation before the Civil War. Southern bullying and growing Northern resistance in the House and Senate foreshadowed the battlefields of 1861-1865." —James McPherson, emeritus professor of history Princeton University and author of the Pulitzer Prize-winning Battle Cry of Freedom

"Joanne Freeman puts us on the tumultuous and touchy floor of Congress during its most contentious and momentous years. In a story researched and written with bold energy, she chronicles a young America brawling its way toward war. The personalities and conflicts of long-forgotten duels and fights leap to life, speaking to our own time with surprising relevance." —Edward L. Ayers, author of The Thin Light of Freedom, winner of the Lincoln Prize

"Joanne Freeman of Yale calls attention to the scandalously frequent role of violence in the United States Congress across 28 tense years culminating in the Civil War. She describes many varieties of Congressional violence, including bullying, fighting in the halls of Congress, fisticuffs, guns, knives, duels and threats of duels. With painstaking research, she penetrates the conspiracy of silence imposed by sources frequently reluctant to publicize the embarrassing truth. The reader is surprised that such an important story should have waited so long to be told." —Daniel Walker Howe, Pulitzer Prize-winning author of What Hath God Wrought

"Congress in the 19th Century was a violent place to work. Legislators let out their sectional rage on each other, throwing punches and wielding weapons, in an institution that made our current politics look downright tame. In her riveting narrative, Joanne Freeman unpacks this volatile world to explain why the relations between elected officials became so brutal." —Julian Zelizer is a political historian at Princeton University and author of The Fierce Urgency of Now

"[Freeman] excavates a little-discussed aspect of American history in this scholarly but brisk and accessible account . . . French's long-standing friendship with the unmemorable Franklin Pierce provides fresh insight into the political culture of the time, and the descriptions of the tragicomic Cilley-Graves duel and the horrific caning of Charles Sumner are detailed and thoughtful . . . Freeman grants followers of modern politics a look back at another fascinating, impassioned period of change in which Congress became full of 'distrust, defensiveness, and degradation,' mimicking the constituents at home." —Publisher's Weekly

"A finely researched and well-written examination of the often overlooked legislative breakdown that preceded the Civil War." —Booklist

"A thought-provoking and insightful read for anybody interested in American politics in the lead up to the Civil War." —Library Journal (Starred Review)
Farrar, Straus and Giroux, 9780374154776, 480pp.
Publication Date: September 11, 2018
About the Author
Joanne B. Freeman, a professor of history and American studies at Yale University, is a leading authority on early national politics and political culture. Author of the award-winning Affairs of Honor: National Politics in the New Republic and editor of The Essential Hamilton and Alexander Hamilton: Writings, she is a cohost of the popular history podcast BackStory.