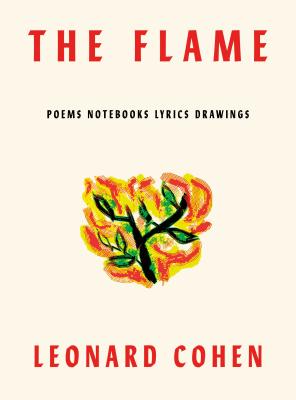 The Flame
Poems Notebooks Lyrics Drawings
Hardcover

* Individual store prices may vary.
Other Editions of This Title:
Digital Audiobook (10/1/2018)
Digital Audiobook (10/1/2018)
Paperback (10/15/2019)
CD-Audio (10/2/2018)
Description
NEW YORK TIMES BEST SELLER

Named a Fall Read by Vogue, Esquire, The Washington Post, TIME, Vanity Fair and O, the Oprah Magazine. One of Daily Mail and Financial Times's Best Books of 2018.

"There are very, very few people who occupy the ground that Leonard Cohen walks on." —BONO

The Flame is the final work from Leonard Cohen, the revered poet and musician whose fans span generations and whose work is celebrated throughout the world. Featuring poems, excerpts from his private notebooks, lyrics, and hand-drawn self-portraits, The Flame offers an unprecedentedly intimate look inside the life and mind of a singular artist.

A reckoning with a life lived deeply and passionately, with wit and panache, The Flame is a valedictory work.

"This volume contains my father's final efforts as a poet," writes Cohen's son, Adam Cohen, in his foreword. "It was what he was staying alive to do, his sole breathing purpose at the end."

Leonard Cohen died in late 2016. But "each page of paper that he blackened," in the words of his son, "was lasting evidence of a burning soul."
Praise For The Flame: Poems Notebooks Lyrics Drawings…
"If you felt Leonard Cohen's death in 2016 as a personal assault, this book is a posthumous balm . . . All of Cohen's work has a raw, straight-to-the-heart intensity—reach for this the next time you need inspiration for a wedding toast that will leave them gutted, or any other moment you need a little sustenance for the soul." --Chloe Schama, Vogue

"Cohen's final volume shows his poetic soul. If you know the man only because of "Hallelujah" or "Suzanne," pick up The Flame and warm yourself within its pages." --Bethanne Patrick, The Washington Post

"It's clear that Cohen remained sharp until the very end, and the book, a kind of farewell tribute by the poet-prophet, offers ample evidence of his abiding sense of humor . . . Though he claimed not to know the origins of his poetry nor to be able to locate his mission, what Cohen offered his many fans and followers was the opportunity to partake of the kind of spiritual experience that makes it possible for us to feel, if only for a moment, that we are not alone." —Shoshana Olidort, Los Angeles Review of Books

"[A] grand book . . . elegant . . . Leonard Cohen does not use language to pose, startle or to reinvent. Words are his old comrades, and see him through to the end." --Kate Kellaway, The Observer (U.K.)

"In The Flame, an aging artist struggles with questions of death and legacy — and tries not to take them too seriously, true to his claim never to do so . . . If [this is] how long it takes to say 'so long' to someone beautiful, we'll be listening to Cohen — still smirking and smiling — for decades to come, with this collection as our companion." --Hannah Niemeier, The Spectator (U.K.)

"Poignant and brave, lit up with flashes of anger, this is a luminous collection and classic Cohen." —Booklist (starred)

"Cohen was a poet before he was a musician, and with this posthumous collection his career completes its circle." --Financial Times (Best Books of 2018)

"Steeped in somber reckoning, The Flame takes the long view that only age affords . . . Sprinkled with Cohen's self-portrait sketches, The Flame is full of gestures so intimate it's almost a voyeuristic experience . . . The work feels both like a final speech and a disrobing. In perusing the sizeable volume, one can't help but feel privy to something raw and shining, both uncomfortably and movingly revealing, the final laying-bare of a unique chronicler of the human heart." —BookPage

"The Flame is Cohen's last gift to us . . .Cohen's radical honesty and wit became more refined and purified with each passing year . . .He magicked and mastered us after all, getting us to clamor for the bitter pill of his tender, scathing, suffering, beatific vision." --Pamela Erens, Virginia Quarterly Review

"Authentic and revelatory in ways that final novels and poetry collections are not." --Charles Foran, The Walrus (Canada)

"The Flame provides fascinating insight into Cohen's unique talent . . . The entire collection is an intricate exploration of the happenings of the human heart, infused with Cohen's signature themes of longing, love and loss . . . The Flame shows the great power of words to endure long after the person who has written them has passed away, and to offer relief from suffering and elevate the spirits – not only for the writer, but for the reader and listener, too." --Anita Sethi, iNews (U.K.)

"A kaleidoscopic archive, a mix-tape of emotions that reveals Cohen's fears and vulnerability with an unusually raw candour. After 10 books of poetry and two novels, it reminds us that the music man who taught the world to scale the chords of Hallelujah still considered writing his first and ultimate vocation . . . it seems Leonard Cohen has left enough words and music for us to carry on without him." --Brian D. Johnson, Macleans (Canada)

"Leonard Cohen offers in The Flame a collection of writing that stands proudly at the end of his body of work . . . Cohen's poems emerge in The Flame as compelling, mingling all the different mentioned themes with a sense of urgency that lurks just beyond their lightness and somewhat self-deprecating humour. It's a balance that Cohen has always navigated well, that between seriousness and playfulness, intensity and lightness." —Elisa Sabbadin, Pendora (Canada)
Farrar, Straus and Giroux, 9780374156060, 288pp.
Publication Date: October 2, 2018
About the Author
Leonard Cohen was born in Montreal in 1934. Soon after graduating from McGill University, he published his first collection of poems, Let Us Compare Mythologies, in 1956. He would go on to publish a dozen more volumes of poetry, including Book of Longing, and two novels, The Favourite Game and Beautiful Losers. A hugely influential and critically acclaimed singer and songwriter, Cohen released fourteen studio albums between 1967 and 2016, the last being You Want It Darker, for the title track of which he posthumously won the Grammy for Best Rock Performance. He was inducted into the Rock and Roll Hall of Fame in 2008 and the Songwriters Hall of Fame in 2010, and was honored with a Lifetime Achievement Award at the 2010 Grammys. He won both the Prince of Asturias Award for Literature and the Glenn Gould Prize in 2011, and the first PEN New England Song Lyrics of Literary Excellence Award in 2012. Cohen died in Los Angeles on November 7, 2016.
Coverage from NPR